Strain Review: Peanut Butter Breath by Dubz Garden
Makes my 🥜 breath stank like DANK! This is currently my favorite strain hands down. Mendo breath cross with DosiDo. This pack is king. 👑
Lineage/Genetics: Do-si-dos x Mendo Breath F2
Original Breeder: ThugPug Genetics
Grower: Dubz Garden
Dubz Garden Peanut Butter Breath Strain Review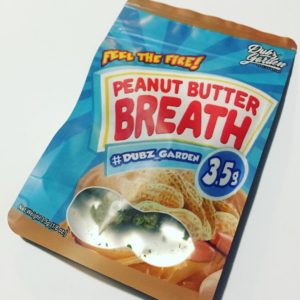 The smells emanating from the bag were 💪🏽 stronger than Arnold in the eighties! True loud pack and OG kush aromas show me this Phenotype was a true dosido leaner.
The nuggs were gorgeous
several hues of green and perfectly finished 🌳 flower. @dubz_garden you played no games with this one. This is how professionals do it.
The smoke was goes without being said as the best Peanut Butter Breath I have smoked to date. Super potent pack a punch 🥊 smoking experience. Those smooth herbal tones the strong lemon OG terpene profile had me smiling nonstop with tingles vibrating around my forehead.
🥜🍯 😤gets my 10++ /10
Salute to @cannasseurachicago for sponsoring this review!!
————

#dubzgarden #cannabis #legalcannabis #cannabiscommunity #medicalcannabis #potent #terpenes #california #sativa #indica #strain #dispensary
Advertisements