Strain Review: Gary Bird by Infamous Farms
Gary Bird – @infmsfarms @connoisseurclubcannabis2.0
Nose: Sweet, citrus, tart, piney, sour
Inhale: Citrus, sour, tangy, cheesy, woody, sweet
Exhale: Musty, sour, citrus, tangy, sweet
Genetics 🧬: Undisclosed
Bred by: Undisclosed
Grown by: Infamous Farms
Terpene Profile: Unknown
Gary Bird Cannabis Cultivar (Strain) Review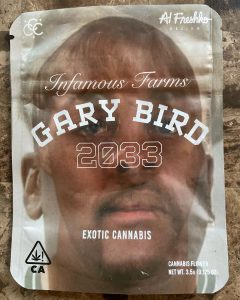 Hey what's up everyone? Happy 420! I hope everyone is enjoying the holiday responsibly and taking in the fresh air if you know what I mean. I know I've slowed down a bit on the reviews but I do have a good one for you today. A couple weeks back I dived into the Motor Breath which was given to me by Cannabis Connissuers Club. Today, I will be following up on that by going over the Gary Bird by them and Infamous Farms. This has been a slightly overdue (and I use that phrase loosely) after a positive experience with both the Twin OG and Queensbridge Cannoli, respectively. Of course, when I ran into @cali_connectin and he had in stock this time I knew this review would be a go. I wasn't able to get any information behind the breeder or genetics for this cultivar so I was more than curious to see what this had to offer on the front end. Given its name, I had heavy implications that this may feature a cross between Gary Payton and Gelato 33 although I cannot confirm that for sure. Let's waste no more time and get into the facts!
I received the Gary Bird in a standard square, Mylar bag which featured double-sided branding over the direct-to-print style this foil packaging featured. On the first side feature a standard white cover with black lettering that simply displayed the title of the cultivar with "2033" enlarged under it. When seeing this my implications on the cultivar grew even strong. On the other side, depicted none other than Gary Payton with a faded shadow of Larry Bird intertwined into one another. I think this was a fairly creative design by Al Freshko as well as straightforward that really gives you a strong sense on what this cultivar is.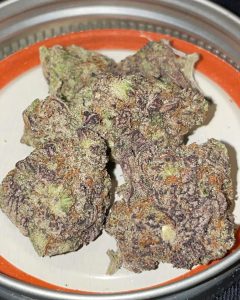 When I busted open the seal on the foil packaging the Gary Bird came in, my first impressions of the nose was a bitterly tart grapefruit scent pungently rising up out of the bag. I additionally caught some citrusy sour when holding the nugs closely to my nose. Despite being a little bit pressed in out of the bag, the buds were very aesthetically put together. Consisting of dark frosted purple and violet hues with touches of light green this cultivar had a stellar appearance. This included a thick trichrome coverage as well as pistils that were plentiful and still in tact. Around 5-6 medium-sized nugs made up the eighth featuring a solid, sticky texture. When breaking them apart, I gained almost a faint sour apple nose complimenting that funky and distinctly tart grapefruit. Given their sticky, tough structure they were somewhat tough breaking up by hand so the two-turn method was needed when doing so in the grinder. Upon taking a dry pull from the joint, I received a sweet and sour piney taste with floral undertones that matched it.
When I sparked the Gary Bird in an Organic RAW, the initial inhales gave off a sour, cheesy taste reflecting the apple and grapefruit notes experienced on the nose. Right from the rip this cultivar really gave me vibes of Apple Fruity but a little fruiter, gassier, with less of the "Fall" taste. On the way out, I released similar notes as the inhale letting out a mix of sweet and sour notes. To go along with this, the exhales were distinctively musty and did possess a bitter citrus flavor underneath. Kicking off the sesh, the pulls were fairly smooth but kept on intensifying as time went on. The cheesy taste that once existed started to dissipate around the halfway point as a faint woody taste appeared. Around the same time, the exhales became mustier and more bitter pulling in heavy notes of sour apple as well as other citrus flavors. The Gary Bird had a slightly uneven burn to it resulting in a sturdy lighter gray to white colored ash. The ash was supported by a huge motor oil drip causing terp stains to ooze down the sidewalls of the joint. I did like the way this cultivar cooked all in all although I personally wasn't the biggest fan of the terp profile on this one. I thought it was a little bit too bitter for my liking especially through the grapefruit taste that lingers throughout the sesh. Additionally, I noticed some taste loss around the end of the joint (around a little under a 1/4 way left). I still had a moderately enjoyable experience smoking the Gary Bird but I was not wowed the same way I was with their previous two cultivars.
The Gary Bird did possess some quality medicinal effects. A little time into the sesh is when I started to experience increased focus which was quickly followed by a moderate raciness that captured the mind and body. Shortly thereafter, I became extremely loose with a slight melting sensation formulating over my body. This feeling particularly hit within my neck and shoulders making it ways down throughout my arms and spinal cord. I could tell from the jump that this was a true hybrid. At the same time that I was becoming moderately sedated within my lower body I became increasingly perceptive within my thoughts. This didn't really go away as about an hour into the onset of medicinal effects I still felt highly alert but, at the same time, numb from the neck down. I personally enjoyed this cultivar throughout any part of the day given my energy while under the influence combining with those subtle feels of relaxation. The duration was pretty standard as the effects last around an hour an half. The effects did wear off rather quicker than expected but overall a pleasant experience towards the medicinal effects the Gary Bird put out.
After having a chance to try out the Gary Bird, I was taken a bit by surprised. If my implications are true, and this is a cross between Gelato 33 and Gary Payton, this is not what I would've expected the end result to taste like. As I mentioned, I was the biggest fan of the terp profile this possessed but I do feel like anyone who enjoys a cultivar putting out tart and citrusy grapefruit flavors this will be right up your alley. Additionally, anyone who has a preference for hybrid-leaning medicinal effects will want to pick this one up. Between the constant rush of energy this provided as well as the pain relief this provided in the upper body region this really hit the spot being the most captivating feature of this cultivar. I still don't think this had the impact or the smokability both the Twin OG and Queensbridge Cannoli did but did serve as a nice "third leg" option to the two. I want to thank Phil, Cannabis Connissuers and Infamous Farms for finally getting this in my hands. This won't be the last time we see content from them.
Advertisements