Strain Review: Mint Creme Oreo by Infamous Farms
Mint Creme Oreo – @infmsfarms
Nose: Earthy, floral, musty. Touch of mint.
Inhale: Sweet, earthy, floral, woody
Exhale: Doughy taste with creamy and woody notes.
Lineage/Genetics: Undisclosed (maybe Thin Mint pheno but could be wrong).
Original Breeder: Unknown
Grower: Infamous Farms
Terpene Profile: Unknown
Mint Creme Oreo Strain Review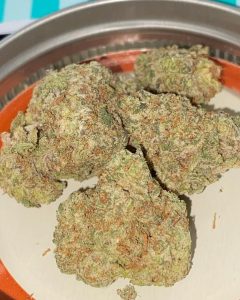 What's up everyone? It's finally Friday and we have another review for you. Today we have another review that the men at Infamous Farms gifted me (shoutout @cali_connectin ). The Mint Creme Oreo strain they have will be plus for all of you who enjoy different types of cookie strains, specifically Thin Mint GSC. We are going to waste no more time and get into the facts.
This came in a square Mylar bag which had a neat improvision on the traditional Oreos branding. The CCC logo where the Nabisco typically is gave me a chuckle due to the creativeness. However, not the biggest fan of seals coming undone due to cheap glue and this is what happened to this one.
Upon opening the bag a mixed smell of gassy, floral and some hints of mint. This predominantly reminded me Thin Mint GSC but in a more mild form. I feel like Infamous Farms has a knack for putting an old school touch on their catalog because this, again, reminded me of the good stuff we would get throughout high school and college. Light green, covered in a bunch of orange pistils and a light sprinkling of white crystals which made the aesthetics very traditional. I wouldn't say this is anything to write home about aesthetically but it looked great under the microscope during inspection. The buds were dense, nutrient-laden, and moderately sticky which resulted in a generous yield on the break up.
Overall Rating 8.1/10
When I sparked this in an Organic RAW I wasn't overtaken with pressure but the pulls were very gassy. The inhale turned into a sweet and doughy taste which resembled a chocolate chip cookie. Additionally, I was getting a mixture of earthy, floral, and musty terps to compliment the initial taste. On the way out, I sensed thick creamy and woody terps which added a nice touch to the flavor. I really thought the taste was on par to the Boston Cream Pie with the exception of the occasional mint and floral notes that we got from this one. Overall, the burn was nice but my one gripe was the inconsistent flavor in this one. I felt like I lost a lot of the taste about half way in and that never recovered. The ash produced from the Mint Creme Oreo was a lighter gray and I didn't get much of a res ring to accompany the cherry on top. Overall, I thought the smoke-ability of this was fairly moderate.
The high was good but, truthfully, a little disappointing given my expectations. When I first lit up I was expecting a similar vibe to the Boston Cream Pie. However, the high experience upon smoking the Mint Creme Oreo was more of a mild head high. I felt myself deep in thought and was one of those smokes where stepping out for a few was permissive. I enjoyed it with a walk around the neighborhood. I was awfully cheerful and even said hi to a few familiar faces whom I stopped and chatted with. Focused and relaxed is a perfect way to describe it. In a way this I believe this would have been a perfect smoke to have some company over and enjoy a good card game with a few laughs. All in all, this was nothing too overpowering and the high actually wore off sooner than expected (about one hour).
My recommendation upon smoking the Mint Creme Oreo comes with mixed emotions. Although I was expecting more of a nighttime high I got the complete opposite but I am curious of what the result may be for other levels of smokers. I feel like this would be good for anyone with depression or just needing an extra boost throughout their day. I feel like this would compliment anyone who works out and smokes before hand or any type of related activity. All in all, this wasn't my favorite weed I've gotten from Infamous but it does the trick. Overall, I think this would be perfect for a more moderate smoker.