Strain Review: Revenge of the Nerds by Trappack
Revenge of the Nerds – @trappackbizz @trappackboston
Nose: Fruity, musty, citrus, nutty
Inhale: Spicy, citrus, fruity
Exhale: Musty, zesty, fruity
Lineage/Genetics: Unknown
Original Breeder: Unknown
Grower: Trappack
Terpene Profile: Unknown
Revenge of the Nerds Strain Review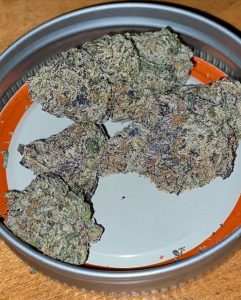 What's up everyone? Happy Tuesday and hope all of you enjoying the start to your week. To start our week off right I will be reviewing the remaining segment in the collection Trappack blessed me with. If you are looking for a gelato cut with a zesty kick look no further. The Revenge of the Nerds strain will kick it up a notch. Let's waste no more time and get into the facts.
To begin, The Revenge of the Nerds came in a small rectanglar Mylar bag as most of them do from Bizz. The bag design was done by @florxshop and I feel like every time he puts his artwork on display it's a cut above. Florx is a frequent collator with @lord_weedus out in Cali. A couple notable strains I had the chance to try from them earlier in the year were the Purple Cow Sorbet and Gelato 42 which were equally impressive.
Upon opening this one my nose was met with a concoction of fruity, musty and citrus smells. Additionally, there was a bit of nuttiness mixed in as well which, of course, gave me a strong sense of gelato or Runtz. The nugs I received we're a bit on the tinier side but each one was frosty purple. You could crumble apart the buds in your finger and each one left a sticky residue behind and a scent of sweetness. I was impressed by the yield as it was more generous than a lot of gelatos (what I speculated this was) I've seen in Mylar bags. You still need to be a little more generous than usual when filling up the joint but the more the merrier as always.
Overall Rating 8.6/10
When I sparked this up in an organic RAW I was very surprised by the spiciness in the terps that hit about a quarter of the way in. The inhales and exhales mirrored themselves with a fruity zest that, personally, I thought made the terp profile very enjoyable. I caught a mixture of z terps during the sesh and there were evident notes of fruit and citrus throughout various points as well. The smoke resulted in a heavy res ring and a thick white ash. The burn was amazing as each pull drew slowly yet overpowering on the way in. The flavor was long-lasting and left an incredible after taste well after the sesh ended. If you don't like the smell of strong weed on your breath consider breath mints for this one. I really enjoyed the way the Revenge of the Nerds burned and felt that, similar to the Jelly Creme, this separated itself from a lot of other offerings I've had from the Trappack team.
The high was definitely on the stronger side. I was primarily consumed with a heavy body high and was deep deep into my thoughts on this. I'd suggest a little alone time when smoking this one. I remember a few times I was out on a walk while smoking this and, afterwards, found myself avoiding people. This isn't typical of me and I attribute this to the heavy euphoric state my mind morphed into. I didn't feel too drowsy nor hungry but I did experience mild paranoia and a heavy heartbeat. It wasn't a "to die for" high, however, if you're looking for potency than you will find no shortages with this.
My recommendation is pretty simple and it is that if you get paranoid easily when smoking I'd steer clear of this. However, if you do enjoying getting lost in an overbearing, mind-boggling head and body high this would be for you. I believe this would be a good fit for smokers like to stay on their toes when smoking. Additionally, people who favor a terpier smoke would want to try this as well. I hand it to the Trappack team for this one as this was not for the weak of heart.