Strain Review: Jelly Creme by Trappack
Jelly Creme – @trappackbizz @trappackboston
Nose: Tart, creamy, fruity, citrus.
Inhale: Tart with an explosion of fruity and berry flavors.
Exhale: Fruity, musky, creamy, spicy.
Lineage/Genetics: Gelato 33 x Jealousy
Original Breeder: Unknown
Grower: Trappack
Terpene Profile: Unknown
Jelly Creme Strain Review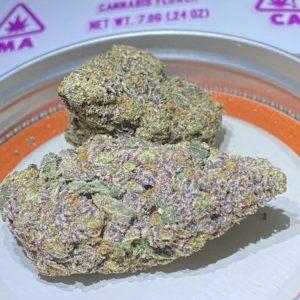 What's up everyone! Happy Monday and I hope you guys have shaken off the cobwebs because I have another review for you. Today we will be going over another one we were blessed with by @trappackbizz . Those of you who are into bud with a smooth, creamy and fruity appeal will like this one. Let's waste no more time and get into the facts.
First off, nothing out of the ordinary with the packaging as this came in a standard rectangular Mylar bag. The bag design wasn't not anything over the top but will not keep you guessing about what is going to be in the bag.
Upon opening Jelly Creme my nose was met with a rather tart smell. This smell was acquainted by aromas of fruity cream and citrus berries as well as some sour notes. The buds were dense, nutrient-laden and boulder-sized with a little bit of sponginess due to its Gelato 33 parent. Green and purple shades covered with white triches made the Jelly Creme's profile extremely aesthetic at first sight. When you broke open the nugs, citrus and spice filled the air putting the aroma on another level. This certainly was a stick to your finger type bud once cracked open. The yield off the breakup was pretty solid as well.
Overall Rating 8.8/10
When I sparked this in an Organic RAW loads of fruity terps led the way. Behind them, trailed a tart berry which almost tasted like the middle of a sucrée. The exhales yielded a musky and spicy funk which made the joint overloaded with flavor. The pulls were heavy and gassy but so smooth and didn't lead to a lot of coughing which was a plus. An absolutely bone white ash matched the cleanliness of the smoke which was met by a slow and even burn. About halfway through the sesh is when you could really start to taste the fruit and berries transition from the initial gassy, tart-like terps. Overall, the taste profile on the Jelly Creme was a show stopper as you could really feel the hard hitting, creamy notes from it's Jealousy parent in there.
If I'm going to be a critic (and I won't too much for this one) it was within the high. I thought this one was going to put me out like a light based off the way this smoked. It was wrong, it was a bit crippling but nothing unmanageable. There were moments throughout the high were I found myself dosing off into space but they were periodic. Additionally, for people like me with anxiety this is a great high that will keep you relaxed and carefree throughout the duration. All in all, a pretty smooth high to compliment a tasty joint.
The Jelly Creme is certainly a strain I will be looking to try again in the future. The creaminess and tart berry made it a little more unique than most gelato and Runtz blends you will find in a lot the street bags. We will have more Trappack content on all of you tomorrow and more to follow next week.