Strain Review: Twin OG by Infamous Farms
Twin OG – @infmsfarms
Nose: Earthy, pine, citrus, gas
Inhale: Musty, pine, citrus, earth
Exhale: Citrus, woody, musty, floral
Lineage/Genetics: Undisclosed (Definitely OG Kush pheno or cross)
Original Breeder: Unknown
Grower: Infamous Farms
Terpene Profile: Unknown
Twin OG Strain Review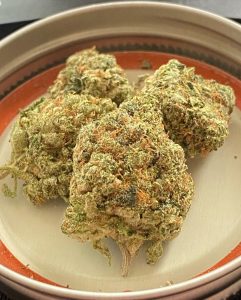 What's up everyone happy Sunday and I hope you are all having a nice and relaxing weekend! Today I have another drop from Infamous Farms that we received from @cali_connectin which some of you may be familiar with. The Twin OG strain (similarly to the QB Cannoli) has made its way out west and landed in retail stores such as Lemonade Van Nuys. Let's waste no more time and get into the facts.
The bag that the Twin OG came in was almost identical to the Queensbridge Cannoli but in a red and black colorway. One the back of this one was an illustration of the infamous Queensbridge projects on the back. One could confuse the bag work with a Mobb Deep album cover in the 90s. This bag design was also done by the one and only @alfreshko.
Upon opening the bag my nose was met with strong earthy and piney scents followed by a mild lemon pine twang. The buds had a very light green color to them and were fairly medium-sized. If you want to talk about stick to your finger buds this can hang with the best of them. Similar to the Boston Cream Pie we reviewed on Friday the Twin OG reminded me of the the good kushes we used to smoke in my high school and college days. Remember, this bud is extremely sticky so remember to you the two-turn method when grinding up the bud to yield a decent amount.
Overall Rating 8.4/10
When I sparked this up in an organic RAW a strong must hit my mouth that soon followed by an erruption of earth, pine and citrus. The pulls were heavy gas and the follow through presented terps of citrus and wood. A little bit of floral could be spotted as well. About a quarter way through the joint my mouth felt like a pb&j sandwich and almost a sour taste lingered. Citrus and piney terps started to dominate the sesh at this point changing the tempo. The Twin OG produced a darker ash and the res ring wasn't as impressive as I thought it would be. One thing I will share my criticism on is that the burn was a little uneven. Nonetheless, due to the sticky nature of the bud it did burn at a slow pace and the smoke was clean.
The high did take a little while to creep up one me. This came as a surprise to me as most OGs tend to leave me fairly crippled from the first 10 pulls or so. Although this didn't leave me crippled the high did last for well over an hour an half. I was pretty coherent and relaxed throughout the duration. I did notice myself getting into deep thought patterns so this could be a good high for anyone looking to express their creative side. Overall another good look from the guys at Infamous Farms.
Please stay tuned as we will have some more content from Infamous Farms to follow next week! 🙌🏻