Strain Review: Cherry Pie by Flavour Chasers
🥧The Cherry Pie strain💙//
THCA 23.8%
Lineage/Genetics: Granddaddy Purple x Durban Poison
Original Breeder: Flavour Chasers
——————————————
Cherry Pie Strain Review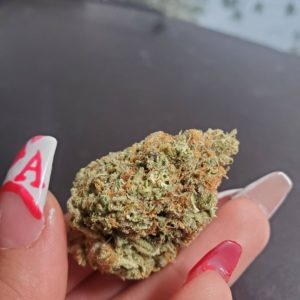 INDICA DOMINANT HYBRID
Its a beautiful, dense bud with a lovely floral smell and vibrant orange pistils contrasting its swampy green leaves.
•So when smoking out of a bong, this is way more sedating (than while rolled) and makes you slower because it clouds your mind a bit.
•When rolled up in a joint or blunt, whether it be alone or in a salad it will have that intense relaxing effect, slightly less sedating than it would be in a bong if mixed with a sativa and if mixed with an indica it will be very sedating.
•As a pipe it works quite well for anxiety, its not sedating in moderate quantities but its still potent enough to completely chill you while still keeping you functional.
🍒This strain tends to: -activates muchies-helps with insomnia-slight aphrodisiac effect-couch locking
.
.
.
.
.
.
.
#weedblog #weedlife #weedporn #weedgirls #weedblogger #cannabisenthusiast #420community #420everyday #weeddaily #cannabisbabe #stonergirl #cannabiscommunity #cannabispr #headintheclouds #stonergirl #cannabisbabes #weedstagram420 #strainoftheday #puffpuffpass #cannajeva #blazedbeauty #420photography #girlswhosmoke #420blazeit
Advertisements