Strain Review: White Air Heads by Trappack
White Air Heads – @trappackbizz @trappackboston
Nose: Gassy, fruity (specifically cherry), cotton candy, earthy.
Inhale: Fruity explosion with hint of citrus.
Exhale: Fruity, nutty, earthy and a bit musky with an aftertaste of candy that follows.
Lineage/Genetics: White Cherry Gelato pheno
Original Breeder: Unknown
Grower: Trappack
Terpene Profile: Unknown
White Air Heads Strain Review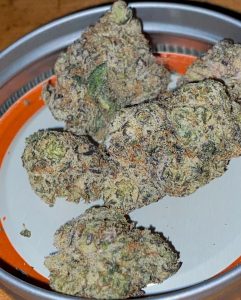 What's up everyone? I hope all of you are have a wonderful Tuesday and today Im going back-to-back with Trappack reviews. We will be going over their White Air Heads drop which is a White Cherry Gelato pheno. Let's waste no more time and get into the facts.
I don't need to go too much into the bag detail on this one as it speaks for itself. Upon opening the bag, notes of fruitiness with a hint of citrus touched graced my nose. I knew this had gelato written all over it from the start. With its dominant white covering wrapped over a body consisting mostly purple and green spots this one caught my eye. The Nugs were gigantic, soft and spongy, and did not contain an excess of kief. To add to this the buds were moderately sticky when broken apart but nothing over the top. However, like most gelatos they did leave a nice kief-like residue on your fingers. Overall, the breakup wasn't the best I have seen compared to most of the gelato/Runtz Ive received previously in these bags so I needed to use a little more for a proper fill.
When I sparked this one up in an Organic RAW I was consumed by a thick fruity and cherry taste to no surprise. The hint of citrus within the inhale as well as the nuttiness on the exhale gave implications that this was a white cherry gelato pheno. An added surprise was a musky funk that the came within the exhale which complimented the explosion of fruity berries both on the inhale and exhale, respectively. The White Air Heads drew a white ash, however, some of the pulls I found more inconsistent than others. For instance, some were heavy and others weakened due to the excess resin. I believe this could be attributed to the spongy texture or improper curing (perhaps not 100% sure). Personally, was not a big fan of this. Overall, this was a pretty decent smoke and was tasty from start to finish.
Overall Rating 8.2/10
The high was pretty moderate as well and actually a bit on the relaxing side. I felt superglued to my seat although I didn't feel as neither the head nor body high from it was anything serious. I did snack a bit on this one and I did notice that I found myself laughing at things that I wouldn't normally find funny. Additionally, I zoned in on the game on TV and was relatively more focused than I usually am off of most gelatos. Nonetheless, this did the job.
I would recommend this to anyone who is any intermediate smoker who is trying to catch a good buzz or experience smoker looking for terps and getting cozy. I didn't think this one was anything special when it comes to bag gelatos but it certainly did the trick. Shoutout to Bizz and his team for blessing us with another one. We will have a concluding Trappack review next week on his Revenge of the Nerds drop.