Strain Review: Cherry Lemonhead by Trappack
Cherry Lemonhead- @trappackbizz @trappackboston
Nose: Zesty, cherry, and a bit of a nutty aroma that follows
Inhale: Strong, cherry/fruity, creamy, with a light citrus zest.
Exhale: Zesty lemon citrus taste with a strong follow through.
Lineage/Genetics: Lemon Cherry Gelato pheno
Original Breeder: Unknown
Grower: Trappack
Trappack Cherry Lemonhead Strain Review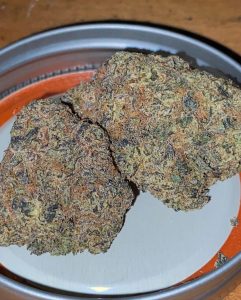 Happy Friday Jr. everyone! We are one day closer to the weekend and I have another review for you. Today I will be covering someone who I have built a good relationship with in Boston over the past year or so. None other than @trappackbizz himself blessed me with some Lemon Cherryhead and we are going to get to the facts.
This came in a standard rectangular (smaller) Mylar bag. The artwork is a spin off of the cherry and lemonhead box candy; sort of combining the two. I got a laugh out of lemonhead wearing sunglasses and smoking a blunt. Is that supposed to be you Bizz?
The initial smell out of the bag was a mild
zest of cherry and fruity scents which turned a little nutty on the back end. I knew this was gelato by the smell, looks and feel of it. It's texture as you would guess was spongy and easy to break a part. I found the buds weren't awfully sticky but had dominant shades yellow, orange, green and purple spots mixed in. Breaking it up the yield wasn't the best and I found myself breaking up more than I needed to in order to fill the joint. Wasn't a fan of this.
When I sparked this up in an organic RAW I felt a tangy and fruity sensation take over. The inhale was packed with a variety of flavors including zesty, creamy, citrus, and a little bit of pine. Some of the pulls were a bit harsh I must forewarn. The exhale followed with more of a citrusy zest which stung the throat which left me coughing a little bit more than expected. Each pull started to get a little harsher than the rest and I did noticed the flavor started to get a little weaker about half way through. The ash changed from a dark grey to a lighter grey but started to morph back into a darker grey right around that halfway mark. There was a huge res ring around the cherry that added a nice drip and the burn on this was slow but mildly inconsistent.
Overall Rating 8.2/10
The high was certainly potent and made up for some of the lack of characteristics found of the Lemon Cherryhead during the breakup and smoking stages. I smooth and calm high came over the body. This was nothing extremely overpowering but nonetheless lasted for a good hour and half putting me into a deep state of tranquility. I had a hankering for sweets after this one and good thing I went shopping before I did 😋. Overall, the high was most standout quality of the Lemon Cherryhead.
I wanted to shoutout for the generosity with the bud we got. Some of the samples were a 1g above what was expected so, as always, I appreciate the love. We will have a few more up out of the Trappack Collection next week so stay tuned!