Dab Review: Sour Scotti by Honey Solventless
Sour Scotti
Lineage/Genetics: Sour Diesel and Biscotti
Original Breeder: Unknown
Grower: Unknown
Processor: Sour Scotti
Sour Scotti Dab Review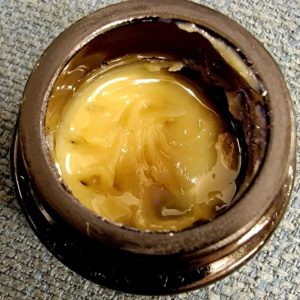 Not much information available about Honey Solventless as a producer online or social media. They have an instagram page with a few pictures available to view. Would love to learn more about the company overall. I believe it's coming from CA.
Sour Scotti, I assume has to be a cross with Sour Diesel and Biscotti. This jar indeed smells like Biscotti at first whiff followed by a sharp hint of diesel. This is a smooth dab for sure. Very funky with a very sweet taste of biscotti – the gelato heritage sure come into play here and reminds me of some type of ice cream or sherbert strain. Very juicy with the terps. After coming to full room temperature this jar was def sweating on top.
I'm not huge on Biscotti but will keep this around the stash for sure. I'm giving this a solid 7.5 score.
#dabs #rosin #review #cannabis #firstreview #hashrosin #biscotti #sourdiesel #Solventless #extract #solventlessconcentrates #concentrates #honeysolventless #puffco #proxy #puffcoproxy #NCdabs #ncrosin
🧊💧#️⃣ ❤️
Stash - Opinions - Logbook
Learning along the way
Instagram: https://www.instagram.com/nc_rosin_reviews/
Advertisements