Strain Review: Queensbridge Cannoli by Infamous Farms
Queensbridge Cannoli – @infmsfarms
Nose: Notes of pastry, chocolate and even lavender.
Inhale: Very smooth, notes of cake, chocolate chips, and even hints of banana.
Exhale: Gassy and floral finish.
Lineage/Genetics: Undisclosed
Original Breeder: Unknown
Grower: INFMS Farms
Queensbridge Cannoli Strain Review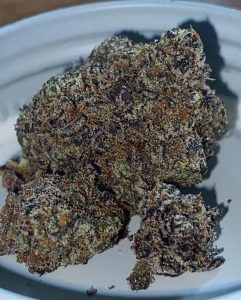 Good morning and Happy Sunday everyone! I hope everyone is enjoying their weekend. Today we have a special strain that we will be covering named after the home of @bigtwinsqb , the founder of Infamous Farms. I was blessed enough to have ran into @cali_connectin who was ready to put this up for a review. This one has made its way all the way from Queensbridge to California and has ended up on the shelves in stores such as @cookiessf and @lemonnadevannuys . If you're into smoother and sweeter strains than we have just the treat for you
The Queensbridge Cannoli came in a cool alt blue bag which had a simple design on front. However, if you flip the bag over there's a skyline shot of Queensbridge on the back which was pretty neat. The design was done by @alfreshko of course.
Upon opening the seal on the bag, I felt like I had walked into Mike's Pastry in the North End and waited in line for 5 minutes. The smell was light but had deep notes of pastry, chocolate chips and lavender. This certainly is a strain that has a very unique nose to it. The buds themselves would capture the eyes of most. Dominantly purple in color with waves of green and and an absolutely powdered covering this bud was a 10/10 on the ambiance scale.
They were rich and dense but also fluffy at the same time. This made for a really decent breakup and, upon, rolling up the bud I'd pinch it down a little more than usual.
Overall Rating 9.0/10
Top Tier Approved ✅
When I sparked this up in an organic RAW, I couldn't help but notice the smoothness of the smoke. The burn was excellent; despite a darker ash that it produced. It did ooze around the ash and turned the brim of joint completely Milkyway brown. Not only was the smoke smooth but you could feel your taste buds walking through a pastry shop the more pulls you took. As mentioned above, two flavors that stood out during the inhale/exhale stages were chocolate chips and bananas. Both of these lingered on the tongue and added a rich blend to the smoke. Additionally, there was a nice gassy finish to the QB Cannoli as well which sneaks up on you a bit. This and the floral finish definitely back the reputation of this strains tasty smoke profile.
The high wasn't crippling but certainly was potent. It crept up within the body and left a strong feeling of relaxation within. I guess you can name this strain after a food because I did head over to the fridge about 30 minutes into the high. Additionally, I caught myself in deep thinking trances periodically throughout the high which confirmed the potency of this strain for me. All in all, the high lasted a good hour and relaxing all the way through.
Overall, this is the debut I was hoping for from Infamous Farms given their diverse catalog of flower offerings as well as their accolades. It is very safe to say that this won't be the last review from them. We also have managed to get our hands on some Twin OG (the cousin strain of the QB Cannoli) so please stay tuned for some more content from Infamous Farms and The Cannabis Connissuers Club.