Strain Review: Apple Fritter by Infamous Farms
Apple Fritter – @infmsfarms
Nose: Tangy, sour, piney, citrus
Inhale: Earthy, sour, citrus
Exhale: Sweet and tangy
Lineage/Genetics: Sour Apple x Animal Cookies
Original Breeder: Lumpy's Flowers
Grower: Infamous Farms
Terpene Profile: Unknown
Infamous Farms Apple Fritter Review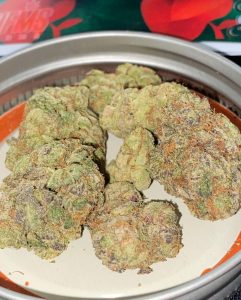 What's up everyone? It's finally Friday 🙌🏻 and I have another review for you. This one is our final installment in the collection of reviews I've been doing for Infamous Farms. When @cali_connectin blessed me with this one the sour apple smell that bursted out of the bag really caught my attention and probably would for most. I was really excited as to what this Apple Fritter had to offer and had my hopes high after trying some of the other strains in the Infamous Farms collection. Let's waste no more time and get into the facts.
I'm not getting into too much detail on the bag for this one. This came in a small square Mylar bag with a cool design and durable printing material. Upon opening the bag, as mentioned in the intro, you could really smell that tangy, sour apple smell which reminded me of they've sensation you get when you bite into a Green Apple. When I pulled the moderate-sized nugs out of the bag they were light green with garnishes of purple and yellow with orange pistols and a decent powdering of white crystals. Upon breaking these apart, I gained even more of that sour apple smell which made me believe this was legit Apple Fritter. The buds were as equally dense as they were sticky (yes these stuck to your finger as well). The yield on the break up was moderate compared to other apple fritter cuts I have tried before.
Overall Rating 8.3/10
When I sparked the Apple Fritter in an Organic RAW, I initially could taste notes of tanginess and sour with a little bit of earthiness that followed. I believe the earthiness to this, which caught my attention, could most likely be attributed to the Animal Cookies parent. Between that and the Sour Apple parent, this Apple Fritter pulled mildly gassy hits throughout. This did result to some pressure in the chest and mild coughing throughout the sesh. On the way out the fritter had more of a sweet and tangy finish. This was more and more noticeable about a quarter -to-half of the way through making this a tasty treat. The Apple Fritter burned a more inconsistent ash color which changed from a darker grey to a whiteish color back to a darker color around a 1/3 of the way left. Although I was not impressed by this or lack of res ring, the consistent burn on the joint which was slow and smooth made up for the difference.
The high I received from the fritter wasn't anything more than a moderate head high. I certainly was more than baked and deep in thought for a good hour or so. This one did create a heavy build up behind the eyes so, if you're one of those who doesn't like to be caught in public with glossy, red eyes, keep some Visine on you. I do remember taking my moms dog for a walk during one of the times I seshed with this fritter and really enjoyed the foliage with this one (not to be corny or coincidental 😂). Besides that, I didn't really find too much that stood out with the high besides it being relatively long-lasting and carefree.
Overall, I thought the Apple Fritter from Infamous farms served as a good day smoke adding that extra boost to the day. I'd recommend this to any beginner-to-intermediated level smoker who isn't looking to get inebriated off one sesh. Although most Apple Fritter cuts tend to lean indica, this could be a good one for those suffering with depression as I really felt at ease with myself while smoking this one. I will have to be on the look out for more offering by Infamous Farms in the future as the collection they provided me was above par.
Advertisements