Cultivar Review: Strawberry Banana by High Totem
Cultivar of the day: Strawberry Banana by High Totem
Lineage/Genetics: Ghost OG x Skunk Haze x Bubblegum
Original Breeder: DNA Genetics
Grower: High Totem
Terpene Profile: Unknown
High Totem Strawberry Banana Cannabis Cultivar (Strain) Review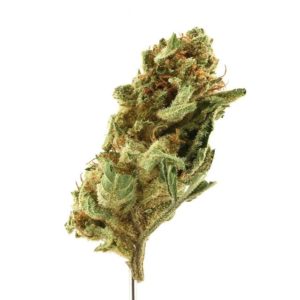 This batch tested in at 23.88% THC with 0.07% CBD
First whiff – Sweet Plantains – Baled Hay
Grind – Peppery Berries – Musty Banana
Vape – Sour Lemon – Papaya – Cloves
Strawberry Banana, aka Strawnana is a funky little Indica varietal brought to life by a collaboration between Amsterdam breeders DNA Genetics and Serious Seeds. It's said to be a cross of Banana Kush x Bubble Gum (Strawberry phenotype).
This Strawberry Banana from High Totem was surprisingly terpene filled, considering it's priced for the budget conscious consumer. When I ripped open the bag I was hit with a blast of terps so strong that it put me off a bit at first, it almost seemed unnatural.
Let me assure you, I was wrong, these outdoor flowers are indeed all natural and oozing with some very pungent terpenes.
My group shot shows this budget 1/8 to be a bit larfy and twiggy. The budlets were in serious need of a much better manicure, but as you can see they're a mottled green with rust colored stigmas, all covered with a surprising abundance of shimmering trichomes.
The buzz from this Strawberry Banana from High Totem was a perfect daytime high. For me it came on slow, creeping to a full-blown stone that was functional and mellow. The duration was average and the buzz was pretty good. The only bummer was that I got mediocre pain relief. That being said, I thoroughly enjoyed the taste of this Strawberry Banana from High Totem.
Bottom Line: If you're looking for good weed at a budget price, I would definitely give High Totem a try.
Advertisements