Cultivar Review: Vida Loca Pheno 2 by Relentless Melts
Vida Loca Pheno2 @relentlessmelts
Lineage/Genetics: (Puro loco {Lima Loca pheno} X Grateful Gak)
Original Breeder🧬: New Moon Novelties @new.moon.novelties
Grower: Relentless Melts
Terpene Profile: Unknown
Vida Loca Pheno 2 Cannabis Cultivar (Strain) Review
I'm stoked to have received some phenos of the new vida loca strain from SoCal Local Cultivator Relentless Melts. Let's dive into pheno 2.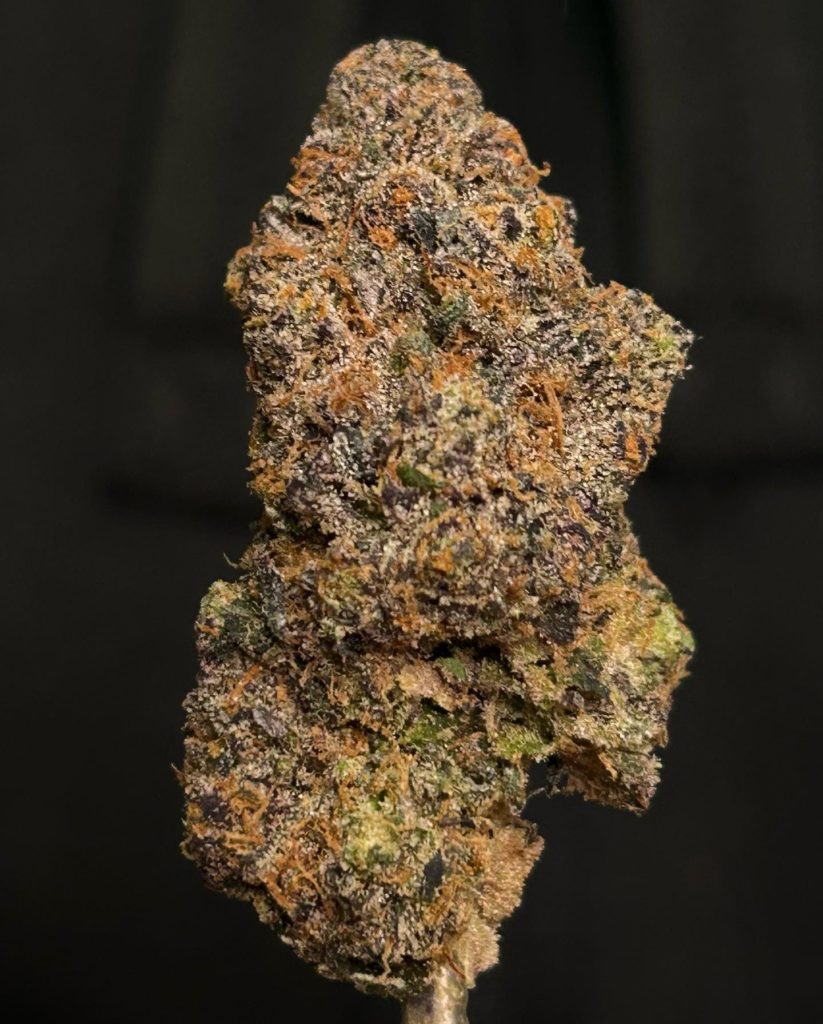 Aroma: 95/100
Rainbow Candy Cream, with fresh earthy foresty florals, lightly swampy musty sweaty linen funk, sour-danks, herbal cookie funk, lemon fuel, sharp limeade citrus and touch of Chile-mango spice. The break reveals A pungent skunky freezer burn, with a pinesol-menthol diesel layer and a slight veggie hops meaty savory funk undertone. Very complex, loud and fresh. Gassy, sweet, citrus, candy & savory. (See Video for full descriptiors)
Appeal: 94/100
Chunky, tall stretching dense colas, with partial protruding chunks from bushy triangles climbing each other to a nice crowning. Purple blue outer hues with a mid green to light green base & neon orange pistils of medium length. The trichome layer is thick, with a fuzzy pressed coverage on the outermost edges and well intact medium sized wet greasy resinous heads going down into the calyx crevices and in the inners, visible from the partially open structure. Very dense, with lots of resinous moisture and a nice trich stretch on the break up, revealing semi-leafy inners with a nice calyxed out display coated in wet trichome heads. Very thick density is revealed inside the cola. Semi-sticky, very sappy and greasy. (Videos)
Smoke: 95.5 Flavor 96 Ash 98 Drip: 98 Flavor Retention: 96
Clean white ash, & a monster terp ring. Strong, sweet translations matching the aroma on the mouth, a gassy pressurized inhale and a smooth gassy exhale. The smoke is insanely clean & terpy with a small amount of bite. Flavor & cleanliness lasts to the final puffs.(vid 9&10)
Effect 96/100 Potency 93/100
Strong heavy headband, low red eyes, a slightly focused euphoric mental buzz, partially uplifted but potently baked. Full body couch lock melt but I feel a channel-able energy hiding underneath. Finishing the king size cone was doable but the effects hit hard and fast. 3hour strong buzz easily.
Overall: 96.3/100
NFSOT! Reviews 21+ only!
#calibudreviews #relentlessmelts
Overall: 96.3/100
Attractive buds, loud fresh clean complex terps, basically a perfect burn, tasty, gassy, and very nice well rounded entourage effects. This stuff is known to be very a high ticket point, but it is definitely worthy of that. For Those that have been following my exploration of these guest flowers from the small batch traditional sectors; I can safely this has been the best strain of the guest flowers I've reviewed. Stoked to try the next 2 and big thanks to Melts for graciously making these reviews happen. Highly recommend.
Advertisements