Dab Review: THC Bomb Rosin by Sheeesh Solventless
THC Bomb
Lineage/Genetics: Unknown
Original Breeder: Unknown
Grower: Bomb Seeds
Processor: Sheeesh Solventless
THC Bomb Dab Review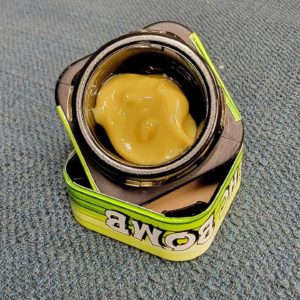 New jar on deck – we've got some Sheeesh Rosin to review today! This is another west coast Rosin coming to us from CA. They have a small IG account with a couple pictures. This is a redesign drop for them.
First thing you'll notice if your a Sheeesh fan is the new jar, new designs, and new quantity. The old jars came with 2 grams but were separated into two separate 1g strains. These new jars are just straight up 1 strain, 2g which is nice I guess. I have one serious problem with these jars though – the seal doesn't seem to work properly which worries me a little bit. Have to make sure to always keep these vaccd.
All 4 of the jars I got were different strains but opening each one when I first got them was surprising! The smell was almost nonexistent with a hint of vegetal smell. I was really puzzled – I've since had this jar on deck for a week now and have been agitating every other day.
The smell has now opened up SOO MUCH compared to the first time I smelled it. It has a great fruit candied piney smell now that isn't overwhelming 👃subtle yet memorable. The taste is complex and I couldn't put my finger on any one flavor tbh. It's a deep and rich dab that is smooth from beginning to end. Where this Rosin really shines – is the genetics. If your not familiar with THC Bomb, it's lineage comes from Dutch growers at Bomb Seeds. As the name implies this strain is HEAVY on the THC content. Def a creeper 😱that will slap you a second time.
For obvious reasons, this is not an everyday Rosin for me personally. I'm just not looking to get ripfaced alllll the time. I give this jar a solid 8 because of its effects. Do you like super high THC strains?
#dabs #rosin #review #cannabis #hashrosin #rosin #sheeeshsolventless #terpenes #THCbomb #terps #710 #Solventless #extract #solventlessconcentrates #concentrates #puffco #proxy #puffcoproxy #NCdabs #ncrosin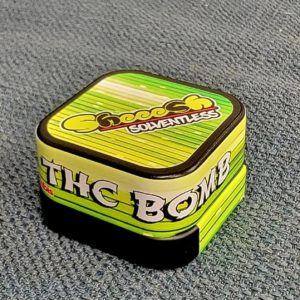 🧊💧#️⃣ ❤️
Stash - Opinions - Logbook
Learning along the way
Instagram: https://www.instagram.com/nc_rosin_reviews/
Advertisements