Drinkable Review: Yawn Drops by VeryVell
I love the concept of these VeryVell @veryvellthen cannabis yawn drops, water soluble, rapid onset, discreet and a good price point.
Processor: VeryVell
VeryVell Cannabis Drops Review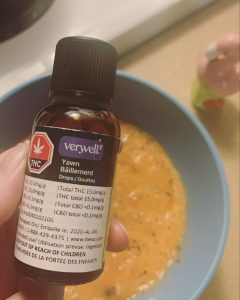 It's an easy way to infuse pretty much anything. I was so excited to infuse my water which wasn't a great idea, it had a bitter taste but not like cannabis. It could be the chamomile extract. I'm sure a couple drops would have been fine but with 2 drops equaling 1mg of THC, I needed a fair amount. These drops are great in something flavourful, I really like them in coffee, tea and soup. I can't taste them at all. The effects kicked in within about 20 minute, I felt relaxed, social and very giggly. Have you tried these? How do you use them?
#cannabiscommunity #cannabisreviews #veryvell #trussbeverages #cannabisculture #wakeandbake #420 #tomatosoup #tea #cannabistea #cannabisreview #thc
Advertisements