Edible Review: Root Beer by Bubble Kush
Manufactured by Tidal Health Solutions Ltd.
Packaged: Feb 17, 2023
THC per unit: 10mg, 10mg/package
Units per package: 1, 355 mL, 180 calories/0g fat/44g sugar/per can
I love a good root beer and as a Canadian I enjoy our very own A&W root beer from time to time.  Root beer is what I reach for when I'm hitting the drive thru. Root beer over cola any day. When I saw the Root Beer by Bubble Kush at my local dispensary I knew I wanted to get high while enjoying my soda.  Honestly I bought it to see how it compared to my favourite mainstream root beer brands.
I wish I could talk about the cool packaging but in Canada, the marketing laws are ridiculous.  Even though kids are not allowed in legal dispensaries, we must protect them from the evils of cannabis.  As a result of the harsh marketing laws, the can bears the Bubble Kush logo and an even bigger THC logo indicating that this drink is infused with weed.
The root beer flavour was good, it did remind me of my favourite A&W root beer.  There was definitely a distillate taste but it meshed well with the root beer flavour. It was enjoyable even though distillate can leave a bitter edge.  I think the cannabis extract complimented the naturally bitter root beer essence that is softened with vanilla.
I'd buy this one again as a treat.  Where it losses points due to the high sugar content and lengthy ingredient list of unpronounceable words.
Rating: 6/10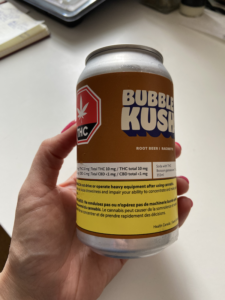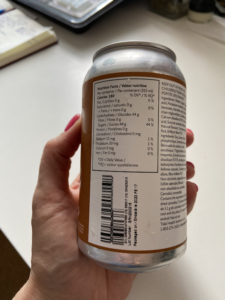 Advertisements