Edible Review: Blue Dream Sparkling Beverage by Phresh Strains
Manufactured by Molecule Inc.
Packaged:Sept 30, 2022
THC per unit: 10mg, 10mg/package
Units per package: 1, 355mL, 20 calories/0g fat/3g sugar/per can
"PHRESH STRAINS products are made to replicate the flavour profiles of traditional flower strains using naturally derived terpenes. These products are made for the cannabis enthusiast and new consumers looking to explore how different and exciting the flavours can be in each strain."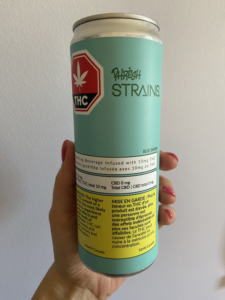 If you want to know what the cultivar Blue Dream is like, you could open a can of this sparkling beverage. It's light, refreshing and doesn't have the fake sweetness that a lot of sweetened drinks have.  The flavour had the mild, earthy tone of myrcene that is prevalent in Blue Dream and it though it was a different flavour profile from other drinks I've tried, it was pleasant and thirst-quenching.
Besides the unusual and tasty flavour, this drink is low calorie and virtually sugar-free.  Phresh Blue Dream sparkling water is sweetened with an exotic sounding organic coconut blossom nectar. It's still sugar but must be better than high fructose corn syrup and seems to set it apart from most other brands.  Many of the drinks I've enjoyed have so much damn sugar that I can't in good conscience appreciate them too often.  But this, with it's coy flavour, popping bubbles and mere 20 calories, this I could enjoy any day of the week.
Rating: 8/10
Advertisements