Strain Review: Blue Dream by Unknown Breeder
💛Blue dream☁️💤
Lineage/Genetics: Blueberry x Haze
Original Breeder: Unknown
Blue Dream Strain Review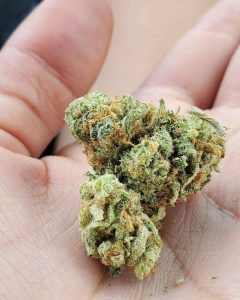 THC 20.7% // Sativa Dominant Hybrid
Vibrant bright light green nugs with so many frosty hairs and milky trichomes. .
.
❣Main Terpenes • Mycrene : anti-inflammatory, pain relieving, relaxing, sedating
• Pinene : alertness promoting, memory retention
• Caryophyllene : anti-depressant, anti-inflammatory, anti-anxiety .
.
❣Overall strain effect:
Helps one feel happy and uplifted giving one a calm relaxing euphoria that helps with stress, depression, and body pain while giving one great creative energy.
A sativa dominant that is very unlikely to give one "la mala". This is big beacuse many people avoid sativas because it stimulates too much thought provoking an overwhelming feeling, this starin doesnt do this. While making one feel uplifted and euphoric it keeps a calming relaxing effect which makes one want to be slightly active and expressive. Doesnt cloud you and make your unable of thinking, it actually helps you focus with the task at hand. If you are an artist, this is the kind of strain one can consume, because it really encourages you to want to create . .
.
.
.
.
.
#cannabiscommunity #cannabis #cannabisculture #cannabispr #weed #marijuana #weedblog #weedlife #weedporn #weedgirls #weedblogger #cannabispr #headintheclouds #cannabisenthusiast #ganjagal #smokeweed #420community #420everyday #weeddaily
Advertisements