Jerry's Seed Swap was a resounding success
The first Jerry's Seed Swap of 2023 at the Soil King Garden Center in Cloverdale, CA was a resounding success. People drove from far and wide. There was music, there was food, there was breeding knowledge disseminated to the world, and most of all… there were seeds.
From the horse's mouth, Jerry of First Cut Farms recapped the event:
"Seed Swap success!
It was pop'n!
Thanks everyone for the support ❤️"
What is a seed swap?
If you're not familiar with a cannabis seed swap, the premise is simple: show up with seeds, swap them with others. The etiquette at these events may vary by region, but generally it goes like this. There's a freebie table with bulk seeds being given away.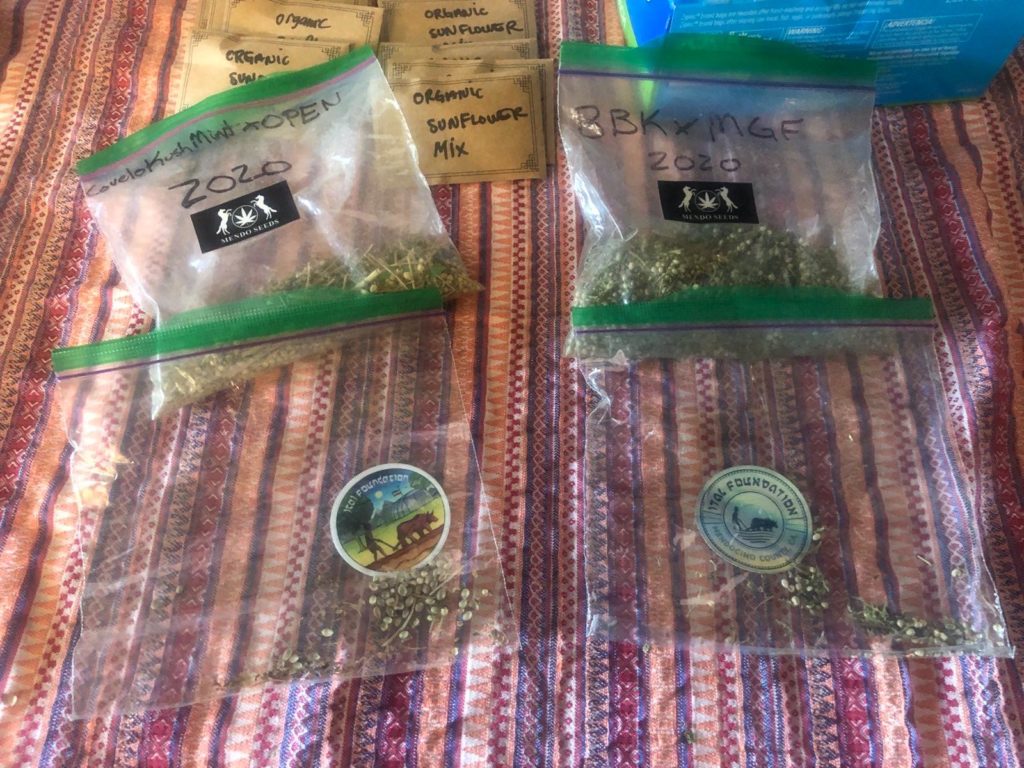 Elsewhere, breeders and seedmakers show each other what they have, and work out a trade.
Most tables had a seed list like First Cut Farms':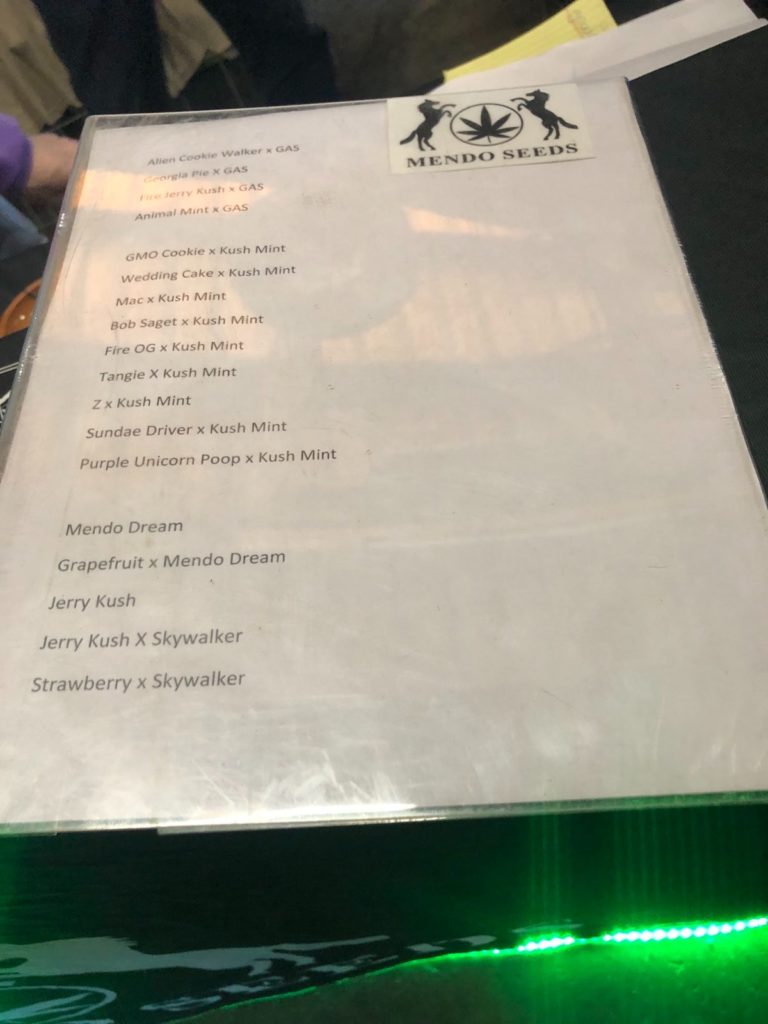 I participated in my first seed swap with an attendee, trading an Afghani landrace for a five pack of Jack's Mistress. Here's a pic of a sample seed swap haul.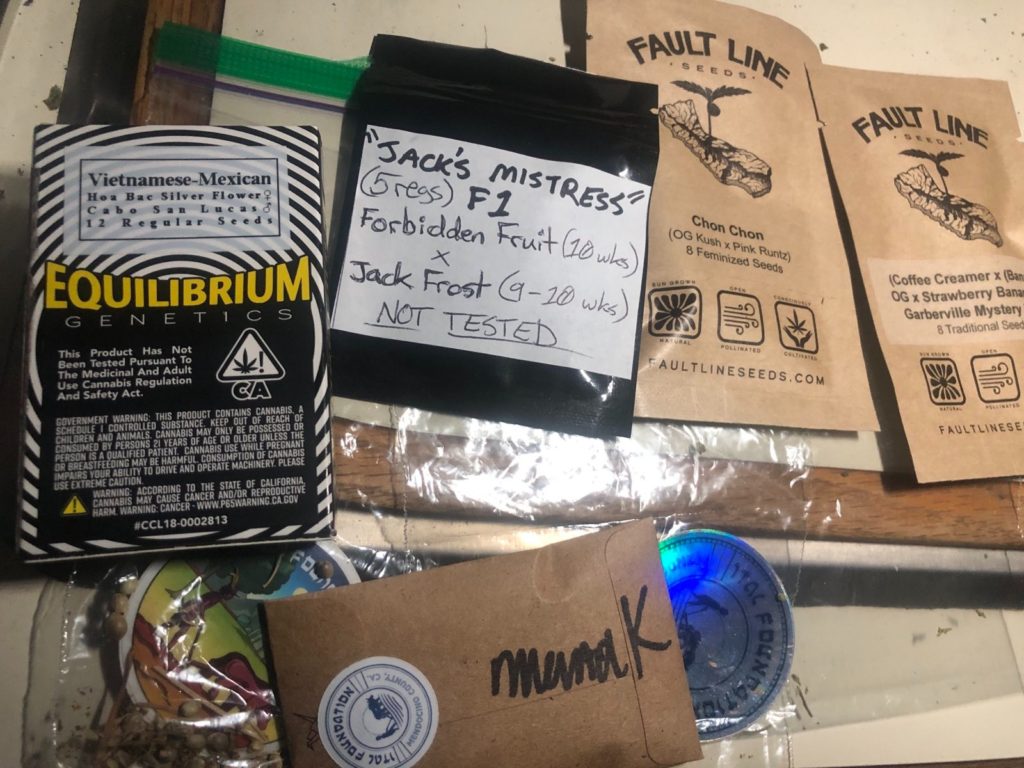 More often than not, happy greetings and words about taste or high preferences are swapped for seeds matching said descriptors. Sharing is caring, as they say. Being surrounded by so many people more knowledgeable and further than me in their relationship with the plant was an energizing experience and that's putting it lightly.
Jerry's Seed Swap Breeder Panel
The panel was a smorgasbord of knowledge. The breeders shared their opinions, tips, tricks, insight, and so much more. There were little bits of cannabis history being dropped for those in the know. As you can see, it was a packed house.
Panelists: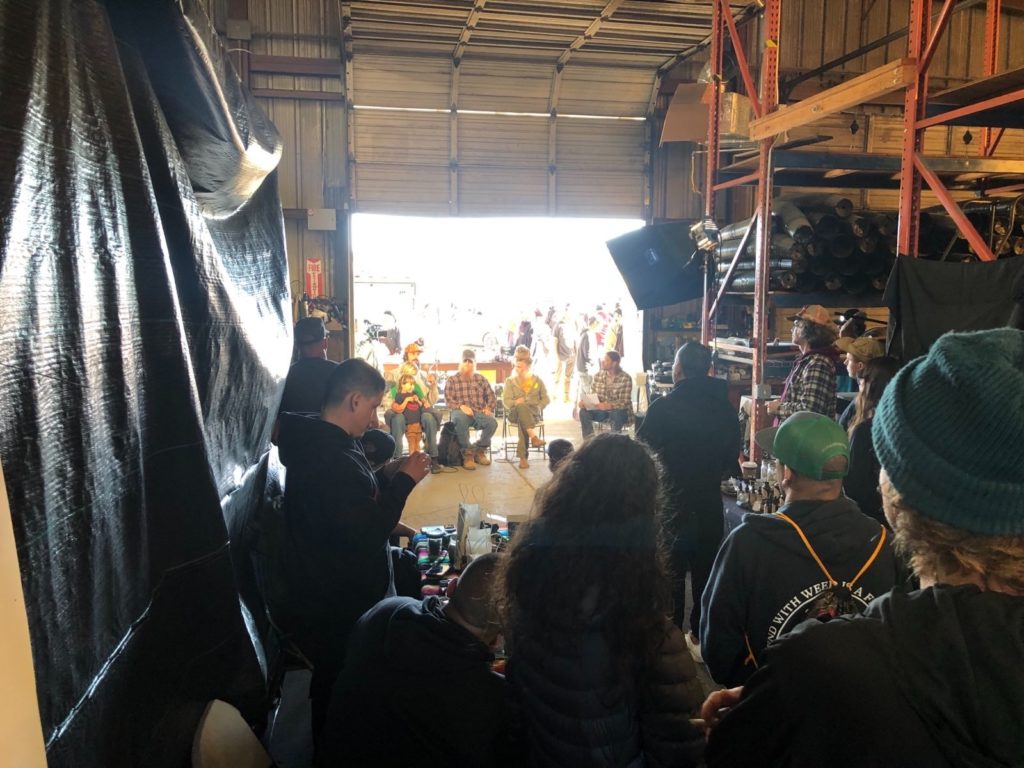 Here's an example of cannabis knowledge that was well known at the seed swap, but might not be well known at your average dispensary.  Knowing the difference between an IBL (in bred line) and a poly-hybrid and being able to discern whether something labeled as an F1 is a true F1 or not was not a prerequisite to understanding the discussion, but it sure helped. There was talk of landraces, selection processes, stem rub, female characteristics on male plants, and so much more that I won't bother trying to butcher.The entire thing was recorded from many different cameras by Chad of Emerald Triangle TV and others so I'll post a full video once it's available.
Jerry's Seed Swap Breeder's Panel Full Video
Thanks to all the panel members and to Jerry for the great moderation.
Also on the media side, s/o to GW Smoke Break and The Humboldt High Chair who were also in attendance.
Jerry's Seed Swap brought the cannabis community together
I got to see Ganjier councilmembers Kevin Jodrey and Patrick King – the gracious venue host as well as my fellow Ganjier Nate.
Ran into Jason from Equilibrium Genetics who gifted me with some Vietnamese Hoa Bac x Mexican landrace seeds. The boon from Boonville.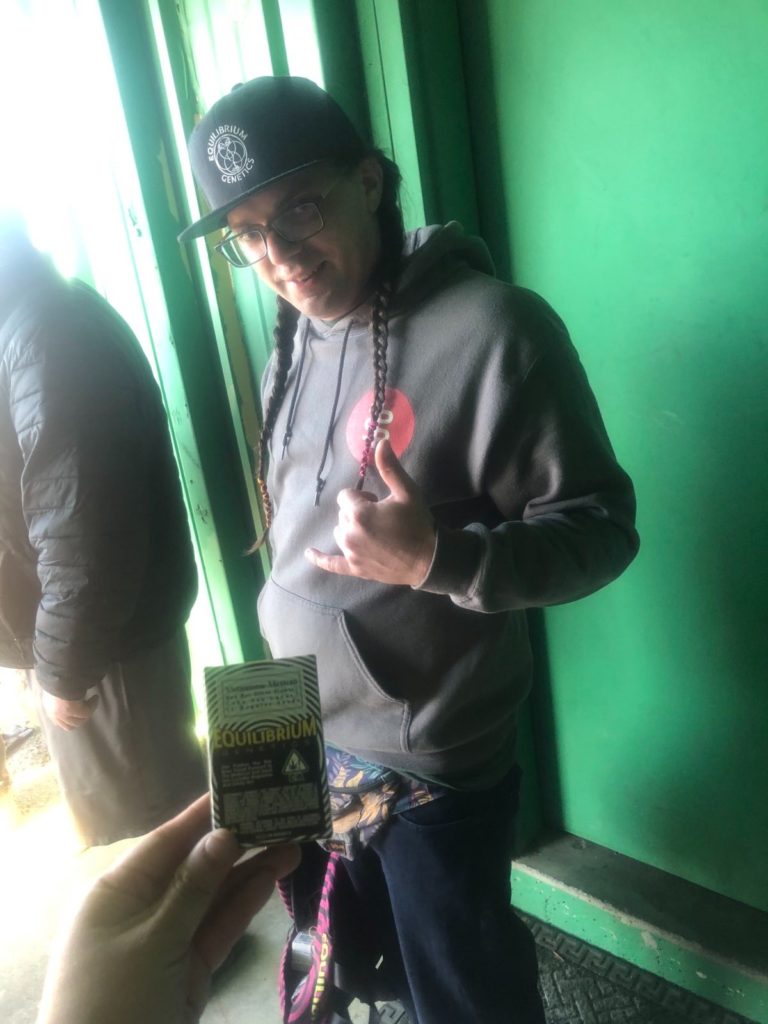 Saw Juan from Solventless Sanctuary holding it down. Wished Jesse from Sticky Fields a safe flight to the Hawaii Islands Cup. Here's a protip: Anytime something says Volunteer or Mystery, it's worth paying attention and listening to the story behind it.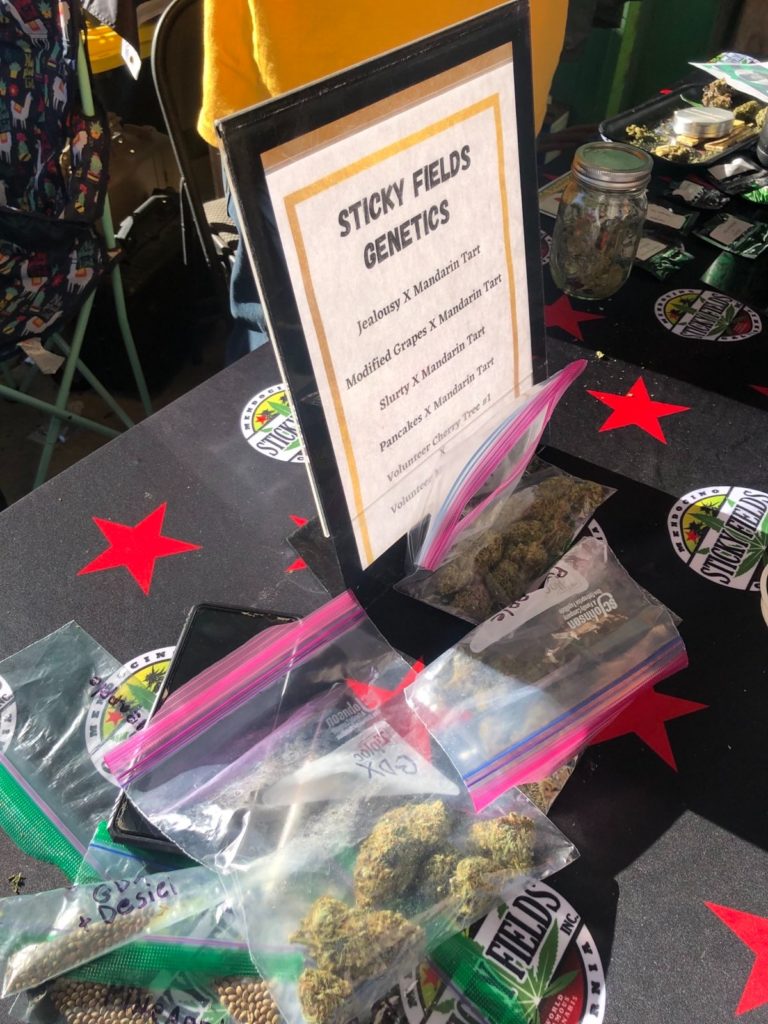 Came across Rasufa and his girl and he introduced me to so many more people. Here's a pic of us with the Master of Ceremonies hisself.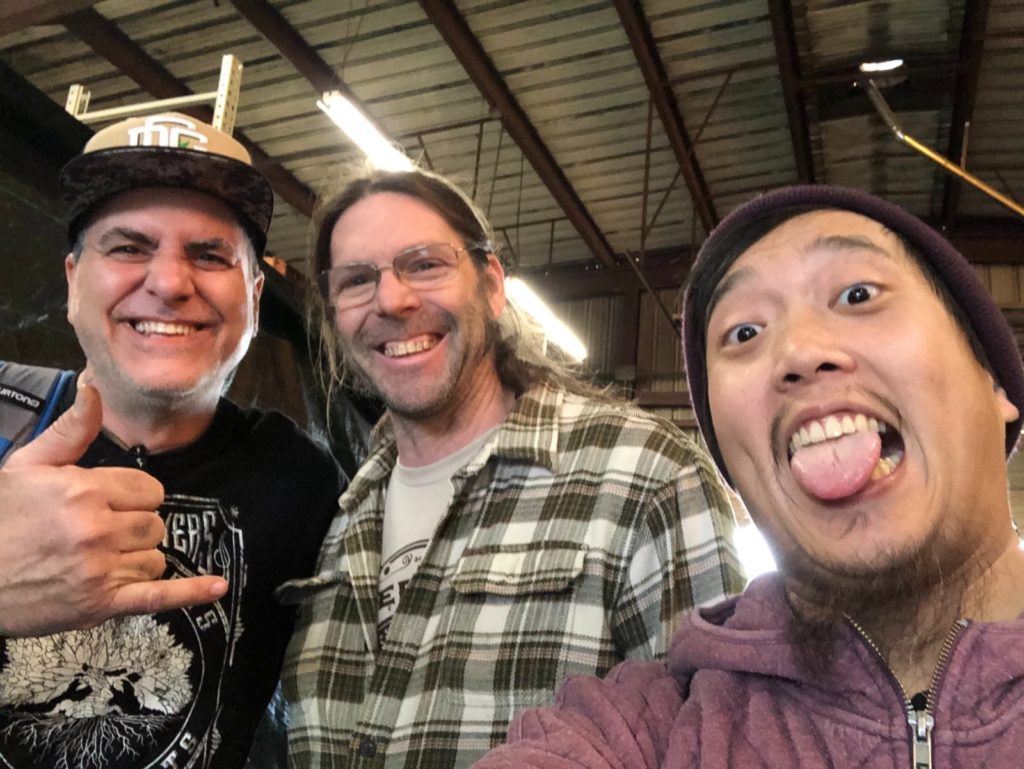 I met Tom Kikuchi of Freedom Grow Forever who told me tales of being Asian Amurrican in cannabis from before I was born. That was the first time I got to have such an experience and I do hope it's not the last.
I finally got to meet Amy Fisher of the Traveling Hemp Museum thanks to Rasufa. Do watch out for the Traveling Hemp Museum appearance at Spannabis this year.
I had the honor of watching her hand a fresh new Grand Daddy Purple poster to Ken Estes for an autograph. I have a soft spot for GDP so this was a dear dear cannabis history moment I was happy to witness.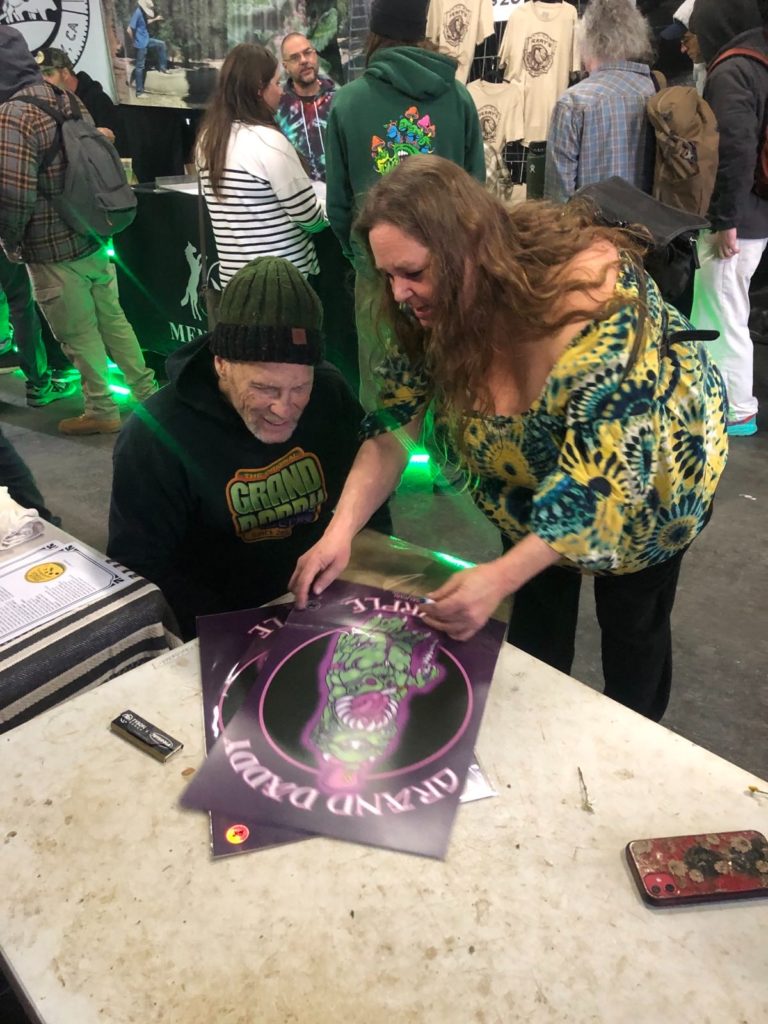 I met Jonathan from Fault Line Seeds who regaled me with a tale of his Garberville Mystery Male line of seeds which stemmed from a male he chose from seeds he got at last year's Garberville Seed Swap.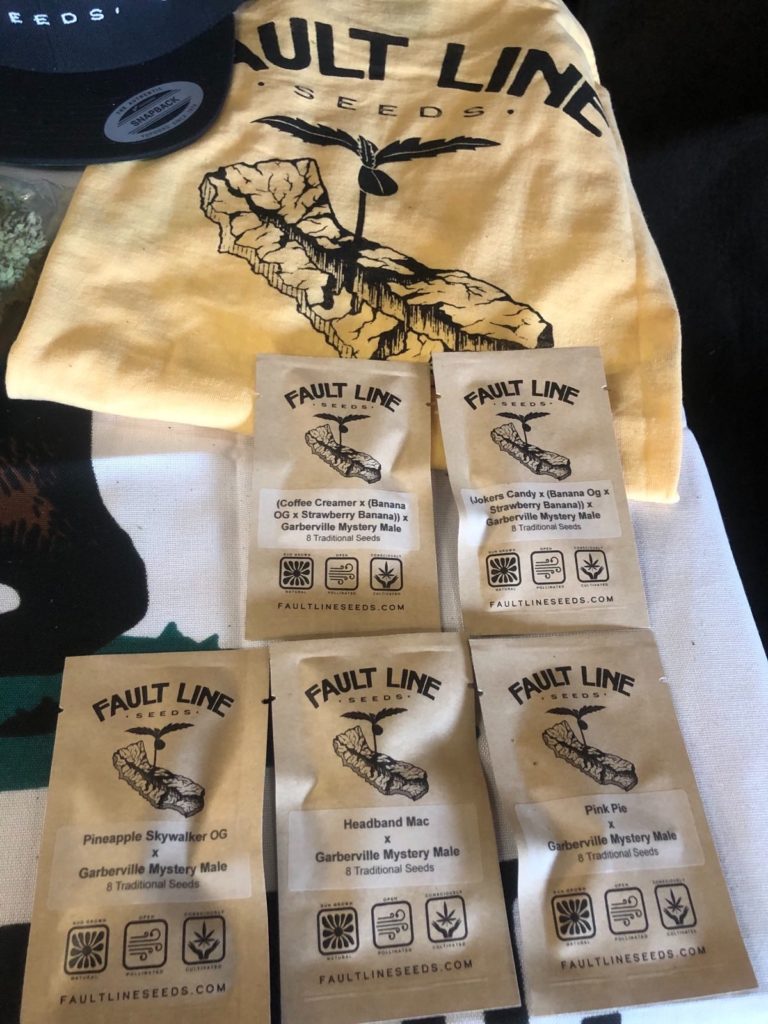 Spoke some with the young Hywalker and saw my first Yellow Passionfruit by Black Cat Genetics. Right on.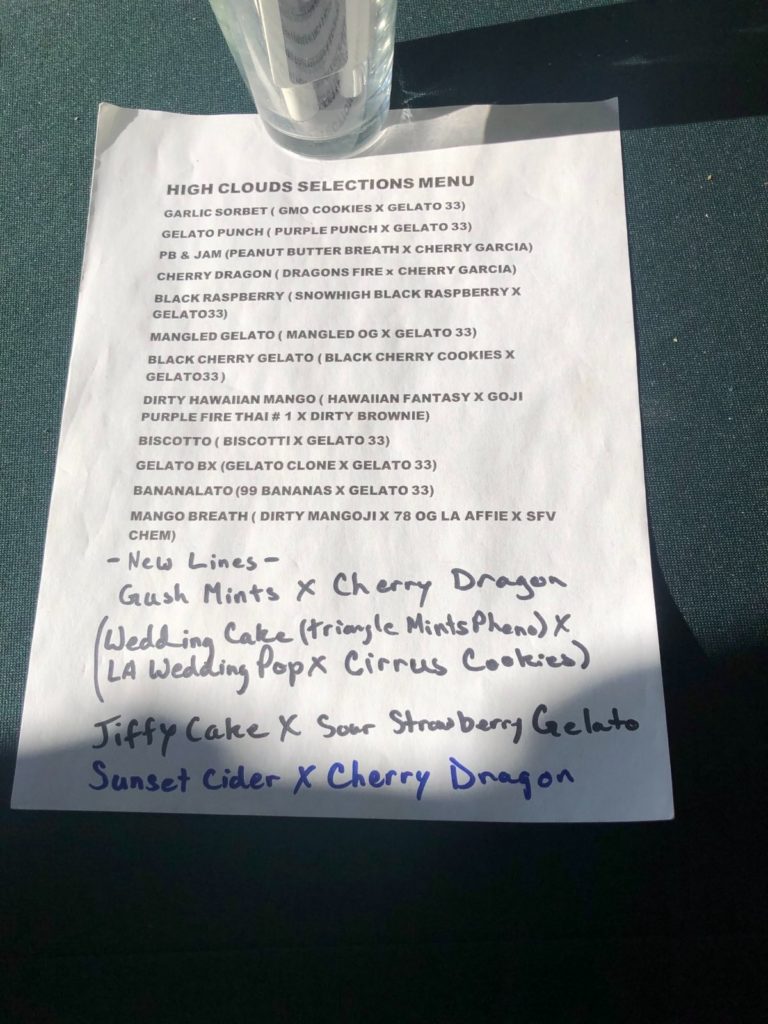 Met Nick from Green Source Seeds with the Pinkleberry and the Pinkleberry Lemonade. *chef's kiss*
Mama K shared a baked treat with me and anyone who wanted one.
Farming Stoned Genetics almost convinced me I couldn't smoke a doobie by his booth and I met part of the Kenjana Extracts team.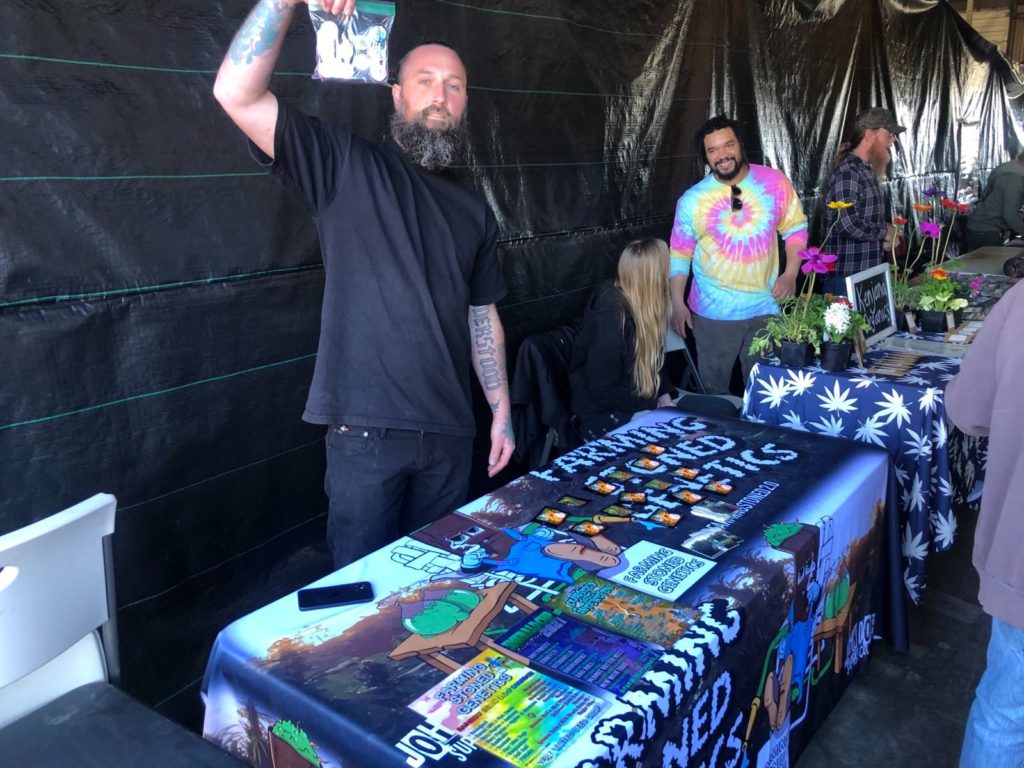 Got to meet Ben who was on the panel. Check out his seeds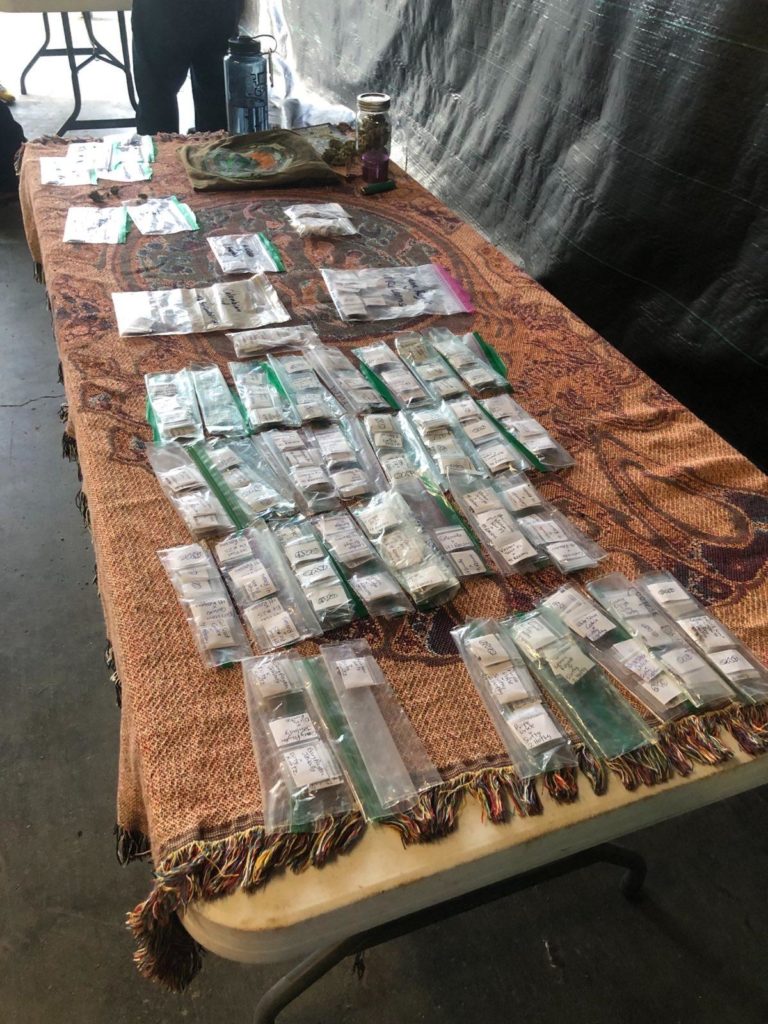 Even finally met Tim Blake of The Emerald Cup and so many more.
There are too many people that I didn't get a chance to catch up with and that's just the way it be sometimes.
It was a seriously great time and if you missed out, you missed out. These community driven events are what keeps the lifeblood of the cannabis community alive and there will be more of them. Note I said cannabis community, not the cannabis industry. These types of events predate legalized cannabis and nowadays serve a dual purpose to spread seed, and also commemorate the history.
PS: Rumor has it that an officer of the law showed up midway through and asked Patrick if he could walk around to check things out, but was shortly thereafter seen kicking rocks on the 101.
PPS: S/o Tony for making me feel like people actually read this site 🙂
Advertisements