Strain Review: Cream and Sugar by Fresh Baked
Cream § Sugar [Jar #05] ☕️ 🥛
Lineage/Genetics: Tina x Cookies and Cream F2
Original Breeder: Exotic Genetix
Cultivated By: Fresh Baked @slavery_baker X @fresh_baked__
Terpene Profile: Unknown
Cream and Sugar Cannabis Cultivar (Strain) Review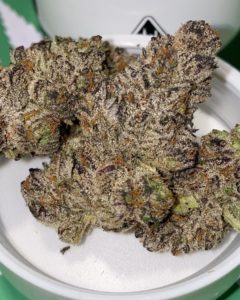 Class: Branded Exotic [SoCal/NorCal]
Flavor Line: Self-Titled Line
SMELL | FLAVOR:
As you crack the seal of this one, you first are captivated a bit by two things: First is the structure of this bud and then the smell in two parts. Frosted and cured to stick, the flower gave off a subtle yet savory scent. This flavor was more like a subtle grape and bitters, but in the breakdown, you're slapped with this flavor mix that I can only describe as bitter, coffee, and lavender with a slight citrus. It's extremely different in the sweetness side, and even delivers those terps in the inhale of the dry pull. I received my saple actually in hand from @habibi_nugz_dc, a smaller company to the public face but a really consistent group.
THE HiGH:
The first few pulls, and you'll start to feel your body float mentally. The effects start at the back of your neck, relaxing the tension centered there, but sending an uplifting high to your head in an interesting terpene combination. That mental activity and buzz centers itself on your temples, as your back and leg muscles start to buzz and release their grip. (Description continued in comments…)
Dope's THOUGHTS:
Some very dope work in store here, and I admire the originality with this one. It definitely has its own distinct personality, and enough flavor for its namesake. I think I'm going to spend some time collecting each of these, not just anything experimental but their main flavor line up also, so be on the lookout for that.
Halfway through you might start to feel like a ghost in the high as it brings a haze and a stark focus to your vision. With your body fully relaxed from the neck down, your mind is crystal clear, with that activity on your temples still going strong. Nearing the end, you'll see that the more you partake of this flower, the more those uplifting effects are washed away with a heavy handed dragging feeling in the mind. Your body should feel hollow and numb in a way, part because of the terpene difference, another because the focus of the high will mainly be in your head as the body follows, giving you a comfy setting and buzzing crown on your head to enjoy. This is a really good mood-booster, and I'd even recommend this to those who have severe depression/anxiety or even speaking issues.
This gets a surprising 9.0/10.0 from me 💯
#DOPAMINE
.
.
.
.
.
.
.
.
.
#cannabisreviews #cannabisdocumentary #cannon #strainreviews #strainreviewsuk #thestrain #cannabisreviewermd #dmcannabisreviews #cannabisreviewdc #cannabiscommunity #420review #420tvny #420talk #cannabisphotography #cannabisphotographer #cannabisconnoisseur #thehighestcriticpages #cannabisauthor #cannabiswriter
DOPE, THE REVIEWER!
Now Featured on The Highest Critic ⭐️
Young Mogul 👺 DMV ‼️
Culture Artist & Cannabis Reviewer. Creator of // #DOPAMINE 🧠
Advertisements