Strain Review: Snow Storm by Northbay Gardens x LoKeyFarms x M&P Gardens
Snow Storm 🌬🥶🌨
Lineage/Genetics: [PBG4 X 41 Sherb Bx1 X Purefrost]
Original Breeder: Unknown
Grower: Northbay Gardens x LoKeyFarms x M&P Gardens
Terpene Profile: Unknown
Snow Storm Cannabis Cultivar (Strain) Review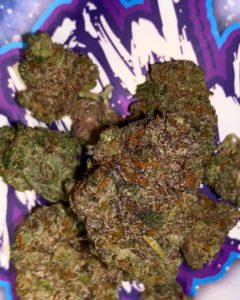 Class: Exotic [NorCal]
Powered and Cultivated By: @northbay_gardens707 @growlokey @mnp_gardens
Smell | Flavor:
This Pheno of this flower is actually majorly different than the Soft Serve, tho it may share the same parents. There's still a cream within it, but it's harsher, with those gelato-depths in the foreground. Roll it up, and the dry pull out of it is even noticeably more flavorful which I found enjoyable. In the first strike you get a lot more gelato and smoky funk than sweet, and that taste lingers through the session.
The High:
I actually got a more prominent high out of this cut. It could be the added pure frost, however even the grow is a bit denser structure wise. Gorgeous flushed content, ash white all the way through. As you puff on it, you'll start feeling those body notes are deepened with slight mental raise. It's almost like putting a gate in front of your train of thought. Calming, and with a deep strike to the chest that smoothes over about half way through.
Dope's Thoughts:
I really fucked with this Pheno. The hit of it placed it above the Soft Serve, which is one of my favorites in the line up. I'd definitely smoke on this all day, with such a calming feeling you could sleep off of it, or chill and take away those morning jitters. Overall another dope one out the line up.
This gets a well deserved 7.5/10 from me 💯 #DOPAMINE
#weed #cannabis #cannabiscommunity #marijuana #weedporn #thc #weedstagram #cannabisculture #cbd #stoner #weedlife #hightimes #smoke #sativa #indica #ganja #kush #maryjane #highlife #life #smokeweedeveryday #high #dabs #medicalmarijuana #hemp #dank #highsociety #bong #bhfyp
DOPE, THE REVIEWER!
Now Featured on The Highest Critic ⭐️
Young Mogul 👺 DMV ‼️
Culture Artist & Cannabis Reviewer. Creator of // #DOPAMINE 🧠
Advertisements