The best weed grinder for your cannabis is actually a Flower Mill
The best weed grinder for your cannabis flower isn't a grinder – it's a mill.
Like a flour mill, but a flower mill.
There are no teeth, there is simply an indented mill that meets a changable screen that with a traditional circular milling/grinding motion results in the fluffiest ground/milled flower ever.
I first came across the Flower Mill the day after a sesh with Amplified Farms head grower Zippy because he had left his mill in a bag of samples. I let him know that the bags were a little heavy and we arranged for a swap back ASAP.
The weeks between were my free trial with the Flower Mill – it was the Flower Mill free trial that nobody gets and I did not deserve one bit.
Fast forward to Christmas and I couldn't think of a better present to buy myself than a Flower Mill.
There was a discount – so why not.
Why is a Flower Mill better than a flower grinder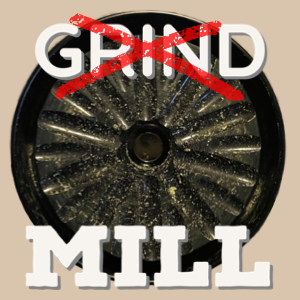 Everything from the quarter turn lock to the heavy magnetic top and the quick milling action lead to a better experience breaking up the flower. Once you put the milled flower to your fingers, it's over. Whether you're packing a bowl, paper, or wrap – you'll notice a difference.
Milling is physically more similar to the traditional "finger grind" than even a hemp grinder can manage. Finger mill. I always have to correct myself.
The milled flower burns better, rolls better, simply is better.
The flower mill even works for good ol' hashish. Probably not rosin, but good ol' hashish + flower homogenize very well under the mill.
Get yours today at www.flowermillusa.com and don't forget to use 'THEHIGHESTCRITIC' for $5 off.
There is a discount, so why not.
Advertisements