Vape Review: SFV O' Blueberry Cartridge by Mammoth Carts
SFV 'O Blueberry Cart
.
By Mammoth powered with No Time Flower
.
Lineage/Genetics: SFV OG x Blueberry
Original Breeder: Unknown
Processor: Mammoth Carts
SFV O' Blueberry Cartridge Review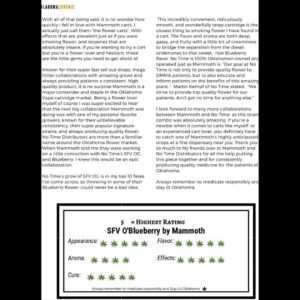 Back at it again and Fall is thick in the air, the changing seasons always put me in the mood to try something new. I'm always asked about cartridges, What's the best? Which is my favorite? Now, I will admit, I am not a big cart smoker. However, I try to keep up. Since before I even had my Medical Card I can remember seeing a hearing about Mammoth Carts, In a fashion as grand as their colossal namesake. In turn, I knew I had to see what all the hype was about when I went looking for an exceptional Full Spectrum cart. What separates mammoth carts from all other C02 carts Is the process of applying low heat and low pressure to maintain the molecular integrity of not only the cannabinoid's but terpines and flavonoids too.
The good folks over at Mammoth are true Flower Connoisseurs. Derek Kern and Blake Bellinger, Both Native Oklahomans and Oklahoma State University graduates, are the brains behind these heavenly little carts. They are also the muscle, processing everything theirselves with the highest Quality standards being upheld. Like many others, I was surprised to find out that Mammoth is actually a two-man operation instead of a corporate conglomeration like one may think. "At Mammoth, we strive to bring the Oklahoma patient a vape cartridge that is as close as possible to the flower that it came from, in both taste and chemistry. We started Mammoth out of a love for flower. We had found that most cannabis oil, especially distillate, really lacked in the flavor and experience of flower. So once we found out that there was a way to make a product that actually could resemble it, we set out to perfect that methodology." Kern told The Chronic.
Read the full review in this months issue of The Chronic!
.
.
#strainhunter #privatereserve #topshelf #exuisitecannabis #okcannabisculture #cannabis #okcannabiscommunity #highsociety #theoklahomachronic #okcannacritic #strainreviews #cannalifer #reviewpreviews #publishedreviews #originalreviews #notyouraveragereviews #staylitoklahoma #smokebetter