Check Out The Smoking Table at The Emerald Triangle Revealed Tour
Explore the Emerald Triangle with local guides while eating delicious food that is meticulously crafted to pair with the unique cannabis you'll be sampling. It sounds like a once-in-a-blue-moon dream but for a few dozen attendees of The Emerald Triangle Revealed Tour this summer, it'll be reality.
My personal experience with The Smoking Table
As part of my Ganjier Live Training, I was able to attend a Smoking Table social hosted by Kelly Valentine, Certified Ganjier and The Ganjier Campus back in April, 2022.
The invite read…
"This will be a chance to come together in fellowship, to share knowledge, to network, to embrace our community and shared love of cannabis."
I didn't know what to expect, and almost didn't make it on time, but I'm oh so glad I did.
The setting was just miles away from the 101 in verdant Southern Humboldt County, CA – but you wouldn't know it looking around. The Ganjier Campus sits on the top of a hill in the middle of a mini valley giving it a 10/10 score on the feng shui meter – and that's the ambiance you feel to your bones.
At this mythical/mystical location, two formerly unassuming tables were set up. One for the food, and another for the rolling station with flower provided by Sierra Family Farms. Kelly informed the attendees that the Sierra Gelato at the rolling station was meant to be paired with her lamb meatballs from the food table.
That Sierra Gelato was the first time that I got to sample some genuine terroir close to where I lived. As one can imagine, there aren't that many outdoor growers in Nevada. Though I'm in the Eastern Sierras, I'm more than happy to try anything from the Western Sierras. To me the combusted flower had the sweetness of Sierra onions (Allium Campanulatum)- which made it a perfect pairing with the lamb meatballs that Kelly had prepared.
I'd take a puff, then another puff, then put the lamb in my mouth and chew through the exhale. I've done plenty of puff, puff, pass… But this was my first time doing a puff, puff, munch. The endless possibilities started firing off in my head.
Unfortunately, I was too engrossed in the experience to take any pictures so you'll just have to imagine with my reminsicing.
Where you can check out The Smoking Table
Anyone interested in joining The Smoking Table for a meal should take a gander at their next public offering: The Emerald Triangle Revealed Tour hosted by Sol Spirit Retreats in June or July.
Here's a teaser of listed, included events:
Three Nights at Sol Spirit Retreats in Trinity County

Two Nights at The Inn of the Lost Coast in Humboldt County

Guided Redwoods Tour

Guided River Float Trip on the Trinity River with an official guide of the Hoopa Valley Tribe

Farm tour and Hosted dinner at Huckleberry Hill Farm

Farm tour and Hosted breakfast at Five Sisters Farm

Farm tour at Sol Spirit Farm

Farm tour at Emerald Queen Farms

Wine Tasting and Tour at Miles Garret Wines

Amazing Farm to table meals

Cannabis tasting experience with certified Ganjiers
These are the type of farm tours that just a few decades ago, you'd have to wear a blindfold to attend – and that's if you even got an invite because they weren't for sale. Nowadays, things are different. If you're a cannabis enthusiast and you've got the loot to scoot towards an experience like this and you've never been to the Emerald Triangle, this is the safe option to explore it that you didn't know you wanted.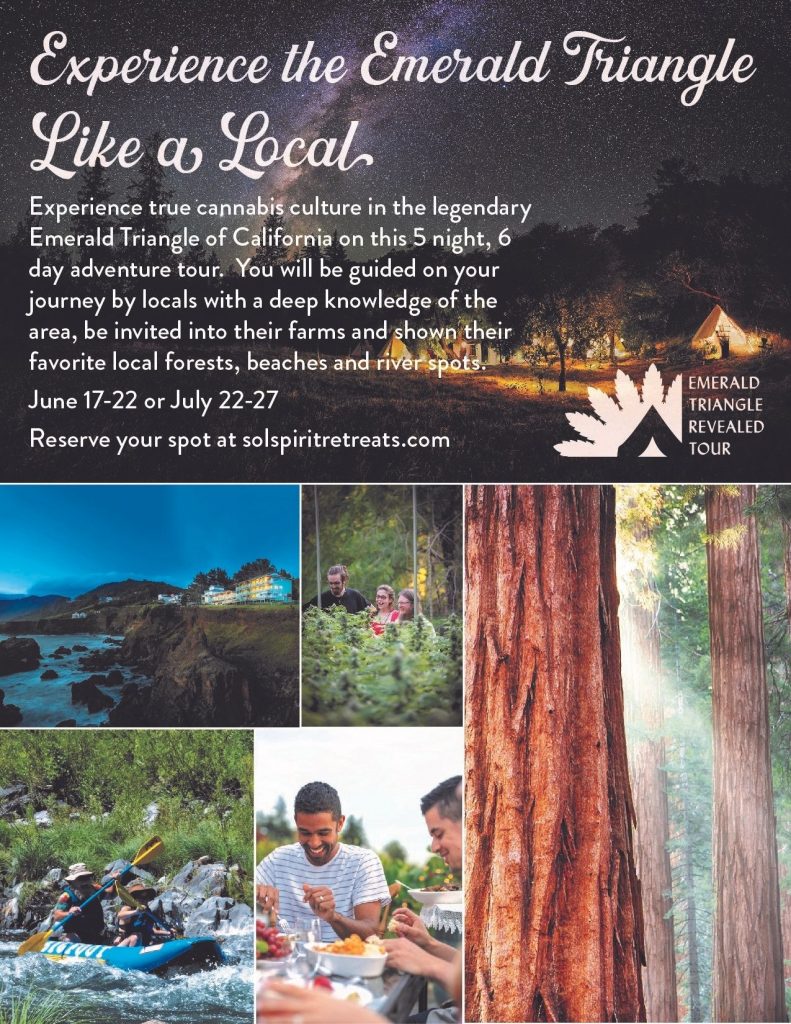 Here are some further unsolicited tips to make the most of your Emerald Triangle Revealed Tour:
Ask for the remediation nightmare stories
Ask for wildfire stories
Ask for bear stories
Eat everything offered to you
Listen to Mendo Dope the entire time
Advertisements