Terpene Supper Club SF! announced for April 27th, 2023
📢Attention all foodies and cannabis connoisseurs! 🌿🍽️
Mark your calendars for Terpene Supper Club SF! April 27th, 2023 SOMA SF for an unforgettable culinary and cannabis experience! 🔥
Our expertly paired dinner and cannabis experience will tantalize your senses and leave you wanting more. Hosted by the amazingly talented and funny @ngaio420 of Netflix's Cooking On High, the evening will be catered by @misskanjie_cg, Chef and Ganjier, who will utilize her culinary and cannabis expertise to spice up your palate, nourish your soul, enhance your senses, and elevate your experience through an intimate catering experience with hors d'oeuvres, small plates and zero-proof alcohol cocktails.
Don't miss out on this one-of-a-kind event! Join us at Terpene Supper Club and indulge in the ultimate combination of food and cannabis. Click the link below to get your tickets now!
About Terpene Supper Club
Organized by @tonybowlesconsulting, Creator of @terpeneflashcards, Customer Support Specialist for @getsava, and Chair of @bayareasafeaccess, Terpene Supper Club is a unique event that combines non-infused gourmet food, craft flowers, concentrates, and mocktails. We believe that the right combination of flavors and aromas can elevate your dining experience to new heights.
#TerpeneSupperClub #CulinaryCannabisExperience #SOMASF #MissKanjie #TonyBowles #NgaioBealum #GourmetFood #CraftFlowers #Concentrates #Mocktails
Terpene Supper Club SF! Full Flyer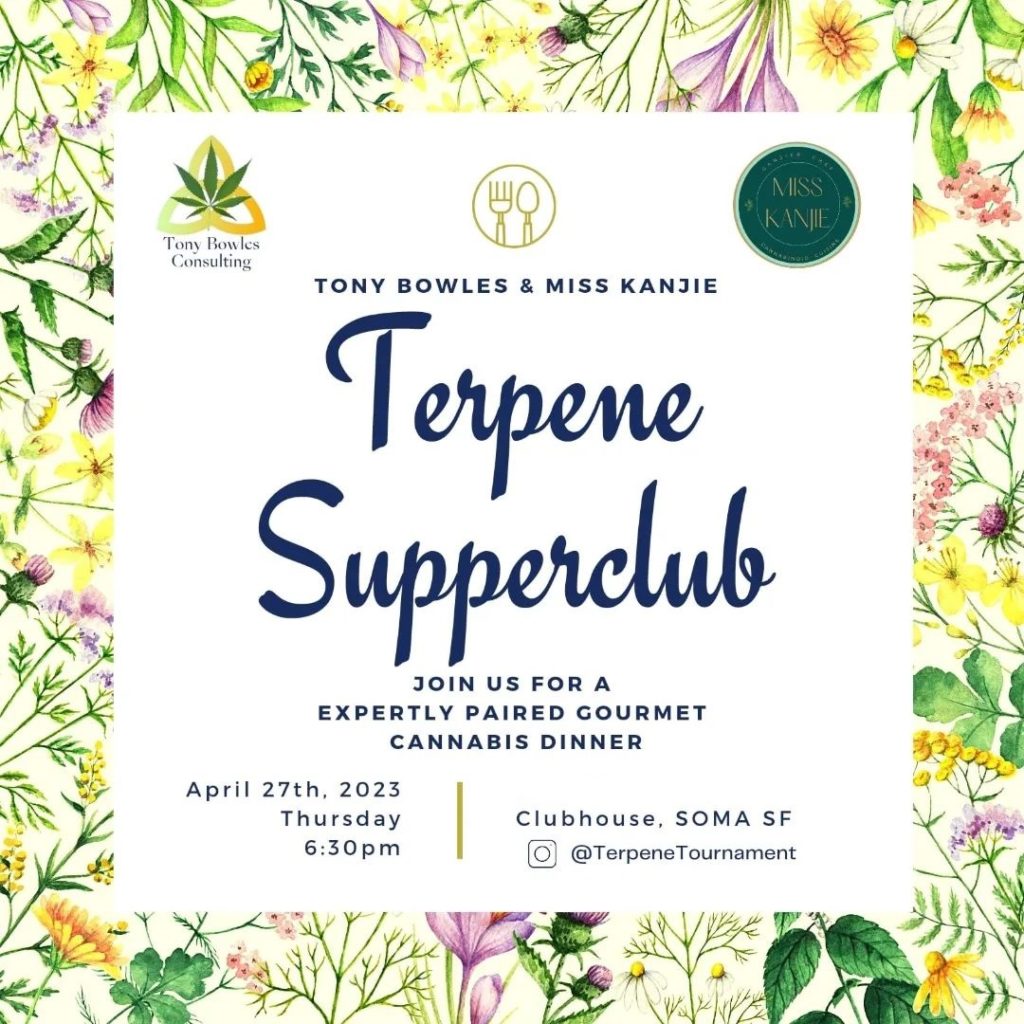 Buy Tickets to Terpene Supper Club SF!
Link to buy tickets on EventHi.
Sponsor Terpene Supper Club SF!
Terpene Supper Club SF! Sponsorship Deck
The Highest Critic Newswise features the latest cannabis industry news releases and press releases.
Advertisements