Cultivar Review: Cookie Dough by Team Elite Genetics
Cookie Dough
Lineage/Genetics: (Original Gangster X Grandmas Cookies)
Original Breeder: Team Elite Genetics
Grower: Team Elite Genetics @teamelitegenetics
Terpene Profile: Unknown
Cookie Dough Cannabis Cultivar (Strain) Review
Aroma: 94.5/100
Loud stanky & gassy, permeates my room with a strong dankness. Very Complex for its kind! It has an OG base, pine diesel, sweet lemon, a little bit of the menthol and chemical cleaner pungency to it. It has a lot of funk, and musk, and a touch of the barley wheat hops veggie layer, but it' has strong herbal cookie, & baked cookie undertones. A strong sweet floral note rides underneath that Carries a strong burnt rubber pungent gas on the ending of it. Hints of sour and Chem hide in the skunkiness, and a cheese hint hides in the creaminess of vanilla cookie cream.
Appeal: 97.75/100
Fascinating appeal! Calyxed out, open structured, but cookie dense w/ round bulbs that protrude out & foxtails that curl upwards. The pistils look like they've been given electric shock therapy & the trichomes have thick clustered coverage. The trichomes are wet & greasy, with Medium sized stalks with nice intact heads, it has a morning dew frosty layer & silver streaking on the outer blue-ish tips. The rest of the nugs are made of light greens, bieges, dull greens, & greens. The slight purps & blues really add to the appeal. Breaking nugs had a strong sticky sappy moist soft consistency, while the outers a have a hint of crispness, it hides a thick density behind that softness, the open structure, & the calyxed out build. Greasy & Triched out.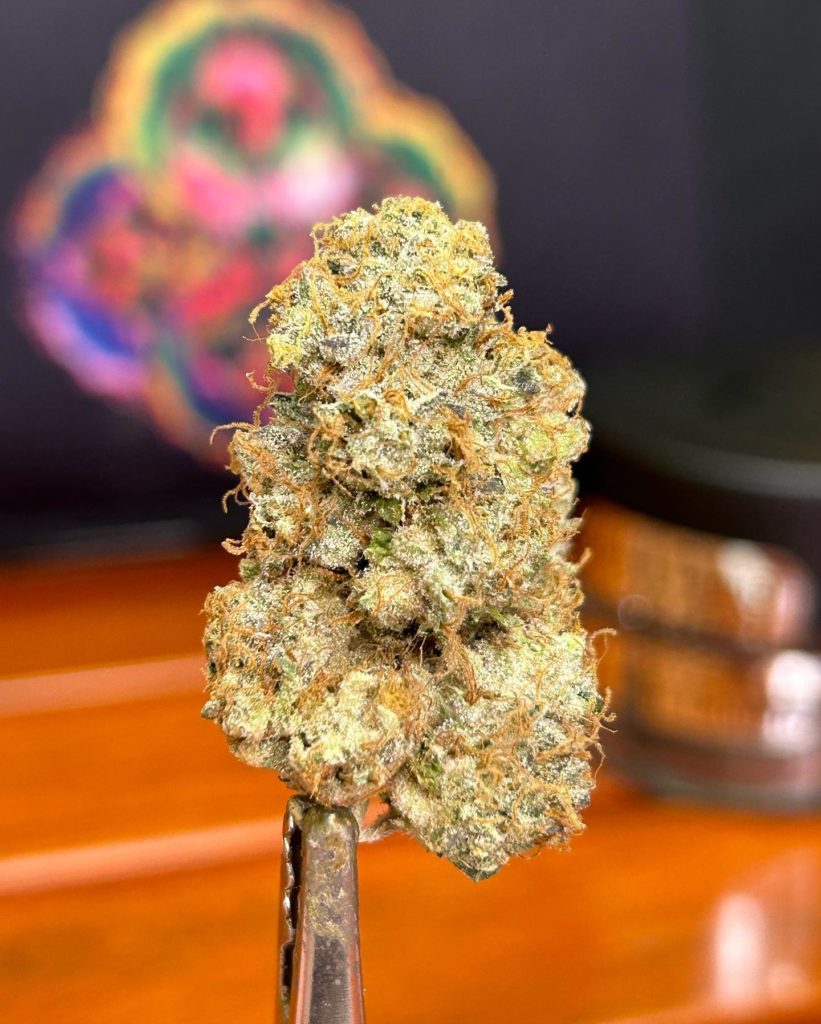 Taste & Translation: 95/100
Ash 93.5/100
Burn: 93/100
Terp ring: 94/100
Clean burn, satisfying, strong terps. The musky funky OG & vanilla cookie cream, and sweet floral+burnt rubber gas are the lead notes. Ash was clean, & Terp ring was thick! The cherry burned at a slight angle from over packing the super sticky fresh buds but it burned through very thoroughly. Smooth, but heavy lung pressure!
Effect: 95/100 potency 93.5/100
Heavy bake. Cloudy calming & euphoric. Pain relief. Headband, low red eyes, Hungry, awake for the chronic bake but it ends sleepy. Hits hard right away but keeps building evenly. 3hour buzz.
Overall: 95.5/100
An instant favorite! Top notch genetic & quality! Delicious terps & appeal!
NFSOT!
#teamelitegenetics #calibudreviews
Advertisements