Emerald Cup Harvest Ball 2022: Still celebrating small farmers
I remember the first time I heard about the Emerald Cup. It was touted as the event. If you could only go to one cannabis event in a year, Emerald Cup would be the one. This was years before the bifurcation of Emerald Cup into Emerald Cup Harvest Ball in NorCal and the Emerald Cup Awards Show in SoCal. Hell, it was years before the advent of maryjane business conventions that don't allow cannabis consumption on premise. Emerald Cup does – as is expected. This year, the stars finally aligned and I was in attendance at the 19th annual Emerald Cup.
Event: Emerald Cup Harvest Ball
Emerald Cup Harvest Ball recap
Here's my personal Emerald Cup Harvest Ball 2022 recap:
Emerald Cup Harvest Ball arguably starts the night before. I attended a Ganjier led Consumption Lounge then made my way over to my first time watching Frenchy Dreams of Hashish. A sold out showing and such a well made film.
A lil' history: Emerald Cup Harvest Ball is a two day event that celebrates the Emerald Triangle's outdoor cannabis farmers and the end of their recent harvest. This is an event that started back in the day and used to be hosted in Area 101 up in Mendocino. It has moved as it grew – including a stint at Mattole Community Center – but is now settled in Santa Rosa, CA at the Sonoma County Fairgrounds.
Once past the ticket gates – Signs like these were posted in front of all the buildings: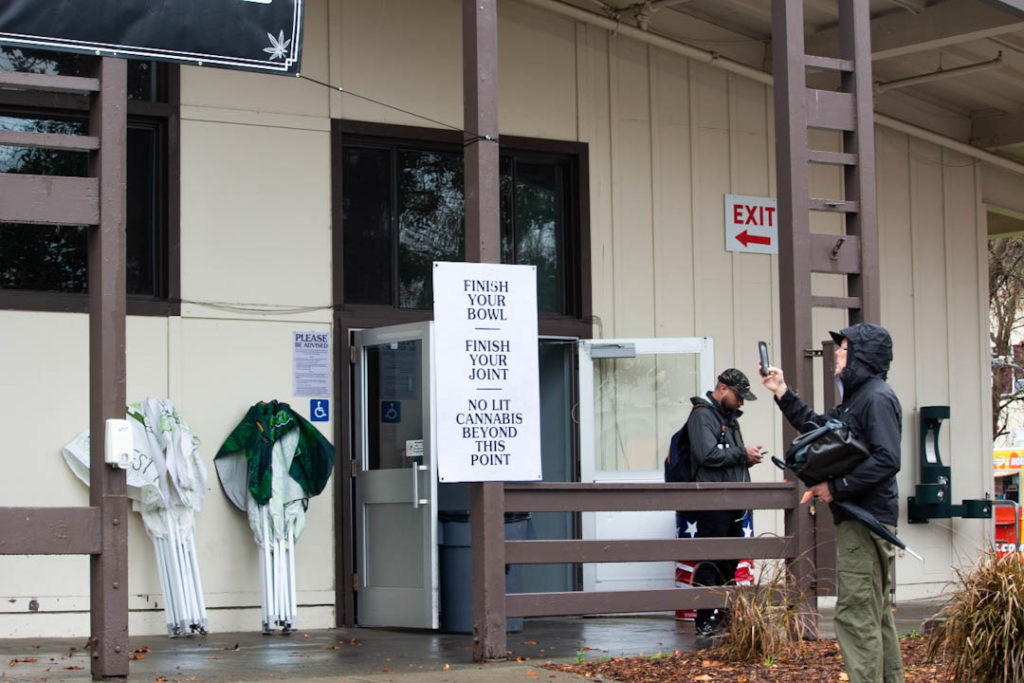 And ignored. A hotbox like no other ensued by hour two of the first day. If you stayed by the booths until the plate carrying security guards asked you to leave, your eyes would be red from just being in there. Those buildings are huge. I have not been in a more epic hotbox by volume.
A lot of firsts at Emerald Cup
It was my first time hitting an obsidian tip doink. Obsidian – as in dragonglass.
Also my first time hitting the 'lectric hookah. It was Frenchy's and it was a magical moment around 4:20 in Area 101.
It was my first time talking so deeply about cannabis tourism with HigherWay Travel.
It was my first time seeing a legacy cannabis grower talk about a check he received from the government. #iykyk.
The music was loud
On the Saturday night – despite the rain – people were wilin' out to E-40. Keak Da Sneak made a surprise appearance and let me tell you… people were dancing.
Sunday, I caught Arise Roots and Mendo Dope Boys for the first time. Fire fire fire fire.I missed Smoakland but shit, at least I was smoking.
In sharp contrast to "yay area," I heard a Mendo Dope boy song I hadn't before and thought it worth sharing:
From what I heard from other attendees, the second stage was bussin', too.
Some people come for the music – I came for the loudness.
The flower was louder
Some shoutouts in no particular order.
It was great to see Small Boutique Farms with their Chocolate Mints and oft copied Frozen Grapes held it down at the Xotic Flavorz booth. The biggest blunt at Emerald Cup Harvest Ball 2022 was to be found at Booth #60. The best blunts are always where Small Boutique Farms is – and they are rolled with dextrous thumbs that fly drones on the two stick like nobody's business. If you know, you know. Stuff like this is what people flock to cannabis cups to see.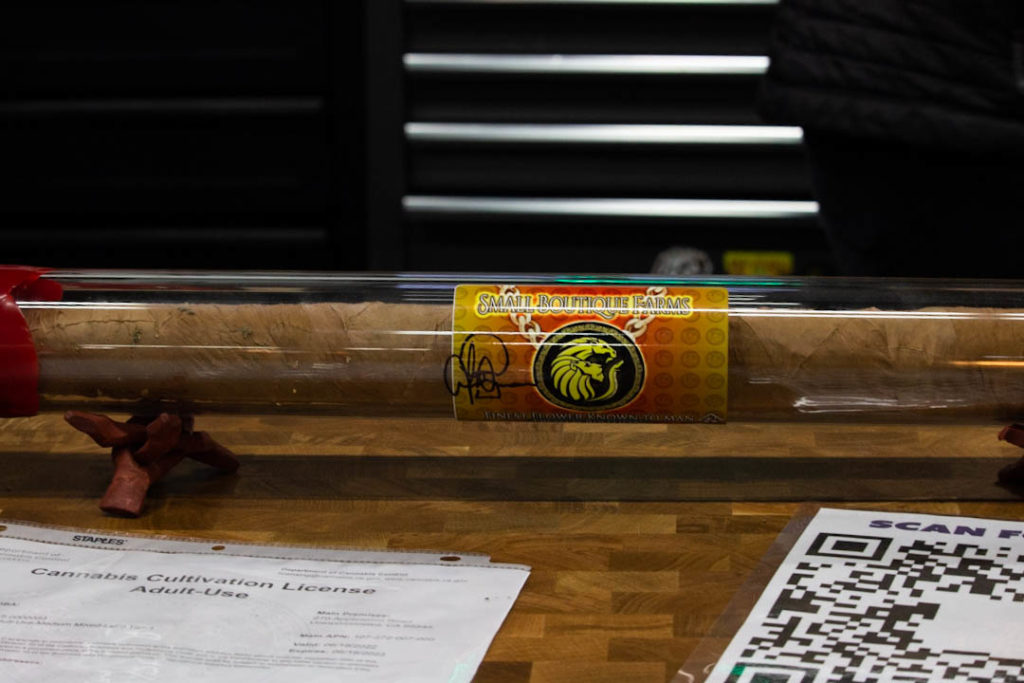 Humboldt County was holding it down at the Small Farms Initiative with a booth facing the main entrance, drawing people in.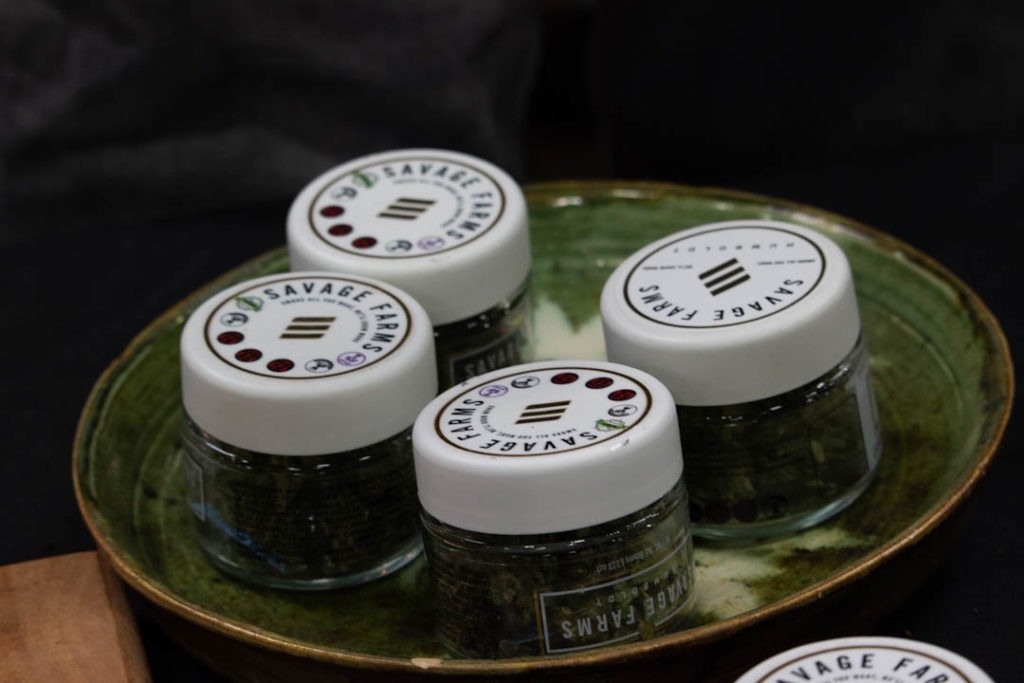 Tall Tree Society was holding it down by the door – the only spot in the hall that had a little bit of fresh air and the biggest magnifying glass i'd seent for flower examination.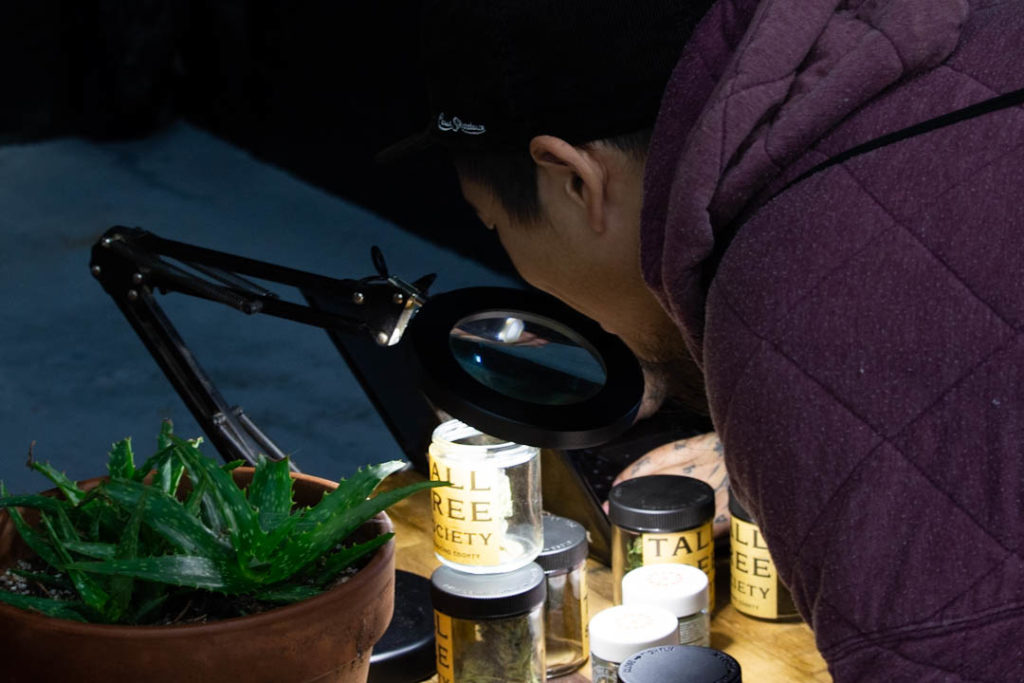 Thanks to Silver Dragon Cannabis for showing me the Blue Quartz and Sense for showing me my first Pink Certz in person.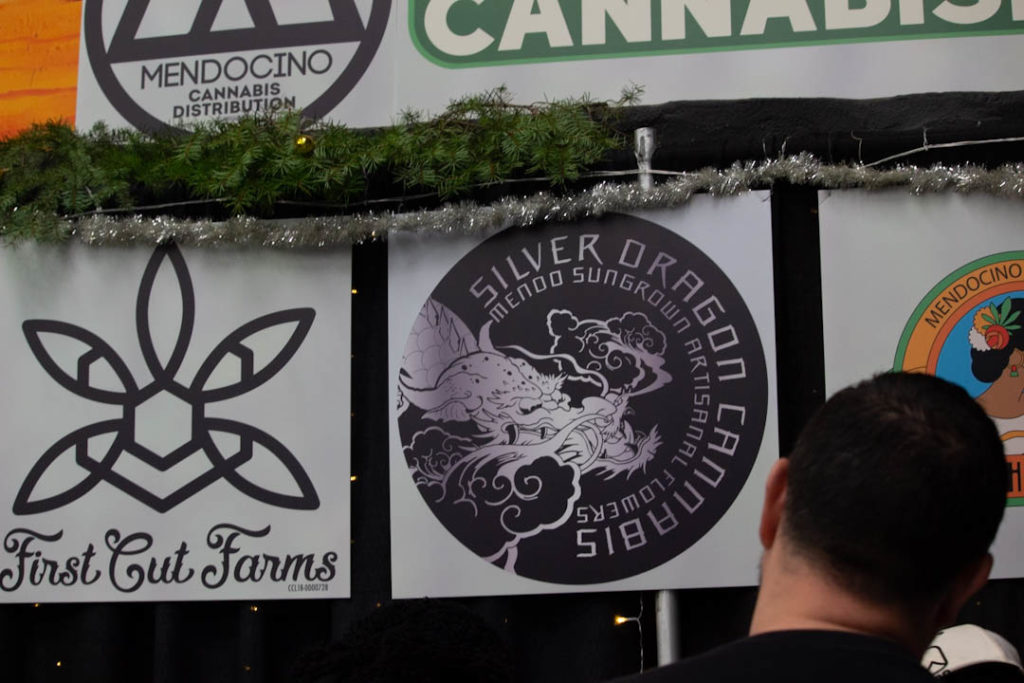 Even the intentionally not loud flower packed a notable punch. I'm speaking specifically about Martyjuana's vintage cannabis experience which was hands down the most unique and needed experience at Emerald Cup Harvest Ball 2022. I stumbled upon Swami and Marty chatting it up about their 14 month and 26 month old "vintage cannabis." That's what they smoke on the daily.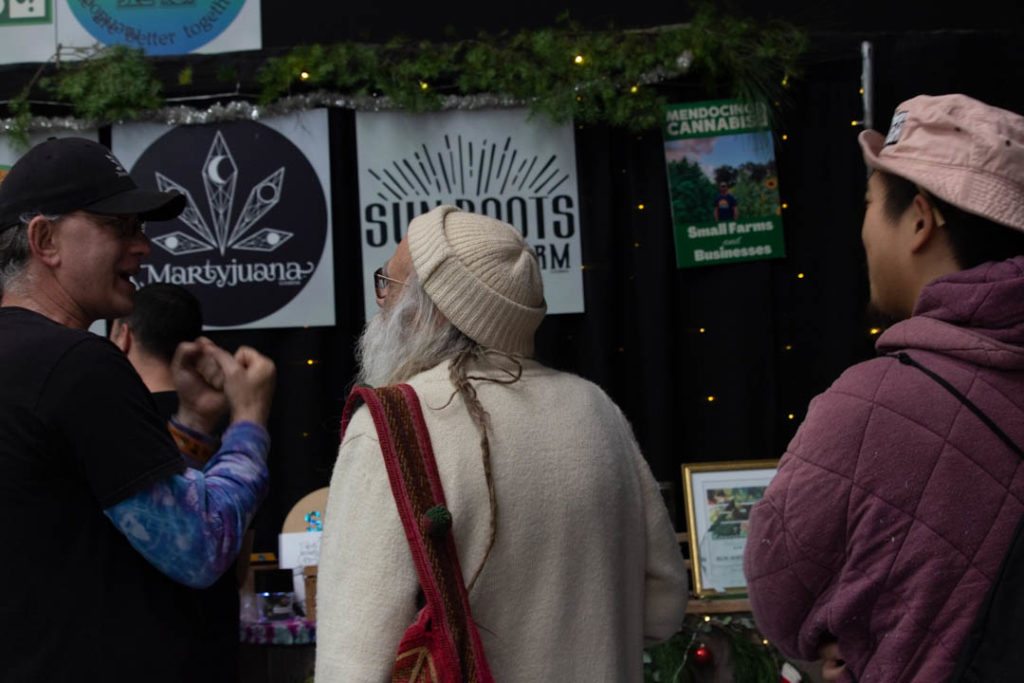 Those who made it to the Martyjuana stand at the Mendocino Cannabis Shop booth were greeted by Martyjuana who was showcasing a 14 month old Alien Cookie Walker. First, you smelled the bud in the jar, second you smelled the ground up bud after it had aired out, then you got to experience the final product. Not a sales pitch, but a true offering of something unique. Stay tuned for more on vintage cannabis.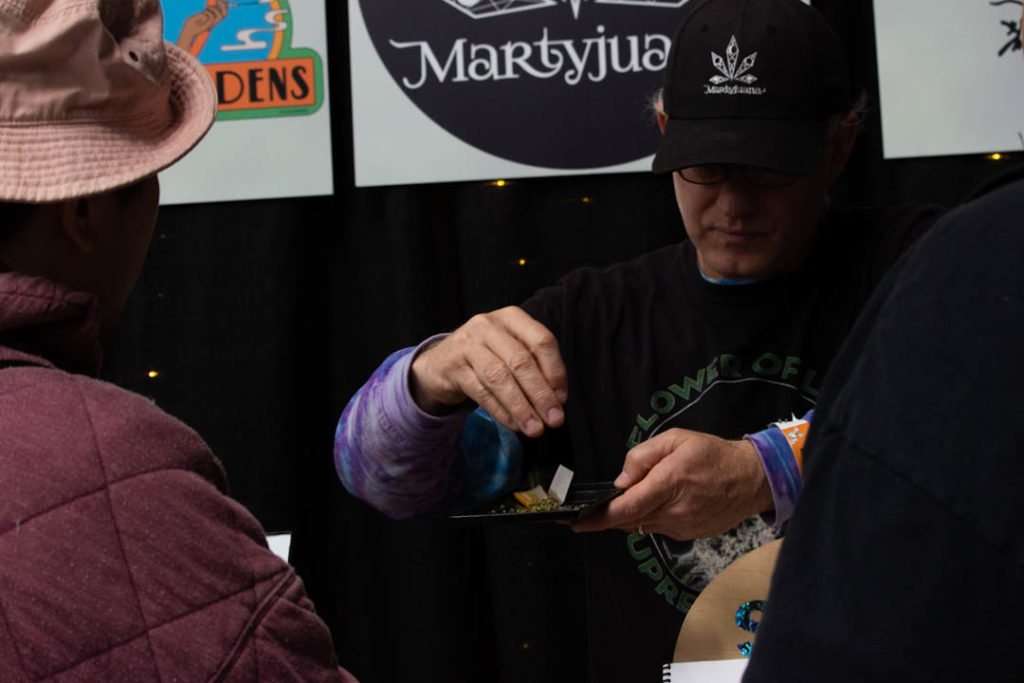 Sunbright Farms also had some vintage cannabis.
The loudest flower, as always, was to be found with the small farmers in the back. I had great smells and chats with the other farmers at the Mendocino Cannabis Shop booth – as well as all the new farms I learned about thanks to the Farm Cut Canna booth, The Willow Creek Cannabis Alliance booth, the Lake County Cannabis Alliance booth, and all the others in the Small Farms area.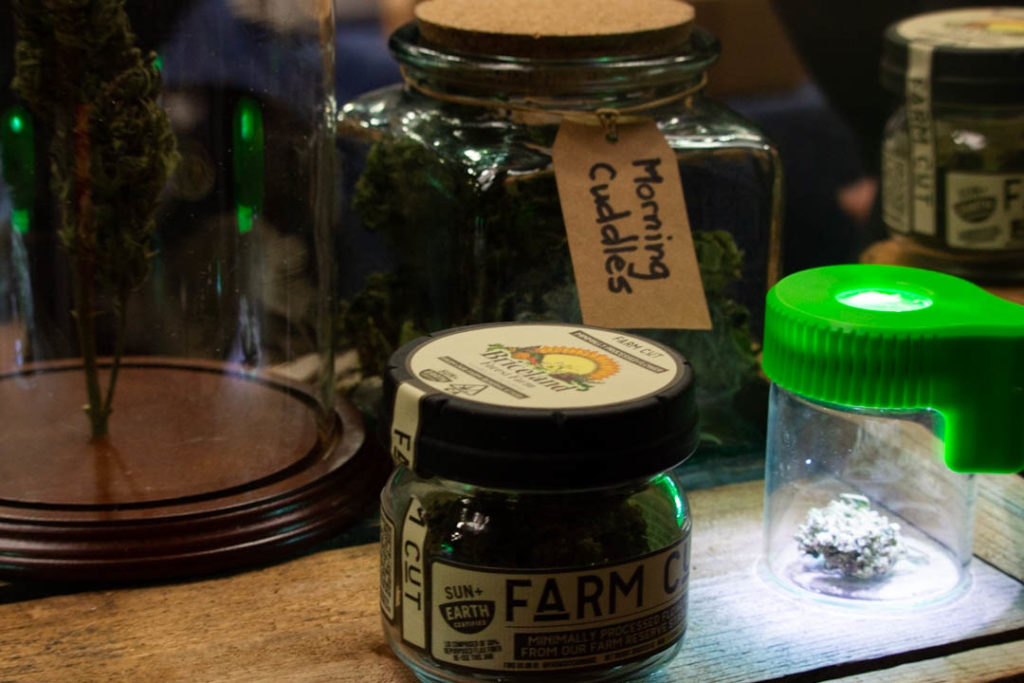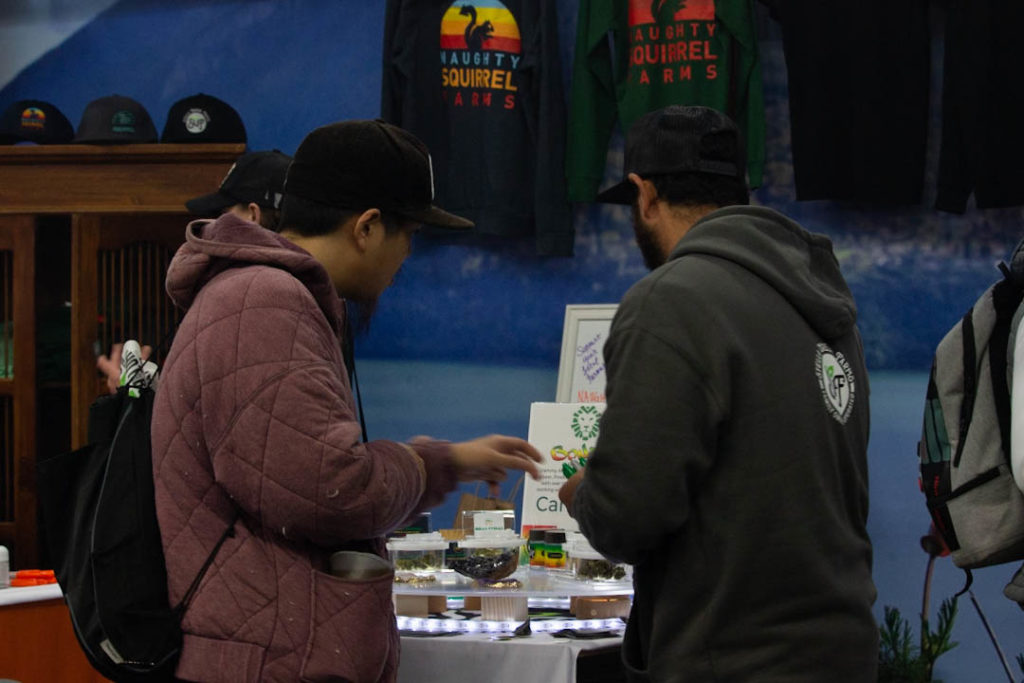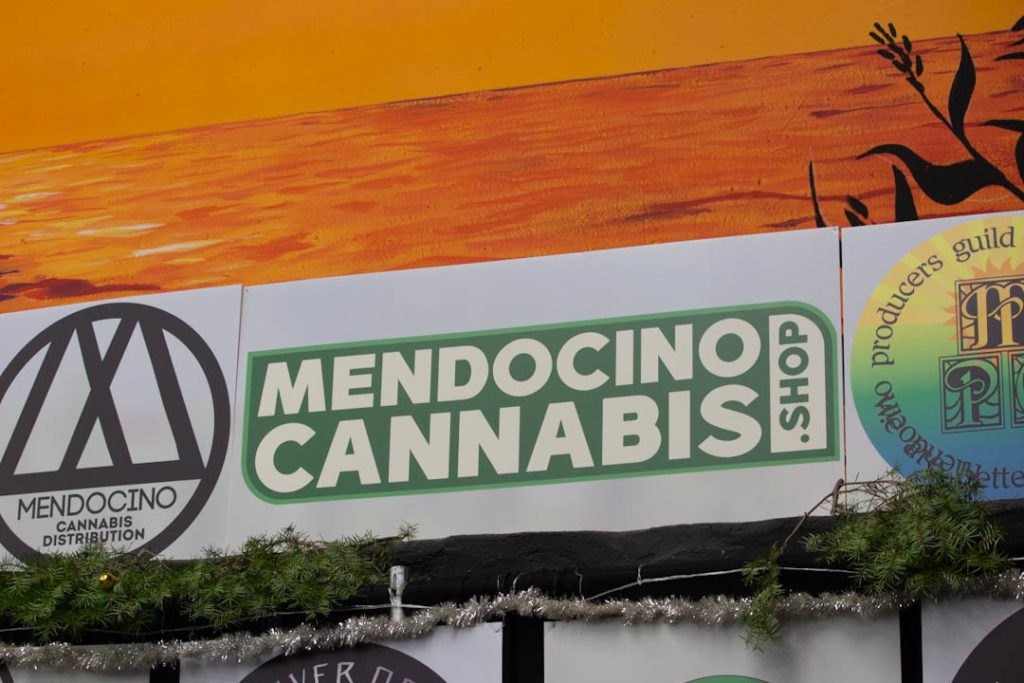 Brands like Humo, Natyre, and Green Chief Farms were on deck as well.
If i forgot you. I do apologize – it's probably because you gave me something so spectacular it knocked me on my ass ;D. I know for a fact that I wasn't able to visit all the people at all the booths I wanted to (like Humo and Sonoma Hills). I missed planned seshes and all of the talks. Crazy!
The rosin is changing the game
Over at the PuffCo Pavilion, things were a little less smokey. Nowadays, more seed packs have an estimated yield percentage to draw in potential buyers. To say the breeding game is rosin conscious is an understatement.
I was focused on finding flower but couldn't help smelling some concentrates along the way with a few highlights.
There were BYOD dab bars featuring the Focus V Carta 2 at the Rosin Tech Labs booth.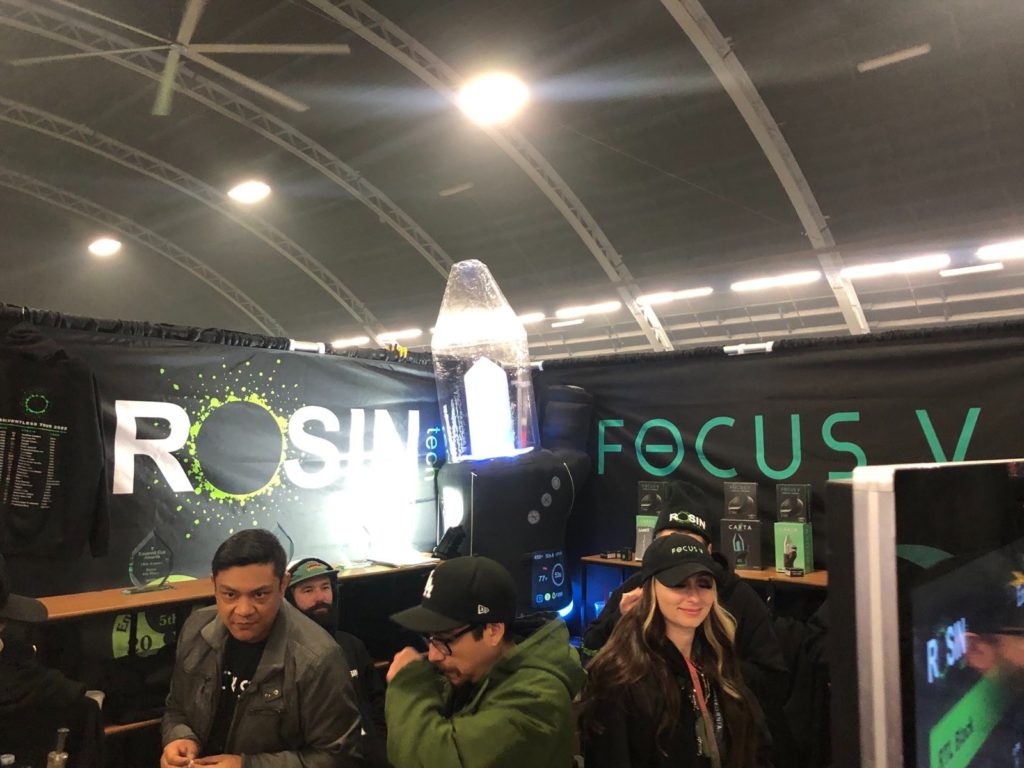 Rosin Tech Labs had the truest papaya terps on deck. A yellow on the ripeness scale and definitely worth a sniff and gander.
One cultivar name I was still hearing this year was last year's Emerald Cup winner: Whitethorn Rose. You might have seen it on some menus under a red stamped overlay that read "SOLD OUT."
Those that were in the know, though – headed straight to Heritage Hash to pick more up as well as congratulate the team on their first place rosin win at Ego Clash Invitational with the RiddleZ.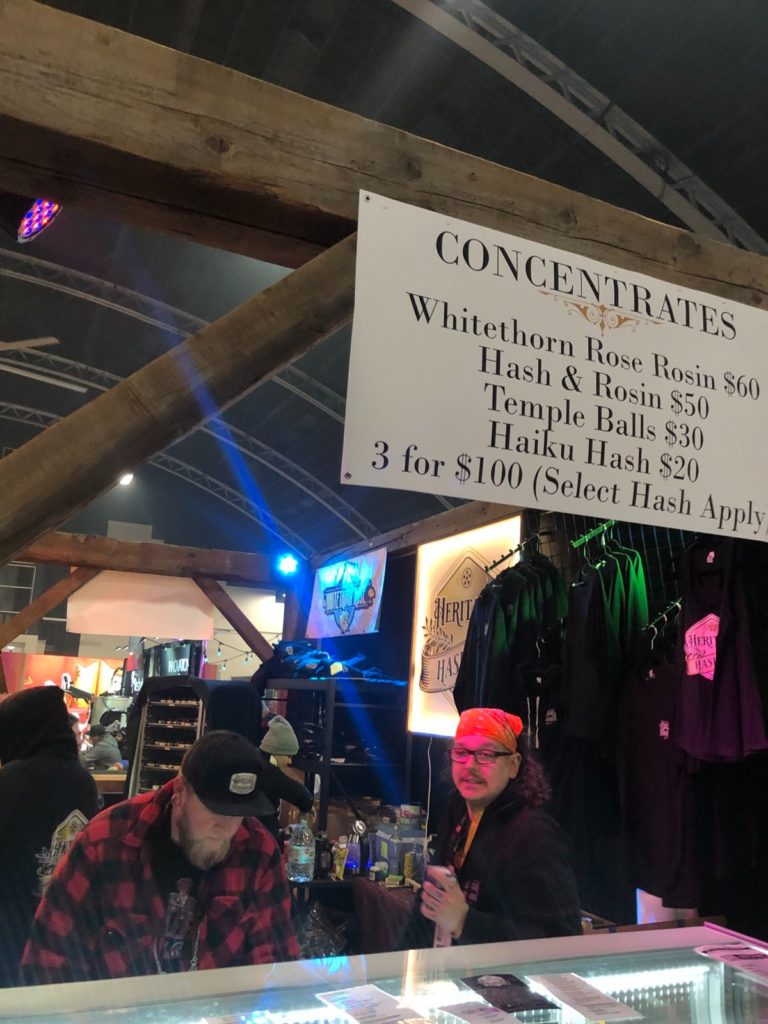 Similarly, I spotted Masonik holding it down and chopping it up with those congratulating him on his Ego Clash wins. How much Banana God are we about to see in 2023? Only one way to find out.
All eyes on The Emerald Cup Awards Show in 2023 to see what wins next.
The classics were still around
I'm a sucker for old school strains. The ones that people talk about to differentiate the suits from the jeans.
In no particular order – Shoutout to Sol Spirit for holding it down with the only jar of sour diesel I could find.
Wildland for having the wildland haze – which was absolutely delicious and the pick me up I needed.
Heartrock Mountain for having a haze (#19) so original it's not labeled original and the info on the seed pack was in German.
Ghost Dance from Lake County for having the Durban Poison.
No cheese, unfortunately.
Landraces were on the up and up. For the new friends that let me get my nose to Haze #19 and Acapulco Gold this past weekend, I am eternally grateful. Sol Spirit Farms had the Burmese Mimosa, too. Sunbright Gardens has a Grapefruit Thai that is uplifting even when you just smell it. It's always the small farms holding it down with the interesting cultivars. Thank you all.
The future classics were trading hands
Genetics move at events like this. The longest lines were for clone purchases. Seed sales are flourishing.
I had a long conversation with Rarebreed Humboldt where he described how he was bringing heirloom classics from the hills and crossing them with recognizable strain names to help increase the market viability of the strains. That's a lot to unpack but it says a lot about the market.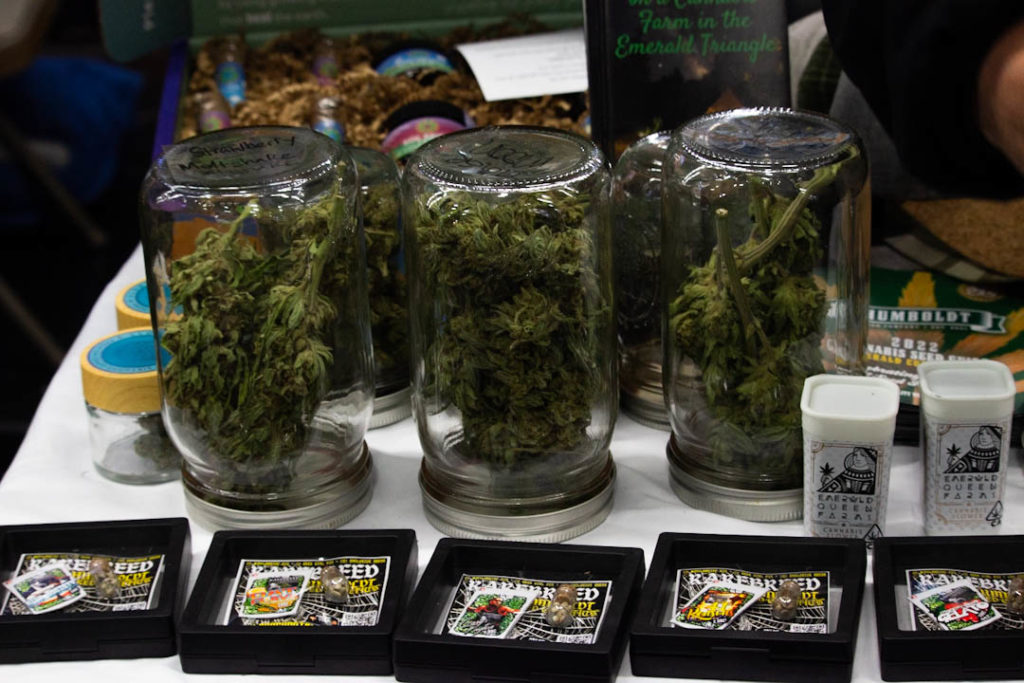 The sharing is part of the community.  The best stuff – as always – wasn't for sale. Whether it was the pers that a farmer was showing off in their booth or the pers that a homie was showing their friend they haven't seen since pre-COVID – the cannabis culture was everywhere.
The whole event, booths were doing their darndest to showcase their products and stand out.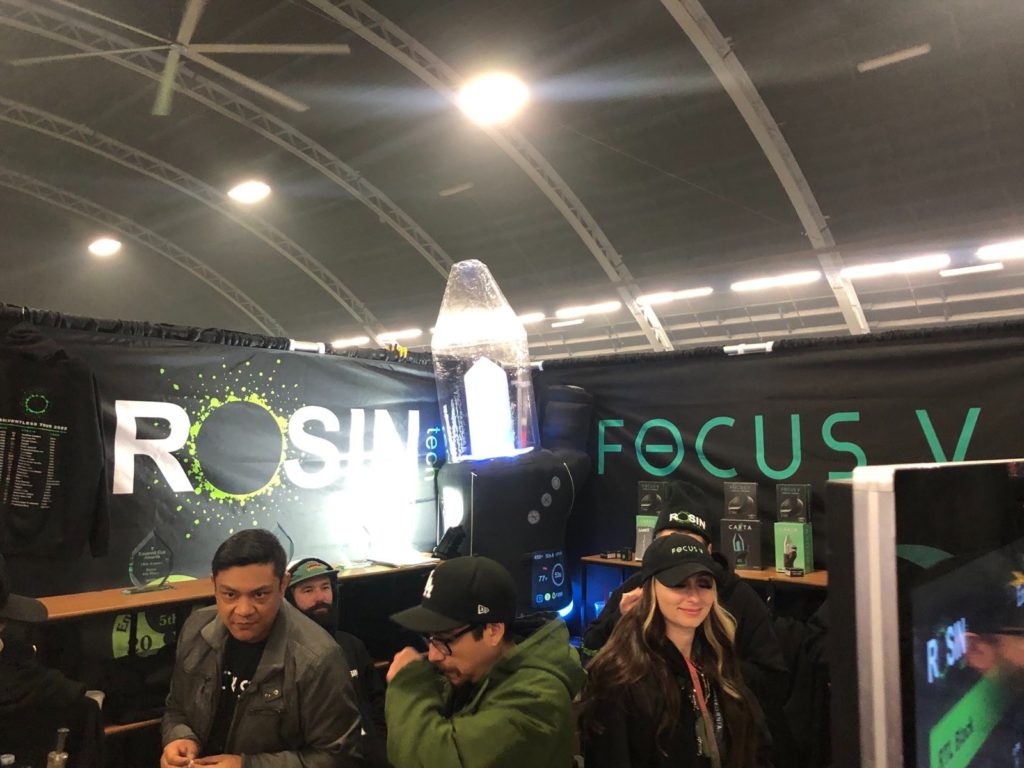 Attendees might remember Mystery Baking Company for the waffles n' honey. On the last day, I grabbed the last one and it was the carb and sugar rush that I needed to make it back to the van.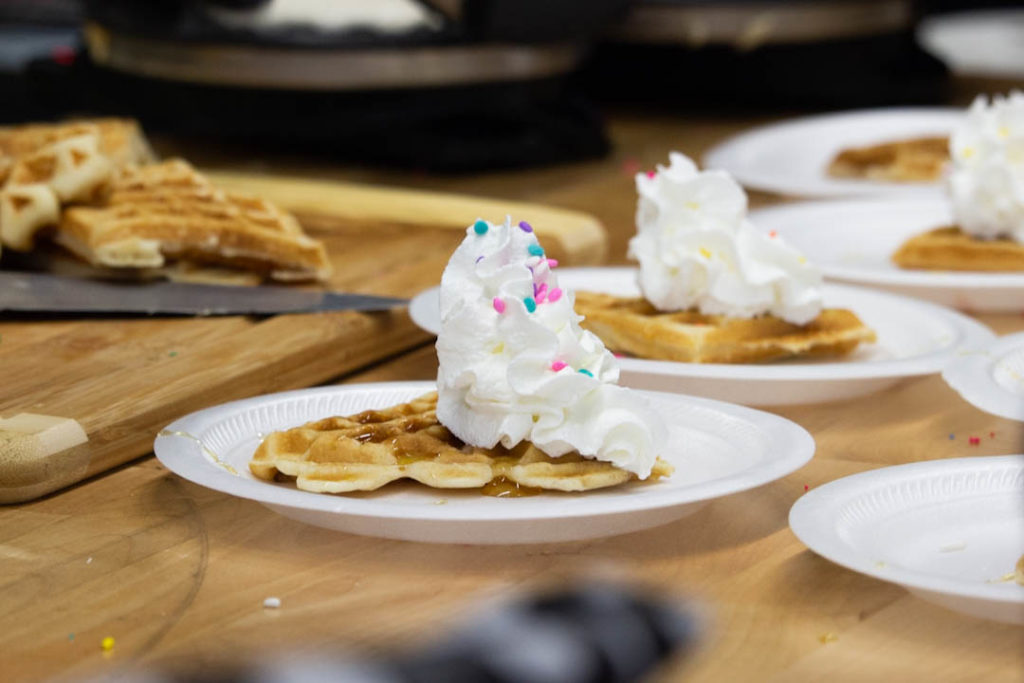 Kudos to Punch Extracts for the only after party I made it to. Infused hot chocolate smores are absolutely the best way to deal with rainy Santa Rosa weather.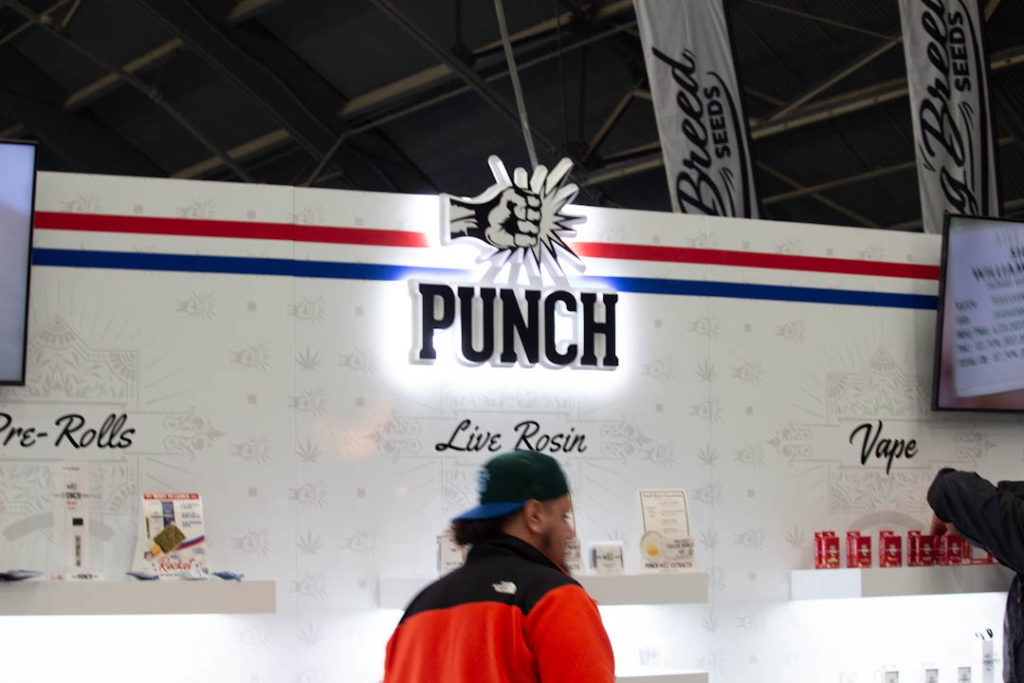 So… was Emerald Cup Harvest Ball 2022 any good?
If you spend you time talking to small farmers – Emerald Cup is still the magical event that was promised. It'll change every year, and there will be new challenges every year. They really take the effort to showcase small farmers doing their thing. As some art at the event said: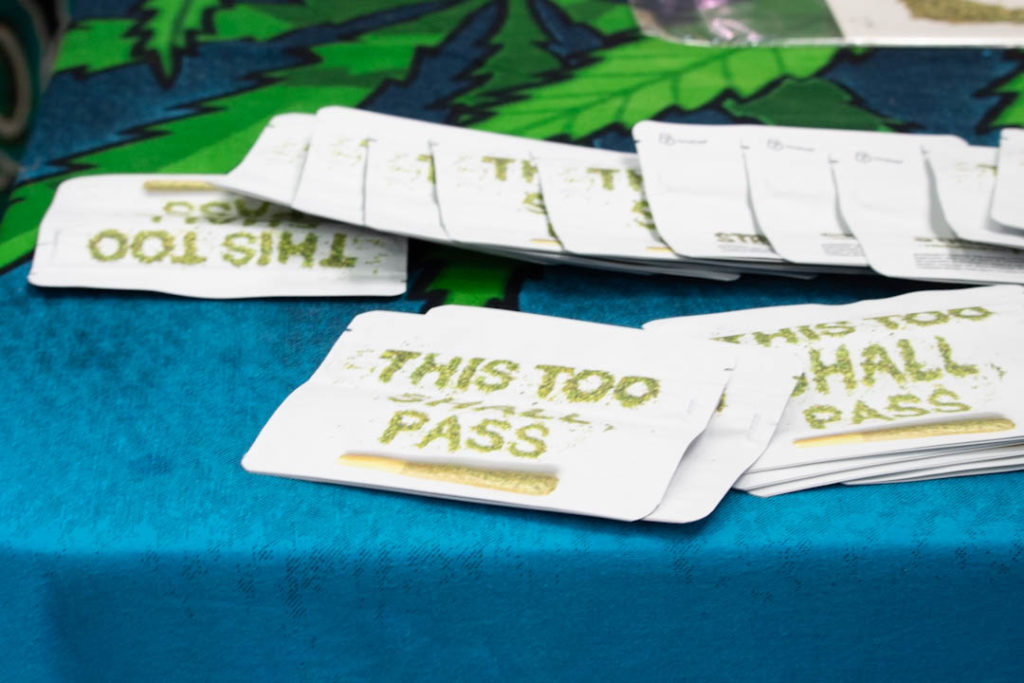 And even in a historically low year for many in the industry, even under the clouds and intermittent rain… The Emerald Cup still shined through like a gem.  I concur that Emerald Cup is still the one can't miss event of the year. The proximity to the hills – the amount of breeders and growers that come out of the hills and meet. It can't be beat.
Advertisements