Accessory Review: Trainwreck Air Freshener by Love, M. Jane
Check out this this Trainwreck strain scented air freshener for your car, room, or wherever the smell just isn't loud enough. This is truly something you don't see every day – an air freshener that has had its scent matched to a specific cannabis strain.
Note, this air freshener smells like uncombusted flower not burning cannabis – which is what police are allowed to use as probable cause to search your vehicle in prohibition states. That is to say, you can use this Trainwreck air freshener in your car without worrying about it causing you any troubles.
Brand: Love M Jane
Website: www.lovemjane.com
Love, M. Jane Trainwreck Air Freshener Review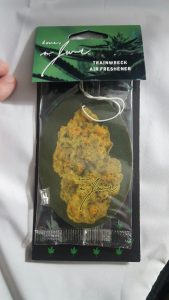 The Trainwreck air freshener by Love, M Jane comes in a sealed plastic bag and the smell doesn't leak out at all. The packaging shows the flower untrimmed and still on the plant while the actual air freshener within features a glamour shot of the beautifully trimmed Trainwreck nug.
It has been some years since my bowl has been graced with the presence of some Trainwreck. It was a treat during my university years and I distinctly recall the nickname that Trainwreck had in my circles: T-Rex. Why? Because Trainwreck "rex" you with a stoney but surprisingly functional high. To this day, I still remember that the Trainwreck that I had back in the day had the distinct lawn clipping smell of a rushed cure but still was able to impart the smells that Trainwreck is traditionally known for: lemon and pine.
Enough reminiscing, back to the Trainwreck air freshener at hand. As soon as I broke open the plastic wrap around the air freshener round, I was hit by a powerful fresh smell unlike anything I had smelled for years. The initial rush from the freshly opened air freshener was just like one would expect from a hanging air freshener.
The Trainwreck air freshener was able to do away with the grass smell of a rushed cure process and deliver on the lemon and pine tones in full. The internet says that the three most prominent terpenes in Trainwreck are terpinolene, limonene, and pinene (or myrcene depending on who you ask). I could pick out hints that reminded me of each of these terpenes on the air freshener. The sage-like sharp spice of terpinolene, the fresh lemon scent of limonene, and the clean but earthy evergreen smell of pinene and myrcene. Of the three, the lemon smell stood above the rest, reminding the world that Trainwreck is possible Limonene dominant and me why Trainwreck has always been and will always be one of my favorite strains. Guess I'm not done reminiscing after all – and probably won't be until this bad boy runs out of smell.
Watch out for these at your local smoke shop or dispensary – if they aren't there, ask for them. Oh yeah, also ask your local car wash to stock these bad boys. This is exactly the kind of dank item that should have been around to feature in the 2001 film The Wash.
Advertisements