CBD Review: Terpin Gorilla CBD Shatter by Steve's Goods
Here's a quick review of the Terpin Gorilla CBD Shatter that I got from CBD Oil Solutions. This CBD shatter is perfect for when you know you need some CBD but don't have the time to wait for an edible to make its way through your digestive tract to then finally hit your endocannabinoid system. CBD shatter is all the craze, and it's easy to see why.
CBD Processor: Steve's Goods
CBD Distributor: CBD Oil Solutions
Terpin Gorilla CBD Shatter Review
9/10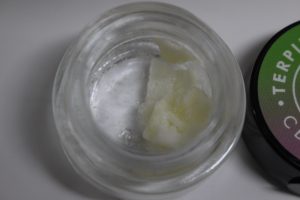 This isn't your normal wax paper shatter by any stretch, but once you start poking at it with your dab tool, you'll come around to the nickname. When you break it up, it really looks like CBD snow and smells like a synthetic grape heaven. Just like the Watermelon OG, this shatter is effective as all hell and hits you quick.
I broke the CBD shatter rock with my dab tool and picked out a rice sized dab of Terpin Gorilla to try in my O2Vape Ceram-X concentrate vape pen. If you're tired of hearing about how I only take rice-sized dabs, think of it as a mouse poop sized dab instead. All the flavors of CBD Shatter from Steve's Goods come in a 95:5 ratio of CBD isolate extracted with ethanol and a proprietary blend of terpenes. For those that only use CBD products made with CBD isolate and don't dare touch a full spectrum hemp extract for fear of failing a drug test – this is the CBD shatter for you.
Unlike the Watermelon OG, the distribution of terps in 50mg of terpenes that make a Gorilla into a Terpin Gorilla are apparently a closely guarded secret. My nose could pick up Beta Caryophyllene, and lots of Myrcene and Limonene – but I could be completely wrong.
The hit of Terpin Gorilla was quick and painless – it left zero residue behind in my ceramic chamber as I've come to expect from Steve's Goods CBD shatters. As soon as I exhaled, I swear I could already feel the CBD coursing through my veins. I may or may not have pounded on my chest like a gorilla to try and augment the effect. I like CBD dabs because they hit hard and last long – this Terpin Gorilla hit the spot for that.
Quick aside, I'm still digging the design on Steve's Goods. This jar of Steve's Goods Terpin Gorilla CBD Shatter came with a black lid, like they all do. The black lid has a nice color scheme that goes from green to purple which just makes sense because cannabis gorillas are always purple in our imagination – or in strain names.
About CBD products from Steve's Goods
Steve's Goods is a Farm Bill compliant CBD company based in Longmont, Colorado. Their CBD shatter is made from CBD isolate extracted "from the finest organic, locally grown in Colorado hemp plants." It's tough to trust CBD that isn't sourced in the states, and Steve understands that. It's good that Steve's Goods is all American and even better that they are stocked at CBD Oil Solutions and ready to ship to your doorstep.
Ordering CBD from CBD Oil Solutions
Ordering from CBD Oil Solutions is a quick and easy experience and their shipping is very fast, and – for a limited time, FREE. That's right, there's no need to meet some arbitrary minimum just to get free shipping. If you run into issues during the buying process or have questions about any of their other CBD products, you can ask in the messenger chat box.
Sound like a CBD product that you want to try? Buy Terpin Gorilla CBD Shatter, today and pay no extra cost to get it shipped. CBD Oil Solutions even has bulk discounts if you buy 3g or 5g of CBD shatter.
Advertisements