Vape Review: O2Vape Ceram-X Compact Concentrate Vape Pen
O2Vape's Ceram-X is a tried and true portable concentrate vaporizer with a ceramic coil. I've been a ceramic coil fan since they first started hitting the market a few years back. Without further ado, here's a quick review of the O2Vape Ceram-X.
Manufacturer: O2Vape
O2Vape Ceram-X Review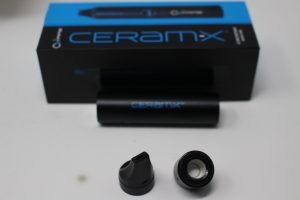 Vapes hold a special place in my heart. This Ceram-X is a very usable, portable concentrate vaporizer and if you don't have something like this in your arsenal for on the go vaping, you need to go on and get one.
I got my very first vape in 2010, it cost more than this Ceram-X and while I used it a lot, it was pretty much a precursor to the ubiquitous disposable tobacco vapes that you can get at a gas station or corner store for a few bucks nowadays. Back in the day, ceramic coils weren't a thing yet – especially not ceramic coils like O2Vape has.
I loaded the Ceram-X up with some CBD Shatter that I got from CBD Oil Solutions. I tried both the Watermelon OG CBD Shatter and the Terpin Gorilla CBD Shatter in the Ceram-X and both were smooth fire on the Ceram-X coil.
The Ceram-X ceramic coil heats up very fast and starts putting off vapor almost instantaneously. It's nothing like heating a ceramic nail with a butane torch – I guess it's more similar to heating a ceramic nail with a propylene torch. Hardcore dabbers know what's up with the propylene torch. The thing is, with the Ceram-X you can hit dabs just as hard without having to hit the store for butane, propane, or propylene. Over time, you will save money. Thank me later.
Using the O2Vape Ceram-X
The Ceram-X comes with a dab tool on a keyring, a instruction manual with typos, and a USB charging cable. The dab tool is pretty interesting because the scooper has an indentation in it that kind of makes it a spork dab tool. It works well with the shatter I have and I plan on using this dab tool on other rigs, too.
The Ceram-X is simple to use and doesn't have different power settings to choose from – just one power setting. If you really want to, you could keep it at like 40% charge to try and do low temp dabs with lower voltage, but if you want that, just upgrade to a more expensive vape. The simplicity and lack of customizability might be a turn off to some pro dabbers, but really this wax pen is good for new users and pro users. Just know what you're getting into – a smooth dab every time.
One gripe that I know I'll have in the future is that the Ceram-X didn't come with an extra coil. While I'm relatively sure this Ceram-X coil will last a long time – I don't want to be sad when I inevitably drop this thing from a great height while high. I'll probably pick up a Ceram-X coil from O2Vape with my next order- they're only $8 after all.
About O2Vape
O2Vape has been in the vape industry here in America since 2013. They are veteran owned and have various patents on different designs of vapes. One thing that's awesome about O2Vape is that they offer a lifetime warranty that works even if you've since lost the receipt. Let's be real – we've all lost receipts and just given up on warranties that might still be active because of this. O2Vape understands and that's why they don't require a receipt or a further purchase to activate their warranty.
Ordering from O2Vape
Ordering from O2Vape is a smooth process. They have a variety of shipping options from USPS and UPS depending on how fast you need our device and their shipping speeds haven't been impacted yet during these trying times. Take a hit if you're tired of hearing "trying times."  For a limited time, use the code StayHome to save 20% on your order.
O2Vape Ceram-X Review Conclusion
Overall, I'd give this pen an 8 out of 10. It is sturdy and durable and its simplistic design makes it a great beginner portable wax pen; however, it straddles the line between discrete and obvious. It does fall a little bit on the discreet side because you won't necessarily be chucking clouds with this thing, though.
Order the O2Vape Ceram-X today and enjoy 20% off with code StayHome – if that doesn't work, use CLICK15 for 15%. As always, the Ceram-X will come with O2Vape's industry leading lifetime warranty.
Advertisements