CBD Review: Watermelon OG CBD Shatter by Steve's Goods
Here's a quick review of the Watermelon OG CBD Shatter that I got from CBD Oil Solutions. Have you ever really needed the calming effects of CBD but didn't have the time to wait for an edible to make its way through your alimentary system to then finally hit your endocannabinoid system? CBD shatter just might be for you, then.
CBD Processor: Steve's Goods
CBD Distributor: CBD Oil Solutions
Watermelon OG CBD Shatter Review
9/10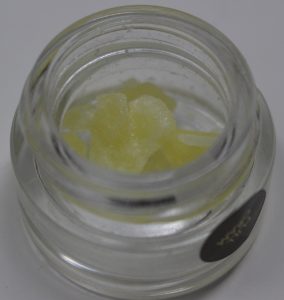 First off, let's be real – this isn't the stuck-to-wax-paper shatter that you might be used to. You can't see through this shatter, and it comes in a jar. However, once you start poking at it with your dab tool, you'll come around to the naming convention. Second off, this thing is effective as all hell and hits you quick.
I loaded up a taste test dab in my O2Vape Ceram-X concentrate vape pen about the size of a grain of rice. Not quite as big as a grain from a long-grain rice but definitely bigger than your average grain of broken rice. CBD Shatter from Steve's Goods comes in a 95:5 ratio of ethanol extracted CBD isolate and a proprietary terpene blend. That means the nose on this thing and the quality of the CBD are both primo.
According to their website, the 50mg of terpenes that make up the Watermelon OG part of this CBD shatter are mostly the following five terpenes:
Beta Caryophyllene
Limonene
Humulene
Myrcene
Alpha Pinene
Once I was really zoned in, I grabbed the Watermelon OG shatter jar and got to sniffin'. I could really make out the light black pepper smell of the Beta Caryophyllene and the sharp bite of the lemon-y Limonene. The earthy, herby smell of the Humulene was in the backdrop and the slightly sweet grape-y smell of Myrcene melded with the evergreen smell of Alpha Pinene to bring it all together. Watermelon candy with a kick – that you inhale instead of suck on.
Shoutout to whoever designed the label. You have Steve's head with full beard and cannabis leafed forehead and the background fades from pink to green. What kind of pink? Watermelon pink. What kind of green? The light green from inside a watermelon rind. The fact that the watermelon flesh part of the color scheme wasn't red like watermelon flesh usually is prepared me for the candy-like watermelon smell that erupted at me when I unscrewed the lid on the CBD "shatter."
The taste was a way lighter version of the smell, and my Ceram-x vaporized all of the CBD shatter within seconds. There was no residue left but there was plenty of vapor in my lungs. As I exhaled, the taste was a little stronger. Ever notice how people take their time blowing out but inhale as fast as possible? That was/is me.
If the yummy taste of watermelon wasn't there, I'd still like this shatter. With the addition of real terpenes, I'm just all around happy – or maybe that's the CBD effecting me. By my estimates, the grain I took was probably somewhere between 15 and 25mg of CBD which is in the range of my standard dose. This stuff is real – and real effective. I found this gem while researching Steve's Goods CBD concentrates on the internet:
"Once you try Steve's, you'll never leave."
I'm not sure that this batch of Watermelon OG shatter has made it so that I'll never try another piece of shatter from elsewhere ever again, but I do want to always have this on my shelf so I guess the quote still stands. I especially want to try this mixed with some THC shatter so I can get the entourage effect in full force.
About CBD products from Steve's Goods
Steve's Goods is a US Farm Bill compliant CBD company out of Longmont, Colorado. According to their website, their CBD and CBG products are only ever "made from the finest organic, locally grown in Colorado hemp plants." That's right, this is an American company from seed to shatter, true and true. Steve's Goods are stocked at CBD Oil Solutions and ready to ship to your doorstep.
Ordering CBD from CBD Oil Solutions
Ordering from CBD Oil Solutions is a painless experience and their shipping is very fast, especially when compared with some other CBD companies in the space. The thing I like is that shipping is free always – there's no need to meet some arbitrary minimum just to get free shipping. If you have any questions about the buying process or any of their CBD products, you can ask in the live chat pop up that they so conveniently have on their site. It's available in 1g, 3g, and 5g sizes with appropriate discounts at each tier.
Sound like a CBD product that you want to try? Buy Watermelon OG CBD Shatter, today – get it in the mail later in the week for no added shipping cost.
Advertisements