Concentrate Review: Rawhide (Nila Wafer) Live Resin Shuggah by Funk Extracts
Rawhide aka Nila Wafer. So I bought some concentrate made from legal weed grown by Jim Belushi. The future turned out so weird, man.
Lineage/Genetics: Wedding Cake x Sundae Driver
Original Breeder: Cannarado Genetics
Grower: Belushi's Farm
Processors: Funk Extracts
Dispensary: AmeriCanna Rx
Rawhide Live Resin Shuggah Review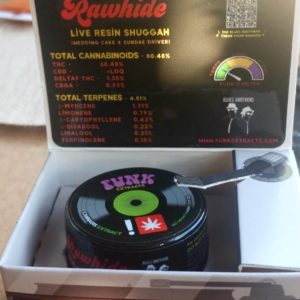 This stuff is dope, though. Candy sweet with a little licorice to it. Really powerful high that hits the body really hard.
Thanks to the budtender at @americannarx__pdx for working with me to find something so perfect. I love the consistency, the high is exactly what I wanted, and this gram of @funkextracts sugar was only $15 out the door.
Their packaging is pretty neat, and I love the terp listings.
.
.
.
#portland710 #portlanddabs #dabs #dabstagram #dabstars #710society #710 #710community #710life #dabporn #dailydabbers #BHO #bhombingamerica #fueledbythc #highsociety #OMMP #higherthanmost #highgrade #cannabiscommunity #errl #americannarx
Advertisements