Cultivar Review: 11 Grapes by Life is not Grape
#11grapes by @lifeisnotgrape x @officiallifeisnotgrape
Lineage/Genetics – Sunset Sherb x Ozk
Original Breeder/Grower: Life is not Grape
Terpene Profile: Unknown
Dispensary: Astor Club NYC @astorclubnyc @theastorclubnyc
11 Grapes Cannabis Cultivar (Strain) Review
11 grapes is from the archives of @lifeisnotgrape x @officiallifeisnotgrape repertoire. 11 grapes is the cross of SunsetSherb x OZK. According to #lifeisnotgrape is his version of the RS11.
The structure is similar to the RS11 based on the macaroni color pistils.
The nugs came extra trichomed up, eggplant color hues, basil color leaves 🍃. One of the highlight of this gem is the extraordinary structure . The palate is woody, grape 🍇 sweet, pungent og Kush. The scent is a sweet grape, musk sunset sherb aroma. The effects are an enlightening medium level cerebral high, feel the buzz 6-7 pull in. Overall total high for about 1.5hrs. The ashes burned 60/40 more salt than pepper. 11 grapes is my least favorite on the life is not grape lineup, but is not bad.
I feel the high wasn't as long lasting as the 996 & Bolo Runtz. 11 grapes is a good take on the RS11 but not the most memorable. 11 grapes has the appeal, the taste,scent, the burn and high can improve .. shoutout to @lifeisnotgrape @officiallifeisnotgrape for the creation and bigger shoutout to @astorclubnyc .. 11 grapes 🍇- 3.5/5 —
.
.
.
.
.
.
#weedreview #notforsale #cannabiscommunity #cannabisculture #highsociety #stonerlifestyle #stonersociety
#weedsmokers #smokingweed #cannabislove #cannabisconnoisseurscoalition #cannabislifestyle #cannabisconnoisseurconnection #420culture #cannabisgrow #cannabiscures #cannabisreviews #weedreviews #letmeseewhatusmokin #cannabisconnoisseurgenetics #weedgram #cannabisconnoisseur👌 #cannabisindustry #weedsociety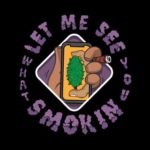 Advertisements