Cultivar Review: Giraffe Puzzy by Doja Exclusive
Giraffe Puzzy 1 by @doja.pak x @doja.ek.916 x @doja_drew @chicoshyne_doja — bred by @seedjunky_jbeezy x @beezyblends
Lineage/Genetics – Zkittles x animal cookies bx 2
Original Breeder: Seed Junky Genetics
Grower: Doja Exclusive
Terpene Profile: Unknown
@higher.empire
Giraffe Puzzy Cannabis Cultivar (Strain) Review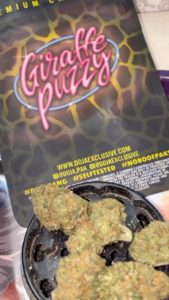 The return of Giraffe 🦒 Puzzy, 3 years later after its release came back to set a new wave. This new and improved Giraffe Puzzy is a different lineage and breeder. The old GP had Z x Chemdog, the new is the combination of Z x Animal Cookies bx 2. The new breeder is the Master Grower himself @seedjunky_jbeezy x @beezyblends .
Anytime there is a collaboration between #seedjunky x #dojapak is nothing but memorable legendary smoke 💨(permanent Marker). The scent has that Zkittles grape fruit & papaya aroma, fruity floral fragrance. The palate is a blend of Z's grapefruit and the pungent cookie dough of animal cookies . I get a blend of spice of the caryophyllene, sweet fruit mint myrcene, after taste of the limonene .
The structure resembles Z/ Blue Zushi structures, carrot color stigmas, lime green color buds. The flower nugs came fresh ready to be 💨. The high is a medium heavy intense level cerebral effects. I waked and bake to this and no lie felt the high around 7-8 pulls in feeling the comatose euphoric effects. The high can last abound 3 hours. I smoked it all day ended the 🎱 in a few hours, craving for more.
The ashes burned clean 🧼 salt hints of pepper. I smoked it on an organic hemp raw paper giving it a smooth inhale & excellent smoking experience. In conclusion, this Giraffe Puzzy is here to stay.
Unlike its predecessor, this flower has the chance to become a true staple for the #dojagang lineup.
It checks on appeal, terp taster, effects and aroma. It had me feeling creative and focus on networking and doing interviews. I didn't feel no couch lockness, though I felt a chest locker in the middle of the sesh.
It taste better than the Permanent Marker and the high is to par with it as well. You can love or hate @doja.pak, highly recommend to try the Giraffe Puzzy— 5/5..
#weedreview #notforsale #cannabiscommunity #cannabisculture #highsociety #stonerlifestyle #stonersociety
#weedsmokers #smokingweed #cannabislove #cannabisconnoisseurscoalition #cannabislifestyle #cannabisconnoisseurconnection #420culture #cannabisgrow #cannabiscures #cannabismagazine #cannabisconnoisseurconference #cannabisconnoisseurgenetics #weedgram #cannabisconnoisseur👌 #cannabisindustry #weedsociety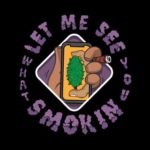 Check out more reviews by @lms1__186 on Instagram and Social Club! (https://www.instagram.com/lms1__186/) Also https://www.instagram.com/lms2__186/ for the backup.
Social Club: https://www.socialclub.cc/user/letmeseewhatusmokin/
Advertisements