Cultivar Review: Mooon Coin by Dr. Mooon
I guess I met Dr. Moon at Hall of Flowers because I came away with a sample of Mooon Coin. As a coin enthusiast of sorts – I was intrigued beyond the bag.
Lineage/Genetics: Unknown
Original Breeder: Unknown
Grower: Dr. Mooon
Terpene Profile: Unknown
Mooon Coin Cannabis Cultivar (Strain) Review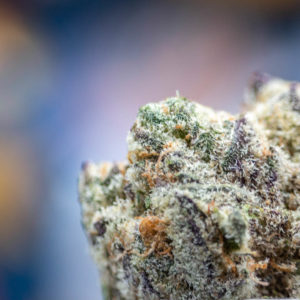 Mooon Coin smell has a very dank candy stank. A little bit of doo doo funk too in the front half. Sweet and fuel is what I would say. Barely any fruit. More like a perfume. But closer to axe than anything truly floral. Very purp under. Well developed bracts. Kiefy af. Light tan. Kind of a chalky candy nose. Sour like rotting pork might taste
A freeze dried cream saver candy.
Ok, mooon. The coin has hype. The high is very pleasant and hella expansive pressure between the ears behind the eyes. The high is like staring into the night sky from a location with a bortle rating of 1. The high takes off like a rocket. Not an elevator even. Two bong rips took me way high. Not the bag you break out on your work break. Day ender. My advice? Don't smoke if the moon ain't out and if you haven't yet earned your coin for the day.
I'd take this moooon coin over a moon rock any day. It honestly looks pretty close.
That Moooon coin smoke tastes like a grape egg tart that's sat out on a hot summer day. Almost cheese without any funk end of the cream spectrum. A little sour gas. Some sort of gelato cross or cut is my guess. "To the mooon." as some say.
The timing of this release might not be the best given the bear market but hell – it's a nice bag to hold and see go up in smoke.
Founder of The Highest Critic
Unpaid /r/trees mod
Certified Ganjier
Kine bud enthusiast
Advertisements