Drinkable Review: Ginger Berry Infused Seltzer by Leisuretown
Leisuretown's Ginger Berry is the first cannabis infused seltzer brand that I got to try. They feature two flavors with a 2:1 CBD:THC ratio and 7.5mg total cannabinoid count. Whether that sounds like a lot or a little – you're right because your endocannabinoid system is unique compared to anyone else's. That is to say – you gotta try it.
Brand: Leisuretown
Website: www.welcometoleisuretown.com
Leisuretown Ginger Berry Infused Seltzer Review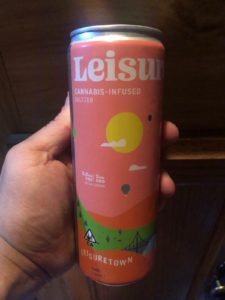 Leisuretown's Ginger Berry infused seltzer looks a little different than most white backed seltzer cans. It's pastel and stands out when sitting in a cooler – which is exactly what led me to the Leisuretown booth at a Hall of Flowers afterparty.
I'm a unique test case because I don't drink alcohol. I've never had a White Claw or any hard seltzer. On the other hand, I do enjoy fruit flavored sparkling waters and really enjoy actual fruit and/or fruit juice mixed with water and carbonation in varying proportions. Add some nano -emulsed THC and CBD in there and now you're threatening me with an extra good time.
The taste was lightly sucrose-y, very pleasantly berry and with just the perfect amount of ginger.
I find the 2:1 CBD:THC ratio to be very interesting and very beginner friendly. This really isn't a product meant for the highest in the room to maintain their position. This is something you can comfortably enjoy while smoking something stronger – as I did at the event alongside many others. Or sip leisurely on the beach – which I also did with my to-go can.
A drink you can leisurely sip or pound one after another depending on what leisure means to you.
I'm a little behind when it comes to the drinkables but boy are they here – and I'm eager to catch up.
Thanks to Leisuretown for the sample and for making me feel included in the seltzer hype.
Advertisements