Cultivar Review: Sunshine Punch by Mr. Zips
Mr. Zips has a Sunshine Punch that packs quite the punch. I got a sample at an after party and it got smoked prettttty fast.
Lineage/Genetics: Unknown
Original Breeder: Unknown
Grower: Headwaters
Brand: Mr. Zips
Terpene Profile: Unknown
Sunshine Punch Cannabis Cultivar (Strain) Review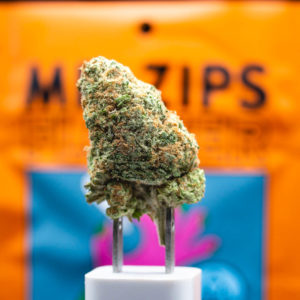 Good cure – felt wonderful in a finger grind, machine looking trim, but frankly impressive for how unabashedly not "craft cannabis" it is.
The orange pistils blend right into the amber trikes which then bely the light green below. There ain't no purp here in this Santa Bárbara weed. There is a tiny tiny endangered almost extinct hint of African landrace zour in there. Like a sunny version of the grapefruit Durban smell. Love the selection.
The high from Mr, zips sunshine punch has a sweet and sour one two punch from the get go that will leave you blinded and wondering what fruit just fell out of the tree and smacked the living daylights into you. That's right. Into you – not out of you.
The high is bright like the future where mass production is able to bring cannabis medicine prices down to prices so low that it's an afterthought for the medicine cabinet – like Tylenol.
I think I really like the Sunshine Punch strain. Would be down to try it from anywhere else – and also to try anything else from Mr. Zips. Mr. Zips knows zipz.
Advertisements