Dab Review: Mimosa Rosin by Rare Air Rosin
Mimosa
Lineage/Genetics: Purple Punch and Clementine
Original Breeder: Unknown
Grower: Symbiotic Genetics
Processor: Rare Air Rosin
Mimosa Dab Review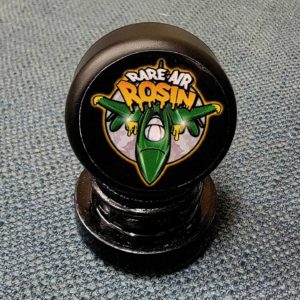 🔥🔥Fire Rosin alert🔥🔥
I have been wanting to do this review since I got my hands on this jar! I was blown away the second I opened it and knew this would be a good one to share with everyone.
Rare Air Rosin is coming to us from a different part of the country – no west coast here – this Rosin made the trek to me all the way from Michigan! RAR is an established producer with a dedicated instagram page and website. Not only do they produce small batch single source Rosin's, but also specialize in consulting as well. Their IG is a good catalog of their Rosins and some awesome action shots in the lab. Their single source Rosin strains are unique and the final products are unrivaled.
These jars are 3.5g glass with RAR logos on the top. No strain information available on the jar but once you get a whiff – you won't forget this stuff! As you can see this is a Jam consistency Rosin. Manipulating the jam creates a very viscous, STICKY, and sandy looking product. Jams are created through a heat curing process. Mimosa has become a famous strain for its VERY loud smell and mouthwatering taste. Mimosa as a strain can be traced back to Symbiotic Genetics the original creator. SG makes some amazing strains and collaborations (if you ever see their stuff, I highly suggest you grab it!). Mimosa is a cross between Purple Punch and Clementine. The results create an unforgettable smell that lingers in your nose long after you've put the jar down.
Dabbing this on low with the Proxy created an amazing experience. I can not say it enough, this nose on this stuff is WILD! You really smell a fruity but funky mix of goodness. It's an unforgettable smell and I don't know if I've EVER smelled a cannabis concentrate that smells as good as this one. Bravo Sir! Instantly you can taste the clementine followed by the hint of grapes from the Puple Punch. You can easily pick out and identify the flavors and undertones in this Rosin.
This Mimosa takes my #1 spot as the highest rated Rosin I have reviewed so far. Hands down some of the best stuff I have ever tried. I'm excited to share my other RAR when the time comes. I have to give this stuff a solid 9.
Well deserved score. Everything about this stuff is high quality. WOW! I will be keeping this stuff for a long time and only breaking out for special occasions.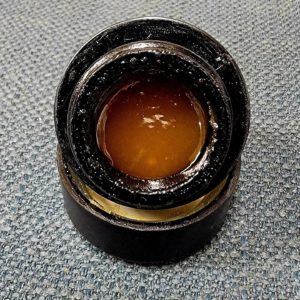 🧊💧#️⃣ ❤️
Stash - Opinions - Logbook
Learning along the way
Instagram: https://www.instagram.com/nc_rosin_reviews/
Advertisements