Dab Review: Venom Rosin by Sheeesh Solventless
Venom
Lineage/Genetics: Venom
Original Breeder: Unknown
Grower: Rare Dankness
Processor: Sheeesh Solventless
Venom Dab Review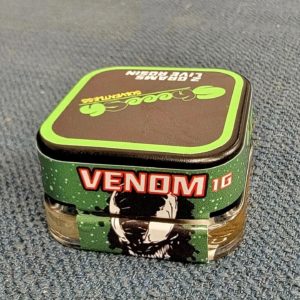 I don't have too much information on Sheesh as a producer but they do have a cool instagram account with a handful of pictures and videos. Their jars have the typical CA! warning sticker on the label so i have to assume this is produced on the West Coast. As you may know, good rosin starts with good material and Sheeesh cuts no corners when it comes to this aspect of the process.
Sheeesh jars are pretty cool and come with 2 grams, but each gram is a different strain. Can't complain about variety – I love having options to try out and compare. This review will be about the gram of Venom in this jar (right side and darker). As the name and cartoon figure on the side of the jar implies – the Venom strain is real deal! This strain was created by Rare Dankess (also developed Ghost Train Haze) and is a cross between their own Poison OG x Rare Darkness #1.
Venom has a skunky earthy smell but it's kinda of a sweet aroma? Boasting an average THC content of 23% this stuff smacks you in the face – wham! Your high mf! The proxy makes this dab pretty smooth and has a full earthy taste. Idk why but alot of "indicas" taste earthy to me for some reason?
Venom is the strain you purchase because there's only one goal – getting rip faced quickly. Not always something I prefer tbh but it's good to have a heavy hitter in the stash. I have to give this stuff a 7 only because I prefer a more uplifting and productive high. Shit is strong af lol
#dabs #rosin #review #cannabis #hashrosin #venom #venomog #raredankness #Solventless #extract #solventlessconcentrates #concentrates #sheeeshsolventless #puffco #proxy #puffcoproxy #NCdabs #ncrosin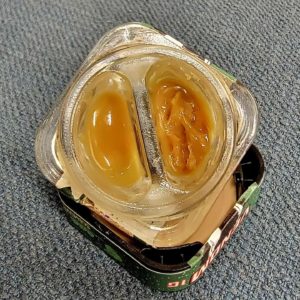 🧊💧#️⃣ ❤️
Stash - Opinions - Logbook
Learning along the way
Instagram: https://www.instagram.com/nc_rosin_reviews/
Advertisements