Edible Review: Rosin Gummies by Dialed in Gummies
Full-spectrum and strain specific are two qualities I've never seen from edibles before like these Dialed in Gummies 😳.
Brand: Dialed in Gummies
Dialed in Gummies Review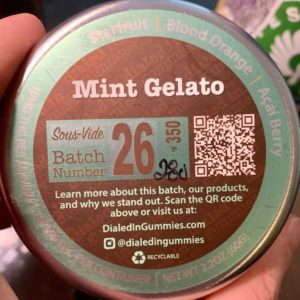 While I have found edibles good for pain relief in larger doses, it also means they make me too stoned for most day-to-day activities. Because of this I generally prefer to dab my meds, but @dialedingummies have arrived to shake up my routine 🥳.
This definitely results in me feeling the medical benefits more from smaller doses 🙏. Two had me feeling better, with three being my sweet spot. The high they provide varies from strain to strain, exactly as they should – if you've smoked a strain before, expect similar effects from the gummies! Meanwhile the flavors are all incredible, some of the tastiest edibles I've found 👏.
It also makes me very happy to see an edible company using such clean starting material. I'll have to keep an eye out for these on the medical side 👀 Seriously, go get yourself some Dialed In Gummies!!
#hashrosin #edibles #cannabiscommunity #solventless
Advertisements