Formula 420 Soak n' Rinse: No scrub action needed
Got to test out @formula420 Soak 'n' Rinse and my gosh does it do wonders!
Formula 420 Soak 'n' Rinse Review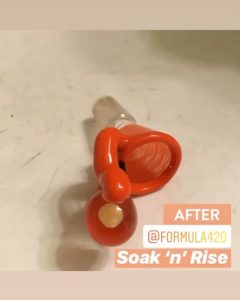 I put my @sweersglass bowl into a small container and made sure it was submerged in the cleaner. I left it to soak while I did chores around the house and even ran a quick errand. When I came home I took the bowl out of the Soak 'n' Rinse and rinsed it with warm water.
I'm happy to say that my assumptions were proved wrong. I thought that it was so dirty that it wouldn't be able to each through all the grunge. But as soon as I rinsed it off, all the grunge and dirt was gone!
I will definitely be using this product more often. It cleaned my pieces so well and it allowed me to get other important things done while @formula420 took care of my bowl!
Thank you @formula420 for this awesome product!
#formula420#soaknrinse#cleaner#glasscleaner#metalcleaner#pyrexcleaner#ceramiccleaner#cleaner#bong#bowl#slide#opal#sweersglass#beforeandafter#before#after#dirty#clean#cannabis#cannabiscommunity#marijuana