Hash Review: Melted Strawberry A Fresh Press Live Rosin by The Real Cannabis Chris
Melted Strawberry A
@therealcannabis_chris
'Stages of Rosin' Photography + Macro Teaser
Lineage/Genetics: Unknown
Original Breeder: Unknown
Grower/Processor: The Real Cannabis Chris
Terpene Profile: Unknown
Melted Strawberry A Fresh Press Live Rosin Review
Today we take a look at the 'Melted Strawberry A' Fresh Press Live Rosin By the Real Cannabis Chris. Chris has recently won hash competitions @ king of z hill, the smoking jacket, & ego clash. The images are in order from fresh out the freezer to 3hours out.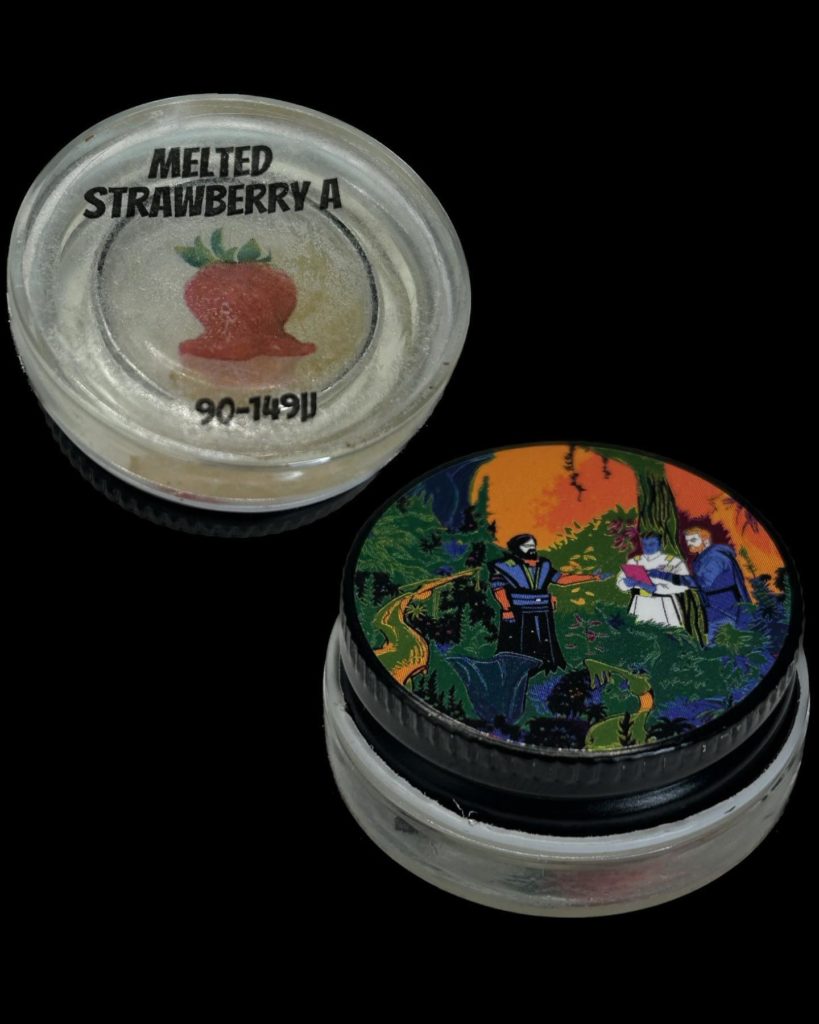 Appeal: 9.5/10
Clean clear amber frozen broken glass like chunks, that melt down slowly but surely. Very clean looking rosin. Very hard & dense. It's not easy to work with and definitely requires a hot knife to make it a little more workable. After a little bit of greasing down and getting a room temperature melt, the scoops have a waxy laffy taffy type stretch & leaves a messy but appealing display of sticky spider-man like shooting webs that are clear, white-tan, amber in a glassy but stretchy-waxy texture. After it was left out for a few hours it's appears to have a full melted easily workable appearance but was still dense, but with a little bit more of a rubbery squish to it.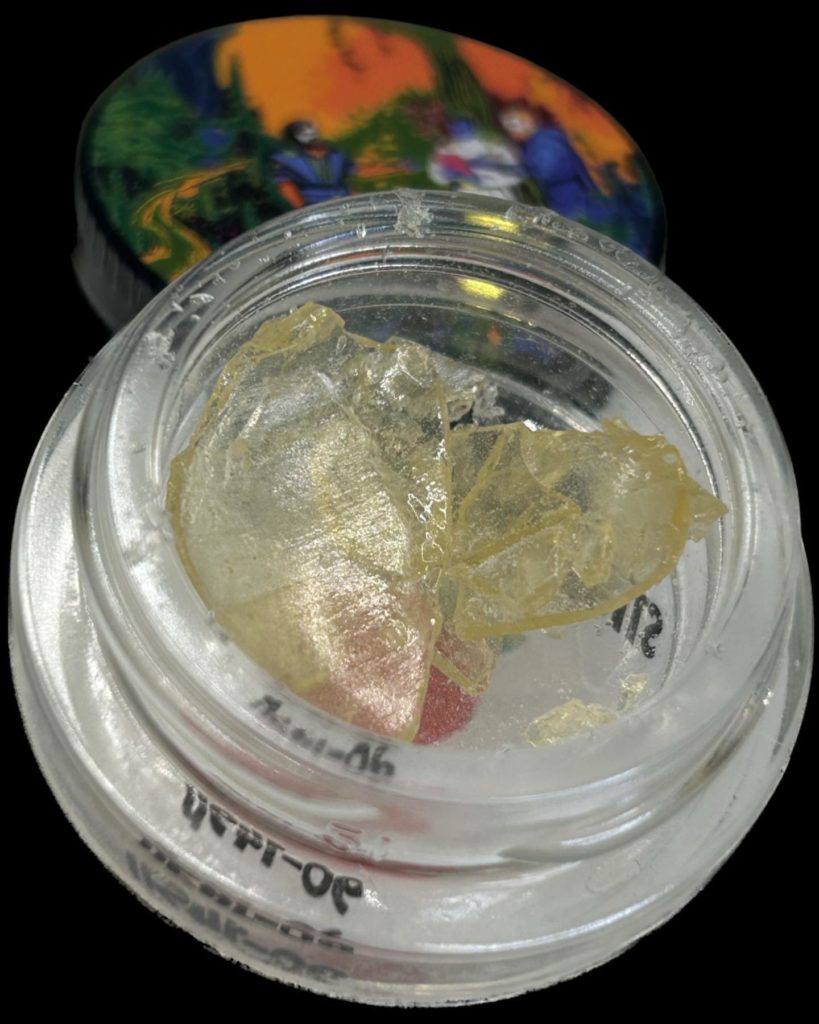 Profile: 8.5/10 Nose Volume: 7/10 Hot Knife Nose: 8.6/10
This one's nose out the jar is pretty faint; Sweet, citrusy, funky & creamy. Heating the hot knife releases the strawberry-lemon citrus, vanilla crème, florals, sour-danks, pungent freezer burn, & a touch roasted-almond-chemD funk that hides herbals & pinementhol.
Vapor Cleanliness: 9.5/10 V.Clouds: 8.9/10 Flavor Profile: 8.7/10 F.Strength: 9/10 F.Retention: 8.6/10
Draws Really clean & good sized Vapor clouds on low temp. The flavor is stronger then I expected from what the nose volume offered, & reveals more of the terpene profile in the flavor: Juicy strawberry candy terps, sweet & lemon citrus w/ a melted rubber burnt skunky fuel. A sour dank fumey (almost fermented) funky ChemDiesel hides a fluffy vanilla cream & Roasted hazelnut/almond terps. Pinesol undertone. 1Dabs Flavor holds well for 1:20 at 500*
Effect 8.9/10 Potency 8.7/10
Sharp uplifted potency rush immediately followed by stoney floaty full body relaxation. It's not sleepy, but it's very calming mentally, low eye & headband buzz. 3hr hazey duration.
NFSOT! 21+ only
Overall 8.6/10
Great Rosin all around. Very appealing. Only downside was The nose terps were difficult to spot without heating the rosin a little on the hot knife. Off the hot knife the terps were nice, loud, & toasty.. somewhat reminding me of the 2 in the pink collabs profile. The taste were really good. The vapor itself was impressively clean on the inhale & exhale with thick satisfying clouds. The flavor & Vapor definitely make up for the muted nose. The rosin smokes down thoroughly and leaves behind small traces of amber juices that swipe out the chamber easily. The rosin itself was really appealing & fun to photograph but was hard to work with, requiring skill or a hot knife. The buzz was solid but not too heavy either. A great product all around but it's not quite as top notch as the 2 in the pink (96-98) & rainbow guavaz 4 (96.8) are.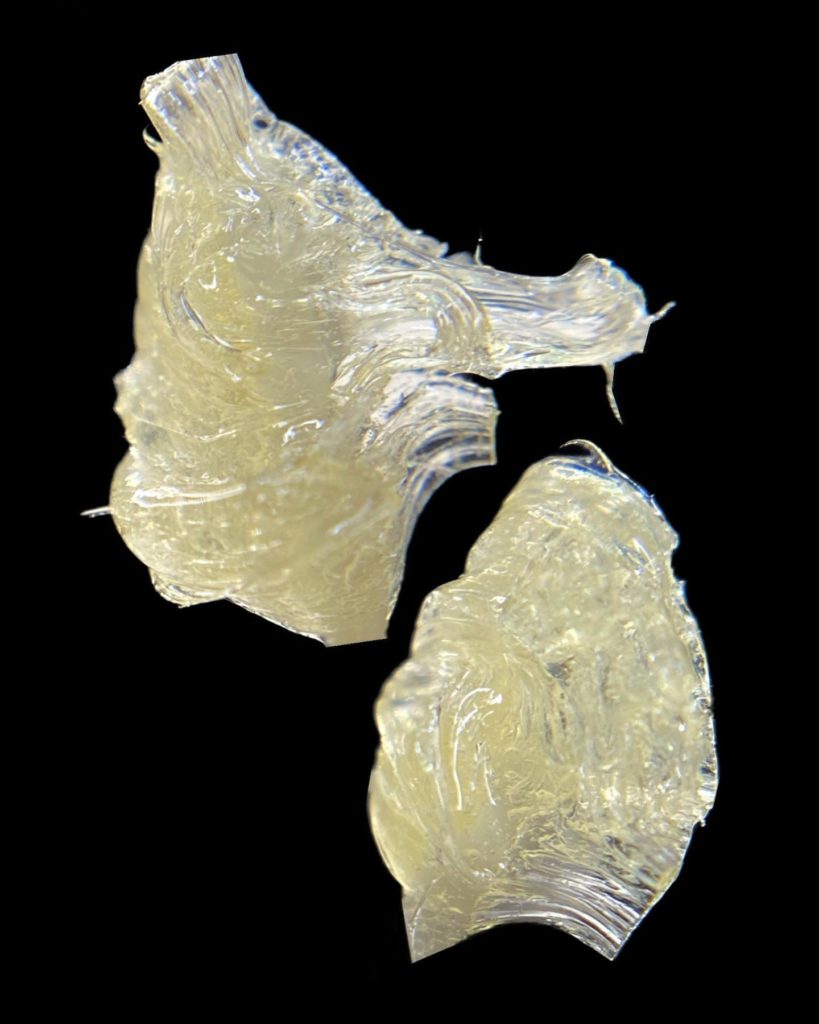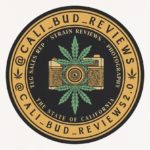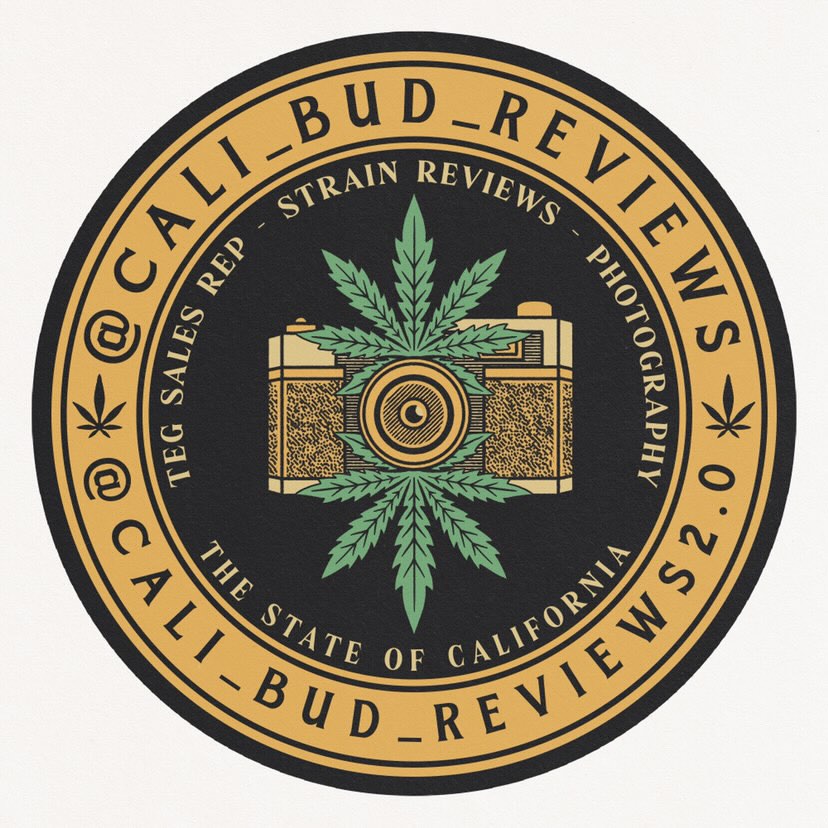 Advertisements