Pre-roll Review: First Haze Infused Pre-roll by CAMP
Back in June, I joined the Chamber of Cannabis at one of their Northern Nevada events and I came away with a sample to try from Nevada's first solventless brand.
Lineage/Genetics: First Class Funk x Original Haze
Original Breeder: CAMP
Grower/Processor: CAMP
Terpene Profile: Beta Caryophyllene Dominant
First Haze Infused Pre-roll Review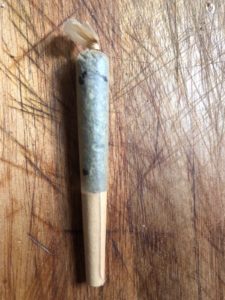 I'm a big fan of haze so right off the bat I was excited. This infused pre-roll weighs in at 0.7 grams instead of the "normal" 1g. Especially when it's infused, I'd rather have ten .7g joints than seven 1g joints.
I took a big ol' dry hit and came away with a tasty funk in my mouth – almost like fermented plant juice. The smell and taste definitely fell on the floral and earth side of the scale. The (relatively) high Linalool content is cool to see in a product. I hear that Linalool is one of the terpenes that isn't water soluble so theoretically, all the Linalool is from the flower. It's B Cary dominant but in a 2:1:1 ratio with Linalool and Limonene. I'll be looking out for that exact terp profile in the future. Check out the cannabinoid and terpene percentages at the bottom of the review
Experience-wise, I felt it was calming but energizing. A winning combo when you're out at camp.
I had to split the pre-roll up into two sittings because it was infused and I'm a sometimes a light weight. Normally, I don't like combusting hash rosin because the ever-optimizing analytical part of my brain thinks it is inefficient – but that's exactly the kind of intrusive thoughts that cannabis dispels. My first thought after a few puffs of the First Haze was that I wish had more people to share it with. Despite the smaller size, I think that these infused pre-rolls are ideal for sharing.
All in all, I came away from this experience with a few takeaways.
A real sense of pride in Nevada's budding cannabis industry. It's been years since legal cannabis came to be in Nevada and we're just getting a top tier solventless operator this year.
I need to try the First Haze hash rosin and the First Haze flower separately.
If you're in Nevada and you've got a hankering for solventless, CAMP has you covered. If you have a place to legally light it up, try the First Haze pre-roll. As we're all still waiting for the future of cannabis lounges, I know that there are dispensary goers that are passing up pre-rolls for less-risky-to-consume-in-public products.
Seriously though, if you're visiting Nevada and you need an incognito way to get a high quality high – skip the infused pre-roll and grab the hash rosin disposables from CAMP x The Real McCoy and it will make your time in The Battleborn State that much better.
Terpene Content:
Beta Caryophyllene: 9.56mg/g | Linalool: 4.99mg/g | Limonene: 4.10mg/g
Cannabinoid content:
CBC: 0.22% | CBD: 0.08% | CBDa: 0.09% | CBDV: 0.04% | CBG: 0.59% | CBGA: 2.13% | THC: 52.79% | THC9: 24.19% | THCA: 32.61% | THCV: 0.09%
Advertisements