Strain Review: Modified Grapes by Nectar Farms
MODified Grapes (GMO x Purple Punch) by @aznectarfarms
Lineage/Genetics: GMO x Purple Punch
Original Breeder: Symbiotic Genetics
Grower: Nectar Farms
Nectar Farms Modified Grapes Strain Review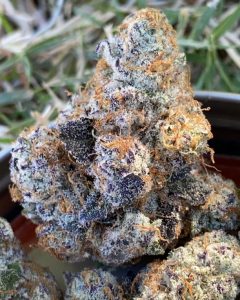 Been seeing Nectar on the shelves hella recently so I decided to scoop one that I've heard good things about and hadn't tried. I'm not a big fan of PurplePunch due to its lack of potency however it does make bud look very pretty😂 But since this has that GMO in it you know I was intrigued to get into it!
Nice medium sized nugs that are so saturated in trykes and hairs that it damn near does look genetically modified🧬 Super light green buds that look like you dropped the rolling tray in the snow🌨 My favorite thing is how aggressive those firey hairs look🔥 ALWAYS a sucker for some permy lookin weed👌🏽Ima keep it 💯 and say this is some of the best lookin bud i've EVER had.
Twist the top and you get that classic fruity creamy sweetness from the PurplePunch but no signs of GMO anywhere. Reminded me of a grape sweet tart hard candy, more on the faint side. Crack a nug open and the sweet fruitiness amplifies slightly but still no GMO in sight. Just a very slight musky/kush in the background but I had to really search for it.
The flavor is where this flower did a complete 180. Went from being creamy sweet fruit to an unsettling earthy almost grassy taste. Tasted like a grape you cooked over the campfire. After the burnt fruit leaves your tastebuds you get the slightest bit of kush/musk aftertaste. Wasn't a fan whatsoever.
Almost all hope was lost until the effects kicked in. Very upbeat, energetic, and motivated. Also eases and mellows the mind while hitting quite strong behind the eyes. Feels very stoney and spacey but focused at the same time. Body is mellowed out as well but not buzzing. Very well balanced hybrid.
The day I got this I knew it was too fresh. Slide 7 you can just see/hear that it is wayyy too soft. If cured properly you should have a nice crunch on the outside with a nice sticky fluff on the inside. After sitting for about a week the buds cured nicely but the flavor did not return. One of the biggest upsets on my page considering how absolutely stunning this flower was. If its on the shelves in the future, I just might give it one more go. Would y'all scoop this for $50 or slide?
#modgrapes #gmo #purplepunch #fire #nectar #nectarfarms #frosty #trubliss #trublissdispensary #medicalmarijuana #mmj #mmjarizona #mmjpatient #mmjcommunity #mmjlifestyle #cannabis #cannabiscommunity #arizonacannabis #arizonacannabiscommunity #cannabisculture #cannabissociety #cannabisreviews
Advertisements