Strain Review: Wedding Crashers by Chronic Creek
Happy Friday Eve! New review time!
. @chroniccreek
. @westcoastsmokeshow
Brand: Chronic Creek
Strain: Wedding Crashers
Lineage/Genetics: Wedding Cake x Purple Punch
Original Breeder: Symbiotic Genetics
Grower: Chronic Creek
Chronic Creek Wedding Crashers Strain Review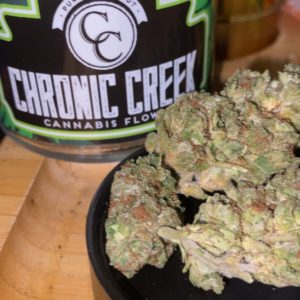 22.96%THC
Comments: This is the other 8th I swooped from this new to me company. Let's see what's happening.
Review
1. Scent: Sweet, little hints of organic berry and I'm getting a lavender too.
2. Appearance: Nice B sized nugs and the making for a real pretty money nug.Dark green with white creamy trichomes.
3. Nug Structure: Easily pulled apart on the stem. Grinder would be fine. Sticky resin left on the fingers afterwards.
4. Smoke: Dancing tokes off the bong with ice. Roll nice in a doobie smooth all the way.
5. Taste: A nice floral grab with a good smooth earth taste to it. Very standard weed taste but it's nice and smooth.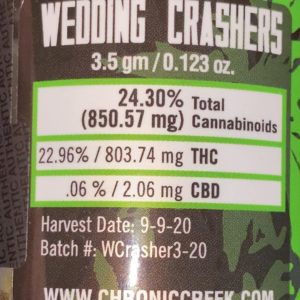 6. Reaction: Good all around high. Wasn't too deep into the brain and wasn't overly lazy. Nice even keel for a mid day toke.
7. Conclusion: yup. We both liked it. Went back to grab another and wooo, shit was feeling nice! Good sized buds, nice smoke, great high.
#cannabiscommunity #cannabis #cannabisreviews #trees #weed #weedreviews #pot #potreviews #thc #sacramento #916 #420 #yee #legal #strainreview #california #valley #thehighestcritic #westcoastsmokeshow #loud #chroniccreek #sungrown #herbs
Advertisements