Strain Review: Jungle Cake by JBeezy
Jungle Cake bred by @seedjunkygenetics_jbeezy is a cross of White Fire 43 & Wedding Cake. 🎂🍋🍓🌲⛽️.
Lineage/Genetics: White Fire #43 x Wedding Cake
Indica or Sativa: Indica dominant Hybrid
Original Breeder: JBeezy from Seed Junky Genetics
JBeezy Jungle Cake Strain Review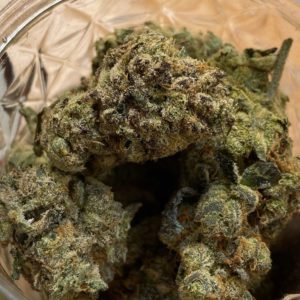 Wow it's been a while, I really missed those californian organic top shelf flowers 😍 The bag appeal is outstanding & I think is a good example of the two parents. There are some cone shaped ones, some more bushier/OG like & some small boulders. They show a beautiful & unique range of colours too. Dominating on bright olive greens, going on purple eggplant & midnight blue with the occasional pink hue.
–
–
Now let's talk about terps 🤤 The nose is definitely cake dominant with that signature creamy & sweet mint attack surrounded by a silent fruity mix of lemon & strawberries. The nose further develop in a peppery herbal tone on the back end. This spicy herbal tone turns into a burnt rubber almost gassy scent when grinding or breaking a nug. Taste on the j is bang on but it's even better in my vaporizers where I can truly experience all those crazy terps 🤪
–
–
The stone is that multi layered earth shattering, full on indica dominant hybrid that can put most heavy tolerant user in trip mode 🚀🤪 Having a session with this strain let you experience a wide spectrum of effects starting from a wall of euphoria & creativity that settles slowly in a perfectly relaxed & inspired, more sedative state 🚀.
–
–
#strainreview #weddingcake #trianglemints #wifi43xweddingcake #junglecake #seedjunkygenetics #cannabiscommunity #cannabisculture #420 #weedporn #hightimes #frenchstoner
French cannabis lover, that became hooked when first growing OG & Haze in high school.
Advertisements