Concentrate Review: Banana Hash by Willy_Wonka_00_Farm
Banana 🍌🍌🍌filtered dry sift hash from @willy_00_farm
Lineage/Genetics: OG Kush
Indica or Sativa: Indica dominant Hybrid
Original Breeder: Unknown
Grower: Willy_Wonka_00_Farm
Processor: Willy_Wonka_00_Farm
Banana Hash Review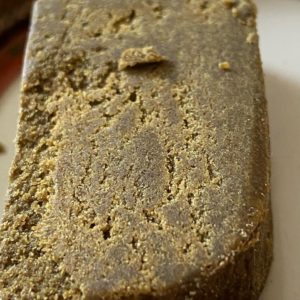 I've always been more of a flower guy but this wave of Moroccan new school hashmakers is helping me a lot to find interest in hash 😍🙏
–
–
The smell coming out of this banana is unreal. Fresh ripped bananas meeting that dry sift unique sweet spiciness that you get from high quality hash. It's really loud, refreshing & mouthwatering 🤤.
–
–
The texture/colour/feeling was really fresh & dry when I first receive it (as shown in pictures) but now that he has a bit more curing in my jar it is more oily & darker 😉.
–
–
The taste was a bit off for the first few smoke sessions. Like I said before it seems to be a really young fresh batch that needs a proper aging curing to show it's full potential. Now it's a lot better, mouthful fresh spicy bananas that gives an outstanding texture/feeling to the smoke 😍. I also love mixing it with flowers in a big fatty one for some out of this world umami like terps experience ooowwweee 🚀
–
–
Last but not least, the effects 🤪 The high from this hash is like pure medicine & is a strong highlight on this batch. So far from here I don't think I've ever experience a similar high before. The mind is hit by a heavy anti depressant feeling with just the right amount of mood boost & euphoria that won't put you in a mind bending paranoid trip even if abused 🤣. You just feel perfect emotionally, peaceful & blissful like nothing wrong could happen in your little paradise. The body component translates in the same fashion.
You're wrapped in a thick & soft blanket, bringing you that lovely sedation & pain relieving properties but again, in a perfectly balanced & clean way 🥰 The duration is also outstanding & the range of effects is constant & full on with no crash or negative felling. You never feel overwhelmed or sick even though it may feel like the strongest high you've ever experienced. That's the reason I recommend it for both daytime & nighttime use. It will always do what you need it to do, no matter your set&setting. It's pure magic I tell you 🚀👌
–
–
#hash4champion #hash4breakfast #hash #wonkatech #drysift #hashreview #hashreviews #strainreview #hashporn #cannabis #cannabiscommunity
French cannabis lover, that became hooked when first growing OG & Haze in high school.
Advertisements