Strain Review: Platinum by Midzotics
New Review from a recent grab @lemonnadesacramento with a new to me brand @midzotics ✅ 🚨
Brand: Midzotics
Strain: Platinum
19.87% THC
Lineage/Genetics: Amstel Gold x Silver Pearl
Indica or Sativa: Indica dominant Hybrid
Original Breeder: Afropips Seeds
Grower: Midzotics
Dispensary: Lemonnade
Midzotics Platinum Strain Review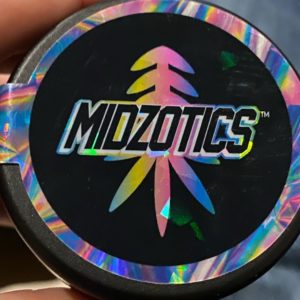 Comments: Fill it up again! Blasting this to the face after a long day, we have a new brand to be that comes with the affordability ticket in mind. Refreshing.
Review
1. Scent: Some kush and soft smell of cream. Rolls through the fingers with more vanilla on breakdown. Getting me amped up.
2. Appearance: Little leafs here n there. Buds are little spore like nubs off the main stems. Frosty trichomes yet little bit of red hairs on this one.
3. Nug Structure: Fluffy-ish and easy to pull apart from the stem. First glance I thought the bud was going to be a bit tougher to pull, happy that wasn't the case.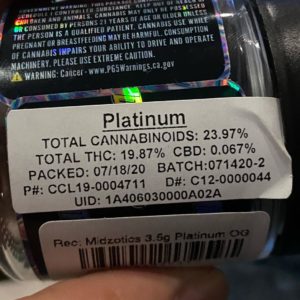 4. Smoke: Full bodied on the intake off the bong. Def smooth and not needing to worry about the lack of ice in the chamber since I just got home and used old water from yesterday. **note: we change bong water like every bowl or every other bowl due to ice melt** No ice and it's still smooth? says something.
5. Taste: Little more of that vanilla now. It's almost warming to a peppermint patty tone. Kush takes over at the back end.
6. Reaction: 7 mins in after an hour long drive and I'm finding my thoughts clear, body completely relaxed, and fingers smashed on this phone for these notes. Over the past couple sessions I've enjoyed this one's balance.
7. Conclusion: Whelp it's in the name right? 🤷‍♀️ Midz? I dunno tho, tbh it was pretty clean thru and thru. Not crazy long or super Stoney. It's a good pick for the budget minded. I've had higher THC content that didn't do squat, so the whole "it's in the %" argument is for the LuLz. I'd grab again not just for the affordability factor, but also for the result. It's a win.
#cannabiscommunity #cannabis #cannabisreviews #trees #weed #weedreviews #pot #potreviews #thc #sacramento #916 #420 #yee #legal #strainreview #california #valley #thehighestcritic #midz #affordablefire #midzotics #lemonadeSacramento