Strain Review: Mimosa by Symbiotic Genetics
Mimosa from @tha_tokerz.
Lineage/Genetics: Clementine x Purple Punch
Indica or Sativa: Sativa dominant Hybrid
Original Breeder: Symbiotic Genetics
Mimosa Strain Review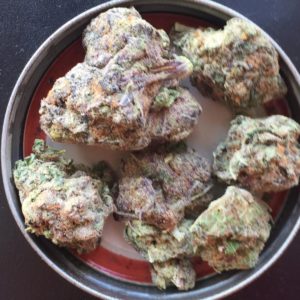 Sorry for the pic quality as it doesn't do the bud justice at all 🤣 Also the vacuum packing was a bit too tight & compressed the flowers.
——————
Anyway, it was my first time trying this new classic strains that's been a staple for the last 5 years or so. The nugs have crazy colours from pink, blue, bright green, to that purple eggplant tone I mean it's full chromatic goodness 😍😱
————
When opening the jar, I'm hit by a citrus punch with passion fruit & floral lengths to it. Followed instantly by a fermented milk/cream that reminds me of yogurt or white cheese. Now I understand why those Mimosa terps are so popular & especially amongst concentrates or hash connoisseur. When vaped through my full convection desktop the flavor match the nose perfectly with some mature oranges that lingers in the mouth for so long 🤤🤤.
———-
The effects from it are really/perfectly balanced as i can feel it both in my mind & body while not being too powerful on either end of the spectrum. Uplifting & relaxing at the same time it fits a lot set&setting. I use it as my wake&bake as well as social settings or even late night wondering : it's so versatile 😃👌
————
I'm looking forward to try this in hash or concentrates form 🤤🤤.
Thanks again @tha_tokerz 🙏💪🔥
———— ————
#mimosa #strainreview #420 #cannabiscommunity #cannabisculture #hightimes #weedporn #weedstagram420 #strainreviewer
French cannabis lover, that became hooked when first growing OG & Haze in high school.
Advertisements